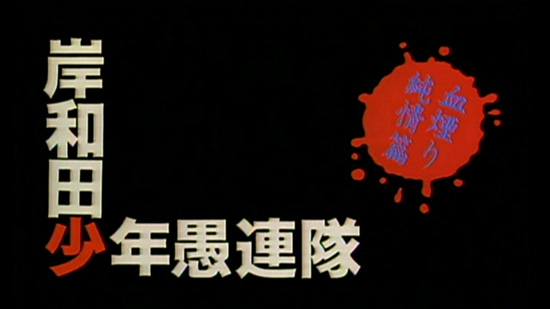 (aka "Young Thugs: Innocent Blood" or "Kishiwada shônen gurentai: Chikemuri junjô-hen" )
directed by Miike Takashi
Japan 1997
While the first of Riichi Nakaba's semi-autobiographical Kishiwda Shônen Gurentai novels was filmed by Izutsu Kazuyuki in 1996, the two successors were directed by Miike Takashi, himself a child of Osaka with similar background.

The first of Miike's Kishiwada Shônen Gurentai adaptations became "Chikemuri junjô-hen", telling the story of the loss of "innocence" entering adulthood and how it breaks up the tightest group of friends. The story centers around Riichi, who dumps his high-school girlfriend Ryoko for a younger prostitute, and how their breaking up affects the entire group. Riichi becomes aimless and is beaten up for "becoming soft" before he dumps his new girlfriend and tries to find his own pace and place in life. Ryoko retracts to herself and becomes "a nice girl", Yuji also turns into a "nice boy" when he begins to date Ryoko's best friend and Kotetsu becomes a cook and eventually finds love himself.

The story is structured into two parts: Side A – spring, dealing with the split of the group and Side B – winter, dealing with how they find their pace as young adults. The choice of season is interesting, as spring is the season where everything begins anew, while winter is the season of death, especially since the spring section deals with the "death" of the gang and the winter section with the "birth" of new relationships.

Even though the film has uneven elements, some feeling interjected, this is not uncommon for Miike and those familiar with him knows what to expect. However one sequence appears unexpected. Towards the end of "spring", the old madame of the bar where Kotetsu works, puts on a record and begins to dance flamingo, and Miike intercuts this dance with Ryoko leaving for good, having cut her hair and changed clothes, and Kotetsu finding love. Within itself, this three minute scene is something of the most beautiful Miike yet has made.

For those unfamiliar with Miike, "Innocent Blood" is not really initial work, but it is a film, calm enough in tone to be enjoyed by any viewer, allowing one to become acquainted with one of our times most prolific directors.
Theatrical Release: March 22nd, 1997 (Osaka)
DVD Review: ArtsMagic - Region 0 - NTSC
Big thanks to Henrik Sylow for the Review!
DVD Box Cover

CLICK to order from:

NOTE: Purchases through DVDBeaver's links to Amazon help keep us afloat and advertisement free!

Distribution

ArtsMagic

Region 0 - NTSC

Runtime
1:47:38
Video

1.78:1 Aspect Ratio

16X9 enhanced
Average Bitrate: 6.83 mb/s
NTSC 720x480 29.97 f/s

NOTE: The Vertical axis represents the bits transferred per second. The Horizontal is the time in minutes.

Bitrate

Audio
2.0 Dolby Digital Japanese, 5.1 Dolby Digital Japanese
Subtitles
English, None
Features
Release Information:
Studio: ArtsMagic

Aspect Ratio:
Widescreen anamorphic - 1.78:1

Edition Details:
• Takashi Miike interview (17:17)
• On Osaka history and culture (8:39)
• Original trailer (1:56)
• Original sleeve art
• Cast and Crew filmographies and biographies

DVD Release Date: October 26, 2004
Transparent Keepcase

Chapters 13

Comments
The image of ArtsMagic is also in question. No exception here. It lacks detail. But apart form that the image is quiet nice, having only minor compression artifacts. On PC there is a little ghosting, but none is seen on stand-alone.

As additional material there is a short interview with Miike, where he touches upon the specifics of the production and the story, and a nice little feature in form of a introduction to Osaka history and culture, which deserves two points of criticism. First, it's a two part-er, where the other part is on the other "Young Thugs: Nostaligia" DVD, so one has to buy both DVDs to get full value. Second, the presentation form with Mrs. Tucker in the corner gets old fast; A voice over would have been better. Still, one learns a lot about Osaka here.
---
Recommended Reading for Japanese Film Fans (CLICK COVERS or TITLES for more information)
The Japan Journals : 1947-2004,

by Donald Richie

The Midnight Eye Guide to New Japanese Film
by Tom Mes and Jasper Sharp

Kon Ichikawa (Cinematheque Ontario Monographs)

by James Quandt, Cinematheque Ontario

Shohei Imamura (Cinematheque Ontario Monographs, No. 1)
by James Quandt
Eros Plus Massacre: An Introduction to the Japanese New Wave Cinema (Midland Book, Mb 469)
by David Desser
The Films of Akira Kurosawa by Donald Ritchie

by Yasujiro Ozu, Kogo Noda, Donald Richie, Eric Klestadt

Ozu by Donald Richie

A Hundred Years of Japanese Film by Donald Richie
Check out more in "The Library"
---


DVD Menus

---
Subtitle sample