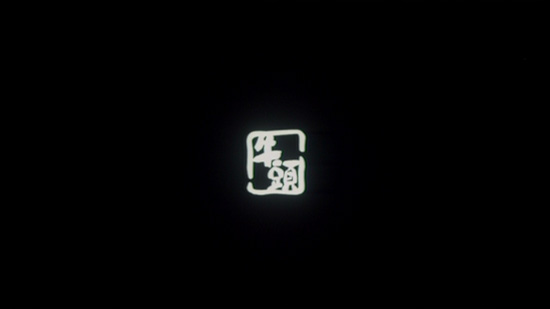 (aka "Gokud˘ ky˘fu dai-gekij˘: Gozu" )
directed by Miike Takashi
Japan 2003
Written by Sato Sakichi, who also wrote "Ichi the Killer" for Miike, "Gozu" is almost indescribable in its absurd Lynchian and Freudian universe of sexual anxieties. It is beyond prediction and logic.

As a yakuza under boss begins to act less than rational, the boss gives the underling the task of getting rid of him. However while driving to the middle of nowhere, he breaks to suddenly and his boss breaks his neck on the dashboard. Uncertain of what to do, he pulls over to call the boss, only to discover his dead former boss having disappeared.

Thus begins a journey into a strange world, where Minami on one side meets the most weird characters ever to have appeared in a Miike film, and on the other side manifestations of his virginal subconscious. One could argue, that it is a grotesque weird tales about a guy, who is insecure because he is a virgin, and how he gets laid and thus loses his virginity, but that may be attempting for find reason within insanity.

The title, "Gozu", translated meaning Cow head, refers to the naked man with a cow head, who with his cum-like dripping tongue licks the face of Minami, and is the projection of Minami's homophobia and sexual insecurity towards his boss, who never misses a chance to talk about fucking women or checking Minami's penis out. It is thus not really surprising, that Ozaki (his dead boss) suddenly appears before him as a women, who, while Minami is having intercourse with her, thereby losing his virginity, gives birth to her (him) self. Weird enough yet?

Miike shot "Gozu" as V-cinema, direct to video, but as other of his video productions, for instance "Fudoh" and "Shinjuku Triad Society", they were released theatrically in the west, and as Miike authority Tom Mes points out, with films like "Gozu", all doubts about the quality of V-cinema should be abandoned. Especially considering Miike, who in the year he made "Gozu" made 5 films, which actually is 1 below average of 6 films per year (in 2001 he made a record number of 9 films), and who continues to make films with ever new creativity and energy.

As such, "Gozu", even though not amongst Miike's best nor most accessible films, shows a lot of what Miike is about, especially in how he makes film, his love for the actual process and his love for actors. Miike is more concerned about shooting the scene than how the scene eventually will look and he never misses a chance to let his actors, many of them almost stock, improvise, even make suggestions about where the story should go. What drives Miike is the desire to make film, and to have fun making film. The end result is not really what matters. When Miike began working within film, he would stand flabbergasted and watch the crew stop all work at 5, because they only worked, as professionals, 8 hours a day. If someone made film with an attitude, that it was a job from 9-5, then there was no love, no passion; And cinema without passion is dead cinema. Miike may be an anarchist within cinema, but with his passion and energy, there is everything to rebel against. Cinema needs more people like Miike.

One of the best Japanese films of last year, "Gozu" will challenge it's viewers to rethink whatever they thought they knew. Full of lactating old women, naked men with cow heads and yakuza killer dogs, it is a celebration of absurd and subconscious cinema. It is unadulterated Miike
Posters
Theatrical Release: May 17th, 2003 (Cannes Film Festival)
Reviews More Reviews DVD Reviews
DVD Review: Tartan - Region 2 - PAL
Big thanks to Henrik Sylow for the Review!
DVD Box Cover

CLICK to order from:

NOTE: Purchases through DVDBeaver's links to Amazon help keep us afloat and advertisement free!

Distribution

Tartan

Region 2 - PAL

Runtime
2:09:44
Video

1.78:1 Original Aspect Ratio

16X9 enhanced
Average Bitrate: 5.67 mb/s
PAL 720x576 25.00 f/s

NOTE: The Vertical axis represents the bits transferred per second. The Horizontal is the time in minutes.

Bitrate

Audio
2.0 Dolby Digital Japanese
Subtitles
English, None
Features
Release Information:
Studio: Tartan

Aspect Ratio:
Widescreen anamorphic - 1.78:1

Edition Details:
• 4-page booklet with liner notes by Adele Hartley
• Trailer
• Miike Trailer reel

DVD Release Date: October 25, 2004
Amarey

Chapters 16


Comments
A direct transfer from the digital video, the DVD has no PAL speed-up, and while it shows minor ghosting on PC, there is none on stand alone players. The image is simply beautiful. The differences in colour scheme is due to the use of filters, especially yellow.

One thing really missing here, and the only critic of the DVD, is the sort of additional material the Miike from ArtsMagic has. While a Tom Mes commentary on a Miike film always is welcomed, "Gozu" is the kind of film that really begs for its director to explain about it, so where is the Miike interview?

---
Recommended Reading for Japanese Film Fans (CLICK COVERS or TITLES for more information)
The Japan Journals : 1947-2004,

by Donald Richie

The Midnight Eye Guide to New Japanese Film
by Tom Mes and Jasper Sharp

Kon Ichikawa (Cinematheque Ontario Monographs)

by James Quandt, Cinematheque Ontario

Shohei Imamura (Cinematheque Ontario Monographs, No. 1)
by James Quandt
Eros Plus Massacre: An Introduction to the Japanese New Wave Cinema (Midland Book, Mb 469)
by David Desser
The Films of Akira Kurosawa by Donald Ritchie

by Yasujiro Ozu, Kogo Noda, Donald Richie, Eric Klestadt

Ozu by Donald Ritchie

A Hundred Years of Japanese Film by Donald Richie
Check out more in "The Library"
---



DVD Menus

---
Subtitle Sample
All captures resized to 800px width from 1016px original