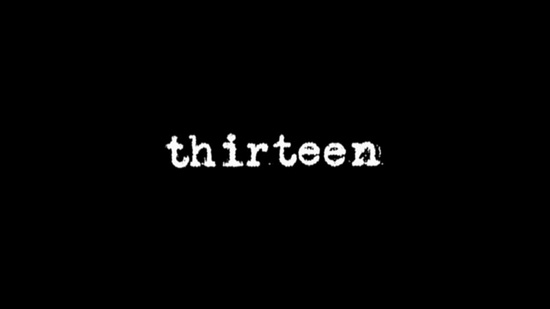 directed by Catherine Hardwicke
USA 2003
There are several things that speak against films who try to portrait teens honestly. Unless they are controversial or depict our worst nightmares, they either are boring or become comedies. So from a productionwise point of view, its really an area, that quickly can become exhausted and overdone. That, and they risk to come off as "a raised finger" in their moral.

But once in a while, honesty does come to the screen. One of the first films that dared to show teens as they were, was Larry Clark's "Kids". Before that depictions of teens as "lost causes" were mainly done thru documentary, but Clark chose to dramatize reality and without any real plot, he showed how kids lead a double life, on one side being a teenager, on the other a young adult, on the third side represent a group not really anything, trying to create their own identity in a rebellion against basically anything.

"Thirteen", a partially autobiographical account of a young girl suddenly growing up too fast in her search for identity and intimacy. Written by Nikki Reed, a 15-year old girl with a bleak past and one hell of a great talent for writing, co-written by director Catherine Hardwicke, "Thirteen" is a very honest and at times painful account of being thirteen.

The central theme is of course coming of age and loss of innocence. But where other films try to be as confronting as possible, "Thirteen" is quiet sober and down to earth. While there are elements of sex in it, we don't see it. We don't need to, as its obvious and also not that important. To give a guy a blow-job is just something you have to do, like drinking a beer or trying to get high. At the end, the film benefits from its sober approach, as when reality sets in and all the escapism is blown away, the urge to cling to the innocence and "being a child" is all the more desperate.

This is a women's film. Its written by a women, its directed by a women, it tells the story about a daughter and her mother. It never raises its finger and becomes moral. Instead it shows how her mother gradually loses control of her daughter, until she realises that her new independence is based on drugs and thievery, then reality sets in hard. If there is a moral it is, that growing up is something you have to do on your own and that being a parent means that you are there when the shit hits the fan.

Here the films pulls off a stroke of genius, by having Mel (Hunter) be a sober alcoholic, who's only reason not to fall back into drinking is her sponsor. This entire submotif of avoiding to give in vs. giving in to anything (the teens) adds a rare quality of strength to the characters. Teens don't need parents who tell them what to do and what not to do: Teens need a sponsor.

While Hardwicke shows confidence as a first time director, especially in scenes of intimacy, and where Reed has shown maturity and intelligence about her own past beyond her age, "Thirteen" is also a film with some of the best female acting of 2003. Holly Hunter is amazing and Evan Rachel Wood shows such a range in her depth, that she is one to look out for. Next to her, Charlize Theron looks fake.

What makes "Thirteen" so great is its ability to maintain its honesty and grip on reality. It's not a film most would watch, as it's an indy, a female indy even, made for as little as $1.5 million. But it has a strong story (perhaps even an important one) and a lot of talent, and unless we embrace films like this, they risk becoming nothing more than a bleep on the big blockbuster radar.
Posters
Theatrical Release: January 17, 2003 (Sundance Film Festival)
Reviews More Reviews DVD Reviews
DVD Review: SF - Region 2 - PAL
Big thanks to Henrik Sylow for the Review!
DVD Box Cover

CLICK to order from:

Distribution

SF

Region 2 - PAL

Runtime
1:31:51 (4% PAL speedup)
Video

1.85:1 Original Aspect Ratio

16X9 enhanced
Average Bitrate: 5.97 mb/s
PAL 720x576 25.00 f/s

Bitrate:

NOTE: The Vertical axis represents the bits transferred per second. The Horizontal is the time in minutes.

Audio
2.0 Dolby Digital English
Subtitles
English (hearing impared), Danish, Swedish, Norwegian, Finnish, English (audio commentary) and None
Features
Release Information:
Studio: SF

Aspect Ratio:
Widescreen anamorphic - 1.85:1

Edition Details:
• Audio commentary by Catherine Hardwicke, Nikki Reed, Evan Wood and Brady Corbet
• The making of 'Thirteen' (6:05)
• Deleted scenes with optional commentary by Hardwicke (9:39)
• Easter Egg: Debra Unger improvies the scene 'Broke' with optional commentary by Hardwicke (1:27)

DVD Release Date: June 15, 2004
Keep Case

Chapters 28

Comments
This is a great DVD. The audio commentary is, even though at time pretty chatty, rather insightful, especially about the production and Reed's past. The featurette is the usual promotional clapping-on-back stuff.

The real treasure is the deleted scenes, which by the commentaries, gives us surprisingly perspective in story structuring and killing your darlings. For once, deleted scenes are worth watching.
---



DVD Menus

---
Subtitle Sample
---
---