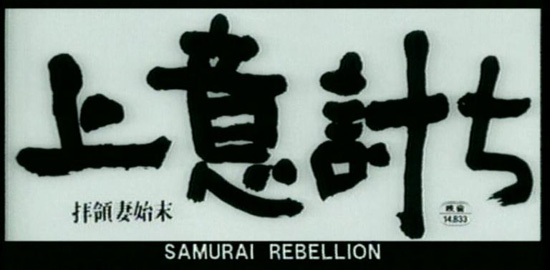 (aka "J˘i-uchi: Hairy˘ tsuma shimatsu" or "Joţ-uchi" or "Rebellion" or "L'ultimo Samurai" )
directed by Kobayashi Masaki
Japan 1967
Following up on "Hara Kiri", "Samurai rebellion" is almost a sequel in theme and motif. Not only is it, once again, written by Hishimoto Shinobu, it also is, once again, based on a novel by Takiguchi Yasuhiko; it almost seems as a rewriting of the same story. But what may seem a weakness, the two films more are like the two sides of a coin.

Unhappy with one of his mistresses, the daimyo orders one of his samurai to marry her. The family protests, but gives in; because one has to follow orders. However instead of a lesser woman, Ichi proves to be not only a loving wife, but a most pleasant and hard working addition to the family. When this reaches the daimyo, he demands her back, but now Isaburo, the head of the family, protests. One thing is giri (duty), another thing is to blindly follow any whims of ones master, who openly displays neither respect or understanding for those who serve him.

As in "Hara Kiri", so also here does the father defy the samurai code to right an injustice brought onto his son. Likewise is the samurai taken down by the use of firearms, noting upon its opposition to bushido. But "Samurai rebellion" is more than just a rewriting of the motifs of "Hara Kiri", as it has several significant differences.

The first is that the story takes place in 1720, during the Japanese renaissance. The samurai spend their days doing administrative duties – logistics have replaced bushido – and once in a while they get to use their skills with the sword – when testing the daimyo's newest sword on kakashi puppets. The second is, that instead of having bushido as the central motif, Kobayashi has a love story. This in itself is quiet curios, as Kobayashi was a Marxist and considered love to be a bourgeois weakness. Then again, the story is Hishimoto before its Kobayashi. The third is, that the protagonists are content and obey. Throughout the film, Isaburo notes on his loveless marriage, that one has to endure and that one has to be content, by extension noting that being a samurai is to obey, endure and be content. And finally, the fourth difference is, that, like no other samurai film, "Samurai rebellion" depicts the arrogance and indifference by the daimyo as absolute, which also is the films main weakness. The actions of the daimyo is so inhumane, that one can argue, that the problem is him alone and not the code.

Where "Samurai rebellion" might seem weaker thematically than "Hara Kiri", it is by far the strongest film by Kobayashi in terms of visual composition. Once again, with almost geometrically precision, the mise-en-scene arranges layers in space. Note how the compositions play with the lines the setting creates, note how Kobayashi arranges "spheres of action" using these lines and note how he composes the movement of his players using the geometry of the setting. Next to this almost mathematically strict compositions, the fight sequences break free, move unrestrained and the final fight is even set against a corn field, which is as random as possible.

Another striking element is the use of avant garde techniques, especially editing. The flashback of the fight between Ichi and the other mistress is told entirely thru stills and in silence. This is quiet bold, considering this being a jidei-geki.

Produced by Mifune, he also plays the lead, having Nakadai playing Isaburo's best friend and eventual enemy. Both actors play the part to perfection. Mifune's very external play is kept at bay, until it erupts in defiance, while Nakadai's very internal play suggests rationality (or at least the illusion of it).

One could have hoped for a third film by Kobayashi / Hishimoto. There is something about trilogies. But the film which can be added as the third and final assault on the samurai code is "Tenchu" by Gosha Hideo (1969), starring Nakadai and which is considered the most accomplished samurai film. But what we need to remember is, that the central creating force in all the films is writer Hishimoto Shinobu and the directors, be it Kurosawa, Kobayashi, Okamoto or Gosha, almost seems secondary.

Regardless how one approaches these films, viewing them isolated, by director, by canon (along with "Shichinin no Samurai") or by thematic (along with "Tenchu"), "Samurai rebellion" is a cornerstone of Japanese film and of Kobayashi as director. Required viewing.
Poster
Theatrical Release: June 3, 1967 (Tokyo)
Reviews More Reviews DVD Reviews
DVD Review: ArtsMagic - Region 2 - PAL
Big thanks to Henrik Sylow for the Review!
DVD Box Cover

CLICK to order from:

Distribution

ArtsMagic

Region 2 - PAL

Runtime
2:00:59
Video

2.35:1 Original Aspect Ratio
Average Bitrate: 4.37 mb/s
PAL 720x576 25.00 f/s

NOTE: The Vertical axis represents the bits transferred per second. The Horizontal is the time in minutes.

Bitrate:

Audio
2.0 Dolby Digital Japanese
Subtitles
English (forced)
Features
Release Information:
Studio: ArtsMagic

Aspect Ratio:
Widescreen letterboxed - 2.35:1

Edition Details:
• Biography of Kobayashi, Mifune and Nakadai
• Movie stills
• Cast gallery
• Covers from other ArtsMagic releases

DVD Release Date: February 20, 2003
Keep case

Chapters 13


Comments
This is the theatrically 120 minute American, which is 8 minute shorter than the original Japanese version.

The DVD is horrible. It is most likely a direct copy of the same source as the VHS tape, having forced subtitles. The picture is lacking sharpness and is very grainy due to low resolution. I have taped films of TV in long play with better resolution than this DVD.

The extra material is very basic information, but it uses such small font, that you need to sit with your nose to the screen in order to read it.

Sadly, this is the only version available on DVD.
---
Recommended Reading for Martial Arts/Samurai Genre Fans (CLICK COVERS or TITLES for more information)
Check out more in "The Library"
---


DVD Menus

---
S
ubtitle Sample
DVD Box Cover

CLICK to order from:

Distribution

ArtsMagic

Region 2 - PAL