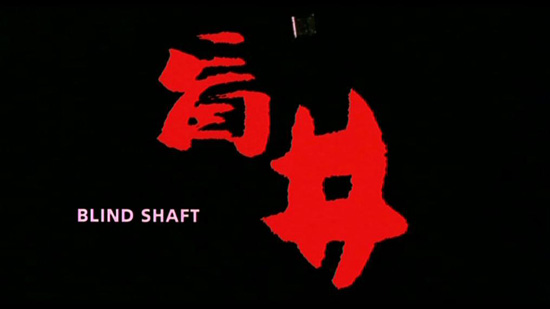 (aka "Mang jing" or "Blinder Shaft (Germany)")
directed by Li Yang
China 2003
Banned in China for its depiction of poverty and the inhumane conditions of coal miners (working in illegal cole mines), "Blind Shaft" is powerful tale about greed and murder, based upon the best seller and Laoshe Literature Prize winner of 2002, "Shen mu" (Sacred wood) by Liu Qingbang. That the novel was awarded and its writer considered one of China's best writers, while the film was banned, shows, according to director Li Yang, that China is a country with many systems not in contact with each other.

Some argue, that the directors belonging to the sixth generation are depicting China as a country in ruins and only showing misery and poverty, in order to gain international attention. This may be true, but China is a country with so many contrasts and just because misery sells better than happy endings doesn't mean that one should turn a blind eye to poverty or inhumanity.

"Blind Shaft" is fiction, but everything that is told happens daily. According to Li Yang, the official number of deaths in illegal coalmines were about 3000 in 2002, but the real figure is closer to 7000. He further points out, that the conditions he is depicting in "Blind Shaft" almost is luxury next to some mines. There are no regulations for these mines and its capitalism at its worst; As the foreman points out to the characters in the film, "China has a shortage of everything, but people."

"I wanted to portray how human nature degenerates under the attraction of money, and the good side of humanity in this transitional period—how good confronts evil", Li Yang says about "Blind shaft" and continues, "This isn't just a Chinese problem but is common wherever there is rapid economic development. These issues were shown in the American films of the 1940s. Man's desire for money and other attractions is boundless and this is how he loses his humanity."

It is not just ones humanity that greed eats up, capitalism also corrodes values, even ideologies. This is underlined in a scene, where the anthem "Love Live Socialism" has been altered, so that now the counter revolutionaries return with US dollars so that everyone can get sexual climax.

In comparison to Jia Zhang-ke, another sixth generation director, Li Yang is completely different. Jia portraits the existential angst and alienation which comes from the transition of old and new values. Li's protagonist is more of a humanist blinded by greed and desperation. Where Jia uses long takes and distinction, Li uses cinema varite techniques. Both directors have an undercurrent of wanting to do good. In "Blind shaft", the characters constantly do good, even in a perverted sense, but ultimately their actions are empty next to their greed.

Winner of the Silver Bear in Berlin 2003 and both the Audience and Critics award at Deauville 2003, first time director Li Yang has with "Blind shaft" created an intense account of an underclass of humans worth nothing.
Posters
Theatrical Release: February 12, 2003 (Berlin International Film Festival)
Reviews More Reviews DVD Reviews
DVD Review: Optimum Home Entertainment - Region 2 - PAL
Big thanks to Henrik Sylow for the Review!
DVD Box Cover

CLICK to order from:

NOTE: Purchases through DVDBeaver's links to Amazon help keep us afloat and advertisement free!

Distribution

Optimum Home Entertainment

Region 2 - PAL

Runtime
1:28:45 (4% PAL speedup)
Video

1.78:1 Original Aspect Ratio

16X9 enhanced
Average Bitrate: 5.63 mb/s
PAL 720x576 25.00 f/s

Bitrate:

NOTE: The Vertical axis represents the bits transferred per second. The Horizontal is the time in minutes.

Audio
2.0 Dolby Digital Cantonese
Subtitles
English, None
Features
Release Information:
Studio: Optimum Home Entertainment

Aspect Ratio:
Widescreen anamorphic - 1.78:1

Edition Details:
• International theatrical trailer (1:35)
• Promo Edinburgh Film Festival (2:25)
• Promo BBC Four (1:00)

DVD Release Date: July 26, 2004
Keep Case

Chapters 16

Comments
A little soft for an a 16X9 DVD. Un-stirring audio and lackluster extras. On the positive the subs are good.

This DVD is the first of six films under the "Discovery Film Programme", which shows six films by new talents. This is an important film. Not only did Li win the silver bear in Berlin, but the film was also banned in China. With so much international attention, this is an important DVD release, but where is the interview or even text material informing the viewer about the films status and history? The only way to get this info is to spend a few hours online. That is a productionwise blunder if any. A shame for such a important DVD release.
---
Recommended Reading in Chinese/Hong Kong/Taiwanese Cinema (CLICK COVERS or TITLES for more information)
Check out more in "The Library"
---


DVD Menus

---
Subtitle Sample
---
---