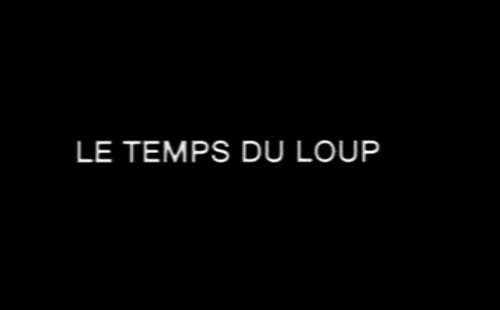 (aka 'Time of the Wolf" or "Wolfzeit")
directed by Michael Haneke
France / Austria / Germany 2003

Set in the indeterminate milieu of an idyllically pastoral, rural province, a family from "the city" arrives at their summer home for a seeming holiday getaway to find a hostile, armed squatter and his family in the premises. Following an unprovoked act of senseless violence, Anna (Isabelle Huppert) and her children, Eva (Ana´s Demoustier) and Ben (Lucas Biscombe) are robbed of home, transportation (except for a bicycle), and provisions and cast out to roam the countryside in search of assistance. Eventually making their way into a loose, cooperative alliance of displaced, multicultural families living under the protection of a pragmatic, armed leader named Koslowski (Olivier Gourmet) at a disused way station, the family soon find themselves struggling with day to day survival, desperately pinning their ever-dimming hopes on a nebulous plan to compel a freight train to make an unscheduled stop for boarding so that they may be transported away from their oppressively inhuman nightmare. Recalling the distilled austerity, psychological desolation, and unconscionable violence of the filmmaker's early Austrian films, Benny's Video (which, uncoincidentally, is the enigmatic son's name) and The Seventh Continent (although lacking the essential concentration of these films), Michael Haneke's allegorical, post-apocalyptic anthropological dissection of catastrophe, alienation, dehumanization, and primalism is compelling, profoundly unnerving, and unrelentingly provocative. The film's recurring elemental motif of fire - like the tribe's literal and figurative existential way station - serves as an ambivalent symbol of destruction, instinctual self-survival, and ultimately, a tenuous glimmer of hope and humanity.

Excerpt from Strictly Film School Notes Found HERE
Posters
Theatrical Release: May 20th, 2003 - Cannes Film Festival
Reviews DVD Reviews Official Site (French)
DVD Review: Artificial Eye - Region 2 - PAL
DVD Box Cover

CLICK to order from:

NOTE: Purchases through DVDBeaver's links to Amazon help keep us afloat and advertisement free!

Distribution
Artificial Eye Film Company - Region 2- PAL
Runtime
Approx. 1:53:00
Video
2.35:1 Original Aspect Ratio
Average Bitrate: ? mb/s
PAL 720x576 25.00 f/s
Audio
French (Dolby Digital 5.1) , French (Dolby Digital 2.0 Stereo)
Subtitles
English, None
Features

Release Information:
Studio: Artificial Eye Film Company

Aspect Ratio:
Original aspect Ratio 2.35:1

Edition Details:

• 'Making of"
• Cannes Featurette
• Trailer
• Biography

DVD Release Date: May 24th, 2004
Transparent Keep Case
Chapters: 12

Comments:

Original aspect ratio 2.35:1, anamorphic, with optional, white, English subs. Brilliant stuff! - The film is very dark, in both respects: it is thematically apocalyptic and shot much of the time at night. Haneke makes full use of the contrast between long nighttime scenes and glaring sunlight. For whole stretches it feels as if you're actually outside at night, your eyes struggling to accustom themselves to the darkness - following distant lights or pale patches of light in the foreground. I haven't seen a film that does this for a long time, and the DVD does as best as it can in the circumstances. I couldn't see any compression problems, because I couldn't really see *anything* for whole swathes of it.

Contains an interesting 20 minute Making Of documentary and a so-so 5 minute Cannes piece. Definitely recommended.
---
Recommended Reading in French Cinema (CLICK COVERS or TITLES for more information)
The Films in My Life
by Francois Truffaut, Leonard Mayhew

French Cinema: A Student's Guide
by Philip Powrie, Keith Reader
Agnes Varda by Alison Smith
Godard on Godard : Critical Writings by Jean-Luc Godard
Notes on the Cinematographer by Robert Bresson
Robert Bresson (Cinematheque Ontario Monographs, No. 2)
by James Quandt
The Art of Cinema by Jean Cocteau
French New Wave
by Jean Douchet, Robert Bonnono, Cedric Anger, Robert Bononno
French Cinema: From Its Beginnings to the Present
by Remi Fournier Lanzoni
Truffaut: A Biography by Antoine do Baecque and Serge Toubiana
Check out more in "The Library"
---


DVD Menus

---
Subtitle Sample
Screen Captures
---
The below capture is representative of much of the DVD which is extremely dark in contrast (and tone!).
---