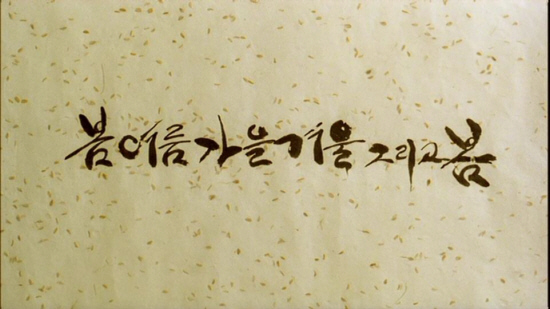 (aka "Bom yeoreum gaeul gyeoul geurigo bom" )
directed by Kim Ki-Duk
Korea 2003
"I intended to portray the joy, anger, sorrow and pleasure of our lives through four seasons and through the life of a monk who lives in a temple on Jusan Pond surrounded only by nature." - Kim Ki-duk

Within the last few years, Korean director Kim Ki-Duk has become, not only a household name amongst fans of Asian cinema, but also a director who brings hope, as his films always are surprising and daring. With hardly any education, spending most of his teens working in factories, Kim became consumed by art while serving his military service and later moved to Paris, France, where he studied fine arts and made a little by selling his paintings at the left bank. Then, as Kim says it, one night I found film, and shortly after he abandoned paintings for filmmaking. After winning the award for best screenplay from the Educational Institute of Screenwriting with "A Painter and A Criminal Condemned to Death" in 1993, Kim returned to Korea, where he began working on his first film, "A Crocodile" (1996), which noted his approach to violence and rape, what many mistake for misogyny, and what may be the main reason that cause many to dislike his film.

In "Spring, Summer, Fall, Winter and Spring", Kim moves away from contemporary film and creates a self-containing Buddhist metaphor, by representing both the stages of our lives, the emotions related to suffering, the road to enlightenment and the circularity of nature, life and the universe thru the four seasons, where each season becomes an allegory for one of the phases in a man's life and the suffering connected to it.

Kim chose wisely not to overload the narrative: quiet opposite, he reduces everything to simple motifs and actions, letting his audience connect the dots of his minimalist and symbolic presentation. As a background for this tale, he chose the Jusan Pond, a 200 year old artificial lake surrounded by mountains, as it's beauty only is surpasses by the mystic resonance. Here, in the middle of the lake, floats a tiny temple, housing an old monk and his student. With each season, the student enters a new phase of his life, encounters new suffering, until he finally is able to reach enlightenment, that marks end of winter and beginning of spring. Curious is, that Kim is devout Catholic of belief, but points out, that the film in part was driven by his relationship between his own religious values and the culture around him.

With "Spring, Summer, Fall, Winter and Spring", Kim Ki-Duk has created one of the best Korean films to date and one of the best films of the year. More important perhaps, he has opened another door offering a different approach to his motifs, allowing those who normally dislike his films to enjoy his art.
Poster
Theatrical Release: August 14, 2003 (Locarno Film Festival) - Switzerland
Reviews More Reviews DVD Reviews
Recommended Books on Korean Cinema (CLICK COVERS or TITLES for more information)
DVD Comparison:
BitWin - Region 3 - NTSC vs. Tartan - Region 2 - PAL
Big thanks to Henrik Sylow for all the Screen Caps!
(BitWin - Region 3 - NTSC - LEFT vs. Tartan - Region 2 - PAL - RIGHT)
DVD Box Covers

Distribution

BitWin

Region 3 - NTSC

Tartan
Region 2 - PAL
Runtime
1:45:01
1:38:29 (4% PAL speedup)
Video

1.78:1 Original Aspect Ratio

16X9 enhanced
Average Bitrate: 7.39 mb/s
NTSC 720x480 29.97 f/s

1.85:1 Original Aspect Ratio

16X9 enhanced
Average Bitrate: 7.35 mb/s
PAL 720x576 25.00 f/s

NOTE: The Vertical axis represents the bits transferred per second. The Horizontal is the time in minutes.

Bitrate:

BitWin

Bitrate:

Tartan

Audio
5.1 Dolby Digital Korean, DTS Korean

2.0 Dolby Digital Korean, 5.1 Dolby Digital English, DTS Korean

Subtitles
Korean, English, None
English, None
Features
Release Information:
Studio: BitWin

Aspect Ratio:
Widescreen anamorphic - 1.78:1

Edition Details:
• Trailer
• Pressconference (no subtitles)
• Production notes (Korean)
• Storyline (Korean)
• Photogallery

DVD Release Date: March 12, 2004
Transparent Keepcase

Chapters 8


Release Information:
Studio: Tartan

Aspect Ratio:
Widescreen anamorphic - 1.85:1

Edition Details:
• Original theatrical trailer (1:40)
• Making of (17:05)
• Interview with Kim Ki-Duk (3:07)
• Premiere footage (9:21)
• Synopsis (1:00)


DVD Release Date: September 27, 2004
Keep Case

Chapters 16
Comments
Where the Tartan frame is masked to the 1.85:1 AR vs. the BitWin frame of 1.78:1, the Tartan frame contains aprx 2.5% more frame information left and right.

The image of BitWin is superior to Tartan. It is very sharp in details and has warm colours. The Tartan image is slightly "washed-out" and shows signs of edge enhancements in scenes with stark contrasts. Speaking of contrast, the BitWin has alot of it. There are minute details not visible in the frame, but visible on the Tartan. Note image #3, where the Tartan reveals holes in the doorpaper, not visible on the BitWin.

Additional to the 5.1 Dolby Digital and EX decoded DTS tracks, the Tartan has a 2.0 Dolby Digital track, which is a nice addition for those without a surround system. Neither of the surround tracks challenges your system much, due to the type of film this is, but it is nevertheless great sound.

The majority of additional material is the same. Both DVDs has the press conference, the making of, the trailer and the storyline (synopsis). In addition, where the BitWin has a photo gallery, the Tartan DVD has a brief interview with Kim, which more is Kim just talking loosely. This interview has severe problems with sound dropouts, which Tartan apologizes for, as its due to the source and not their authoring. All additional material on the Tartan DVD has optional English subtitles.

The subtitles differ greatly. Where the BitWin support the context of the film, the Tartan subtitles are more plain. Note the example:

BitWin: (Does it torment you? Yes Master!)
Tartan: (Are you in pain? Yes I am!)

Personally I find, that changing the subtitles to words, easier understood by those who don't understand words as "torment", removes the strenght of the dialogue and thus supports the film to a lesser degree.

The Tartan subtitles are however more "reader friendly" and an especially nice touch is, that rather than switching between them, Tartan lets them fade out, which I personally feel makes them more pleasant in terms of the mood of the film.

Final note towards the running time:
The Bitwin runs approx. 90 seconds longer than the Tartan. Where the Tartan ends with the new kid playing with the turtle, then rowing in the boat, the fading to the Buddha on the mountain overlooking the lake, the BitWin before the Buddha an additional sequence (1:39:53 to 1:42:23), showing the boy playing at the pond on the mainland, putting stones into the mouths of the fish, the frog and the snake. This sequence is hugely important to the circularity theme of the story.

According to Tartan, the version which they acquired from the sales company was already cut – ie they had prepared a print for the international market.
---



DVD Menus
(BitWin - Region 3 - NTSC - LEFT vs. Tartan - Region 2 - PAL - RIGHT)

| | |
| --- | --- |
| | |
| | |
| | |
| | |
| | |
| | |
---
Subtitle Sample
(BitWin - Region 3 - NTSC - TOP vs. Tartan - Region 2 - PAL - BOTTOM)
---
Screen Captures
(BitWin - Region 3 - NTSC - TOP vs. Tartan - Region 2 - PAL - BOTTOM)
---
(BitWin - Region 3 - NTSC - TOP vs. Tartan - Region 2 - PAL - BOTTOM)
---
(BitWin - Region 3 - NTSC - TOP vs. Tartan - Region 2 - PAL - BOTTOM)
---
(BitWin - Region 3 - NTSC - TOP vs. Tartan - Region 2 - PAL - BOTTOM)
---
(BitWin - Region 3 - NTSC - TOP vs. Tartan - Region 2 - PAL - BOTTOM)
---
(BitWin - Region 3 - NTSC - TOP vs. Tartan - Region 2 - PAL - BOTTOM)

---
Report Card:





---














DONATIONS Keep DVDBeaver alive:
Mail cheques, money orders, cash to: or CLICK PayPal logo to donate!
Many Thanks...
Ki-duk Kim's - Spring, Summer, Fall, Winter... and Spring - Bom yeoreum gaeul gyeoul geurigo bom - DVD Review Ki-duk Kim Spring, Summer, Fall, Winter... and Spring Bom yeoreum gaeul gyeoul geurigo bom DVD Review Ki-duk Kim Spring, Summer, Fall, Winter... and Spring Bom yeoreum gaeul gyeoul geurigo bom DVD Review Ki-duk Kim Spring, Summer, Fall, Winter... and Spring Bom yeoreum gaeul gyeoul geurigo bom DVD Review Ki-duk Kim Spring, Summer, Fall, Winter... and Spring Bom yeoreum gaeul gyeoul geurigo bom DVD Review Ki-duk Kim Spring, Summer, Fall, Winter... and Spring Bom yeoreum gaeul gyeoul geurigo bom DVD Review Ki-duk Kim Spring, Summer, Fall, Winter... and Spring Bom yeoreum gaeul gyeoul geurigo bom DVD Review Ki-duk Kim Spring, Summer, Fall, Winter... and Spring Bom yeoreum gaeul gyeoul geurigo bom DVD Review Ki-duk Kim Spring, Summer, Fall, Winter... and Spring Bom yeoreum gaeul gyeoul geurigo bom DVD Review Ki-duk Kim's - Spring, Summer, Fall, Winter... and Spring - Bom yeoreum gaeul gyeoul geurigo bom - DVD Review Ki-duk Kim Spring, Summer, Fall, Winter... and Spring Bom yeoreum gaeul gyeoul geurigo bom DVD Review Ki-duk Kim Spring, Summer, Fall, Winter... and Spring Bom yeoreum gaeul gyeoul geurigo bom DVD Review Ki-duk Kim Spring, Summer, Fall, Winter... and Spring Bom yeoreum gaeul gyeoul geurigo bom DVD Review Ki-duk Kim Spring, Summer, Fall, Winter... and Spring Bom yeoreum gaeul gyeoul geurigo bom DVD Review Ki-duk Kim Spring, Summer, Fall, Winter... and Spring Bom yeoreum gaeul gyeoul geurigo bom DVD Review Ki-duk Kim Spring, Summer, Fall, Winter... and Spring Bom yeoreum gaeul gyeoul geurigo bom DVD Review Ki-duk Kim Spring, Summer, Fall, Winter... and Spring Bom yeoreum gaeul gyeoul geurigo bom DVD Review Ki-duk Kim Spring, Summer, Fall, Winter... and Spring Bom yeoreum gaeul gyeoul geurigo bom DVD Review Ki-duk Kim's - Spring, Summer, Fall, Winter... and Spring - Bom yeoreum gaeul gyeoul geurigo bom - DVD Review Ki-duk Kim Spring, Summer, Fall, Winter... and Spring Bom yeoreum gaeul gyeoul geurigo bom DVD Review Ki-duk Kim Spring, Summer, Fall, Winter... and Spring Bom yeoreum gaeul gyeoul geurigo bom DVD Review Ki-duk Kim Spring, Summer, Fall, Winter... and Spring Bom yeoreum gaeul gyeoul geurigo bom DVD Review Ki-duk Kim Spring, Summer, Fall, Winter... and Spring Bom yeoreum gaeul gyeoul geurigo bom DVD Review Ki-duk Kim Spring, Summer, Fall, Winter... and Spring Bom yeoreum gaeul gyeoul geurigo bom DVD Review Ki-duk Kim Spring, Summer, Fall, Winter... and Spring Bom yeoreum gaeul gyeoul geurigo bom DVD Review Ki-duk Kim Spring, Summer, Fall, Winter... and Spring Bom yeoreum gaeul gyeoul geurigo bom DVD Review Ki-duk Kim Spring, Summer, Fall, Winter... and Spring Bom yeoreum gaeul gyeoul geurigo bom DVD Review Ki-duk Kim's - Spring, Summer, Fall, Winter... and Spring - Bom yeoreum gaeul gyeoul geurigo bom - DVD Review Ki-duk Kim Spring, Summer, Fall, Winter... and Spring Bom yeoreum gaeul gyeoul geurigo bom DVD Review Ki-duk Kim Spring, Summer, Fall, Winter... and Spring Bom yeoreum gaeul gyeoul geurigo bom DVD Review Ki-duk Kim Spring, Summer, Fall, Winter... and Spring Bom yeoreum gaeul gyeoul geurigo bom DVD Review Ki-duk Kim Spring, Summer, Fall, Winter... and Spring Bom yeoreum gaeul gyeoul geurigo bom DVD Review Ki-duk Kim Spring, Summer, Fall, Winter... and Spring Bom yeoreum gaeul gyeoul geurigo bom DVD Review Ki-duk Kim Spring, Summer, Fall, Winter... and Spring Bom yeoreum gaeul gyeoul geurigo bom DVD Review Ki-duk Kim Spring, Summer, Fall, Winter... and Spring Bom yeoreum gaeul gyeoul geurigo bom DVD Review Ki-duk Kim Spring, Summer, Fall, Winter... and Spring Bom yeoreum gaeul gyeoul geurigo bom DVD Review Ki-duk Kim's - Spring, Summer, Fall, Winter... and Spring - Bom yeoreum gaeul gyeoul geurigo bom - DVD Review Ki-duk Kim Spring, Summer, Fall, Winter... and Spring Bom yeoreum gaeul gyeoul geurigo bom DVD Review Ki-duk Kim Spring, Summer, Fall, Winter... and Spring Bom yeoreum gaeul gyeoul geurigo bom DVD Review Ki-duk Kim Spring, Summer, Fall, Winter... and Spring Bom yeoreum gaeul gyeoul geurigo bom DVD Review Ki-duk Kim Spring, Summer, Fall, Winter... and Spring Bom yeoreum gaeul gyeoul geurigo bom DVD Review Ki-duk Kim Spring, Summer, Fall, Winter... and Spring Bom yeoreum gaeul gyeoul geurigo bom DVD Review Ki-duk Kim Spring, Summer, Fall, Winter... and Spring Bom yeoreum gaeul gyeoul geurigo bom DVD Review Ki-duk Kim Spring, Summer, Fall, Winter... and Spring Bom yeoreum gaeul gyeoul geurigo bom DVD Review Ki-duk Kim Spring, Summer, Fall, Winter... and Spring Bom yeoreum gaeul gyeoul geurigo bom DVD Review Ki-duk Kim's - Spring, Summer, Fall, Winter... and Spring - Bom yeoreum gaeul gyeoul geurigo bom - DVD Review Ki-duk Kim Spring, Summer, Fall, Winter... and Spring Bom yeoreum gaeul gyeoul geurigo bom DVD Review Ki-duk Kim Spring, Summer, Fall, Winter... and Spring Bom yeoreum gaeul gyeoul geurigo bom DVD Review Ki-duk Kim Spring, Summer, Fall, Winter... and Spring Bom yeoreum gaeul gyeoul geurigo bom DVD Review Ki-duk Kim Spring, Summer, Fall, Winter... and Spring Bom yeoreum gaeul gyeoul geurigo bom DVD Review Ki-duk Kim Spring, Summer, Fall, Winter... and Spring Bom yeoreum gaeul gyeoul geurigo bom DVD Review Ki-duk Kim Spring, Summer, Fall, Winter... and Spring Bom yeoreum gaeul gyeoul geurigo bom DVD Review Ki-duk Kim Spring, Summer, Fall, Winter... and Spring Bom yeoreum gaeul gyeoul geurigo bom DVD Review Ki-duk Kim Spring, Summer, Fall, Winter... and Spring Bom yeoreum gaeul gyeoul geurigo bom DVD Review Ki-duk Kim's - Spring, Summer, Fall, Winter... and Spring - Bom yeoreum gaeul gyeoul geurigo bom - DVD Review Ki-duk Kim Spring, Summer, Fall, Winter... and Spring Bom yeoreum gaeul gyeoul geurigo bom DVD Review Ki-duk Kim Spring, Summer, Fall, Winter... and Spring Bom yeoreum gaeul gyeoul geurigo bom DVD Review Ki-duk Kim Spring, Summer, Fall, Winter... and Spring Bom yeoreum gaeul gyeoul geurigo bom DVD Review Ki-duk Kim Spring, Summer, Fall, Winter... and Spring Bom yeoreum gaeul gyeoul geurigo bom DVD Review Ki-duk Kim Spring, Summer, Fall, Winter... and Spring Bom yeoreum gaeul gyeoul geurigo bom DVD Review Ki-duk Kim Spring, Summer, Fall, Winter... and Spring Bom yeoreum gaeul gyeoul geurigo bom DVD Review Ki-duk Kim Spring, Summer, Fall, Winter... and Spring Bom yeoreum gaeul gyeoul geurigo bom DVD Review Ki-duk Kim Spring, Summer, Fall, Winter... and Spring Bom yeoreum gaeul gyeoul geurigo bom DVD Review Ki-duk Kim's - Spring, Summer, Fall, Winter... and Spring - Bom yeoreum gaeul gyeoul geurigo bom - DVD Review Ki-duk Kim Spring, Summer, Fall, Winter... and Spring Bom yeoreum gaeul gyeoul geurigo bom DVD Review Ki-duk Kim Spring, Summer, Fall, Winter... and Spring Bom yeoreum gaeul gyeoul geurigo bom DVD Review Ki-duk Kim Spring, Summer, Fall, Winter... and Spring Bom yeoreum gaeul gyeoul geurigo bom DVD Review Ki-duk Kim Spring, Summer, Fall, Winter... and Spring Bom yeoreum gaeul gyeoul geurigo bom DVD Review Ki-duk Kim Spring, Summer, Fall, Winter... and Spring Bom yeoreum gaeul gyeoul geurigo bom DVD Review Ki-duk Kim Spring, Summer, Fall, Winter... and Spring Bom yeoreum gaeul gyeoul geurigo bom DVD Review Ki-duk Kim Spring, Summer, Fall, Winter... and Spring Bom yeoreum gaeul gyeoul geurigo bom DVD Review Ki-duk Kim Spring, Summer, Fall, Winter... and Spring Bom yeoreum gaeul gyeoul geurigo bom DVD Review Ki-duk Kim's - Spring, Summer, Fall, Winter... and Spring - Bom yeoreum gaeul gyeoul geurigo bom - DVD Review Ki-duk Kim Spring, Summer, Fall, Winter... and Spring Bom yeoreum gaeul gyeoul geurigo bom DVD Review Ki-duk Kim Spring, Summer, Fall, Winter... and Spring Bom yeoreum gaeul gyeoul geurigo bom DVD Review Ki-duk Kim Spring, Summer, Fall, Winter... and Spring Bom yeoreum gaeul gyeoul geurigo bom DVD Review Ki-duk Kim Spring, Summer, Fall, Winter... and Spring Bom yeoreum gaeul gyeoul geurigo bom DVD Review Ki-duk Kim Spring, Summer, Fall, Winter... and Spring Bom yeoreum gaeul gyeoul geurigo bom DVD Review Ki-duk Kim Spring, Summer, Fall, Winter... and Spring Bom yeoreum gaeul gyeoul geurigo bom DVD Review Ki-duk Kim Spring, Summer, Fall, Winter... and Spring Bom yeoreum gaeul gyeoul geurigo bom DVD Review Ki-duk Kim Spring, Summer, Fall, Winter... and Spring Bom yeoreum gaeul gyeoul geurigo bom DVD Review Ki-duk Kim's - Spring, Summer, Fall, Winter... and Spring - Bom yeoreum gaeul gyeoul geurigo bom - DVD Review Ki-duk Kim Spring, Summer, Fall, Winter... and Spring Bom yeoreum gaeul gyeoul geurigo bom DVD Review Ki-duk Kim Spring, Summer, Fall, Winter... and Spring Bom yeoreum gaeul gyeoul geurigo bom DVD Review Ki-duk Kim Spring, Summer, Fall, Winter... and Spring Bom yeoreum gaeul gyeoul geurigo bom DVD Review Ki-duk Kim Spring, Summer, Fall, Winter... and Spring Bom yeoreum gaeul gyeoul geurigo bom DVD Review Ki-duk Kim Spring, Summer, Fall, Winter... and Spring Bom yeoreum gaeul gyeoul geurigo bom DVD Review Ki-duk Kim Spring, Summer, Fall, Winter... and Spring Bom yeoreum gaeul gyeoul geurigo bom DVD Review Ki-duk Kim Spring, Summer, Fall, Winter... and Spring Bom yeoreum gaeul gyeoul geurigo bom DVD Review Ki-duk Kim Spring, Summer, Fall, Winter... and Spring Bom yeoreum gaeul gyeoul geurigo bom DVD Review Ki-duk Kim's - Spring, Summer, Fall, Winter... and Spring - Bom yeoreum gaeul gyeoul geurigo bom - DVD Review Ki-duk Kim Spring, Summer, Fall, Winter... and Spring Bom yeoreum gaeul gyeoul geurigo bom DVD Review Ki-duk Kim Spring, Summer, Fall, Winter... and Spring Bom yeoreum gaeul gyeoul geurigo bom DVD Review Ki-duk Kim Spring, Summer, Fall, Winter... and Spring Bom yeoreum gaeul gyeoul geurigo bom DVD Review Ki-duk Kim Spring, Summer, Fall, Winter... and Spring Bom yeoreum gaeul gyeoul geurigo bom DVD Review Ki-duk Kim Spring, Summer, Fall, Winter... and Spring Bom yeoreum gaeul gyeoul geurigo bom DVD Review Ki-duk Kim Spring, Summer, Fall, Winter... and Spring Bom yeoreum gaeul gyeoul geurigo bom DVD Review Ki-duk Kim Spring, Summer, Fall, Winter... and Spring Bom yeoreum gaeul gyeoul geurigo bom DVD Review Ki-duk Kim Spring, Summer, Fall, Winter... and Spring Bom yeoreum gaeul gyeoul geurigo bom DVD Review Ki-duk Kim's - Spring, Summer, Fall, Winter... and Spring - Bom yeoreum gaeul gyeoul geurigo bom - DVD Review Ki-duk Kim Spring, Summer, Fall, Winter... and Spring Bom yeoreum gaeul gyeoul geurigo bom DVD Review Ki-duk Kim Spring, Summer, Fall, Winter... and Spring Bom yeoreum gaeul gyeoul geurigo bom DVD Review Ki-duk Kim Spring, Summer, Fall, Winter... and Spring Bom yeoreum gaeul gyeoul geurigo bom DVD Review Ki-duk Kim Spring, Summer, Fall, Winter... and Spring Bom yeoreum gaeul gyeoul geurigo bom DVD Review Ki-duk Kim Spring, Summer, Fall, Winter... and Spring Bom yeoreum gaeul gyeoul geurigo bom DVD Review Ki-duk Kim Spring, Summer, Fall, Winter... and Spring Bom yeoreum gaeul gyeoul geurigo bom DVD Review Ki-duk Kim Spring, Summer, Fall, Winter... and Spring Bom yeoreum gaeul gyeoul geurigo bom DVD Review Ki-duk Kim Spring, Summer, Fall, Winter... and Spring Bom yeoreum gaeul gyeoul geurigo bom DVD Review Ki-duk Kim's - Spring, Summer, Fall, Winter... and Spring - Bom yeoreum gaeul gyeoul geurigo bom - DVD Review Ki-duk Kim Spring, Summer, Fall, Winter... and Spring Bom yeoreum gaeul gyeoul geurigo bom DVD Review Ki-duk Kim Spring, Summer, Fall, Winter... and Spring Bom yeoreum gaeul gyeoul geurigo bom DVD Review Ki-duk Kim Spring, Summer, Fall, Winter... and Spring Bom yeoreum gaeul gyeoul geurigo bom DVD Review Ki-duk Kim Spring, Summer, Fall, Winter... and Spring Bom yeoreum gaeul gyeoul geurigo bom DVD Review Ki-duk Kim Spring, Summer, Fall, Winter... and Spring Bom yeoreum gaeul gyeoul geurigo bom DVD Review Ki-duk Kim Spring, Summer, Fall, Winter... and Spring Bom yeoreum gaeul gyeoul geurigo bom DVD Review Ki-duk Kim Spring, Summer, Fall, Winter... and Spring Bom yeoreum gaeul gyeoul geurigo bom DVD Review Ki-duk Kim Spring, Summer, Fall, Winter... and Spring Bom yeoreum gaeul gyeoul geurigo bom DVD Review Ki-duk Kim's - Spring, Summer, Fall, Winter... and Spring - Bom yeoreum gaeul gyeoul geurigo bom - DVD Review Ki-duk Kim Spring, Summer, Fall, Winter... and Spring Bom yeoreum gaeul gyeoul geurigo bom DVD Review Ki-duk Kim Spring, Summer, Fall, Winter... and Spring Bom yeoreum gaeul gyeoul geurigo bom DVD Review Ki-duk Kim Spring, Summer, Fall, Winter... and Spring Bom yeoreum gaeul gyeoul geurigo bom DVD Review Ki-duk Kim Spring, Summer, Fall, Winter... and Spring Bom yeoreum gaeul gyeoul geurigo bom DVD Review Ki-duk Kim Spring, Summer, Fall, Winter... and Spring Bom yeoreum gaeul gyeoul geurigo bom DVD Review Ki-duk Kim Spring, Summer, Fall, Winter... and Spring Bom yeoreum gaeul gyeoul geurigo bom DVD Review Ki-duk Kim Spring, Summer, Fall, Winter... and Spring Bom yeoreum gaeul gyeoul geurigo bom DVD Review Ki-duk Kim Spring, Summer, Fall, Winter... and Spring Bom yeoreum gaeul gyeoul geurigo bom DVD Review Ki-duk Kim's - Spring, Summer, Fall, Winter... and Spring - Bom yeoreum gaeul gyeoul geurigo bom - DVD Review Ki-duk Kim Spring, Summer, Fall, Winter... and Spring Bom yeoreum gaeul gyeoul geurigo bom DVD Review Ki-duk Kim Spring, Summer, Fall, Winter... and Spring Bom yeoreum gaeul gyeoul geurigo bom DVD Review Ki-duk Kim Spring, Summer, Fall, Winter... and Spring Bom yeoreum gaeul gyeoul geurigo bom DVD Review Ki-duk Kim Spring, Summer, Fall, Winter... and Spring Bom yeoreum gaeul gyeoul geurigo bom DVD Review Ki-duk Kim Spring, Summer, Fall, Winter... and Spring Bom yeoreum gaeul gyeoul geurigo bom DVD Review Ki-duk Kim Spring, Summer, Fall, Winter... and Spring Bom yeoreum gaeul gyeoul geurigo bom DVD Review Ki-duk Kim Spring, Summer, Fall, Winter... and Spring Bom yeoreum gaeul gyeoul geurigo bom DVD Review Ki-duk Kim Spring, Summer, Fall, Winter... and Spring Bom yeoreum gaeul gyeoul geurigo bom DVD Review