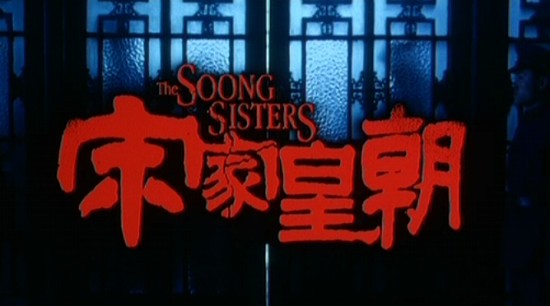 (aka "Song jia huang chao" - literal translation "Soong Family Dynasty")
directed by Mabel Cheung
Hong Kong 1997
By the end of Qing Dynasty, the Soong Sisters - Ai-ling, Ching-ling, and May-ling - became legends in their own time. One loved money, one loved power, and one loved her country. Their lives were interwoven into the turbulent history of modern China. Ching-ling married to Dr. Sun, who led to the 1911 Revolution and she embarked on a long journey of vagrant life……

A co-production with/With location shooting in mainland China, this is also the first time a Hong Kong film directly tackles an important page of modern Chinese history in an epic scale. It met serious censorship problems with the Chinese authorities and, as a result, the release (in both Hong Kong and China) was postponed for over a year, after heavy cuts by the Mainland Chinese authorities.
"The Soong Sisters" is a very good looking film. It's a massive film that must of had a nice budget to work with. It brings to mind the large scale American films of the 50's and 60's. It's the sort of film that isn't made much anymore. Director Cheung, of "An Autumn's Tale" fame, makes sure every shot is visually interesting.


Maggie Chueng stands out for most of most of the film. Her performance is moving. Yeoh comes across as sour in a restrained role. The problem is she didn't have much to work with. Her role is small and she never has a chance to show how well she can act. Wu, who has yet to impress me, is the impulsive youngest sister. She does a passable job.
The three Soong sisters marry and become part of China's most elite families: Ai-ling (Michelle Khan), who married the richest man in China; Ching-ling (Maggie Cheung), who married Sun Yat-sen; and May-ling (Vivian Wu), who married Chiang Kai-shek. Censored by the Chinese government during and after production, and banned until recently. The only weak links here is the script. It's come under fire for it's historical inaccuracies. It's to be expected with an period piece. Character development could have been a little tighter.
Overall, great cinematography, an interesting story and an outstanding soundtrack by Kitaro. Good to great performances by Maggie, Michelle, and Vivian Wu.
Theatrical Release: 21 May 1997 - Singapore
Reviews More Reviews DVD Reviews
DVD Review: Mei Ah (re-mastered - uncut) - Region 0 - NTSC
DVD Box Cover

CLICK to order from:

Thinking of buying from YesAsia? CLICK HERE and use THIS UPDATED BEAVER PAGE to source their very best...

Distribution
Mei Ah - Region 0 - NTSC
Runtime
2:24:30
Video
2.35:1 Original Aspect Ratio
Average Bitrate: 6.45 mb/s
NTSC 720x480 29.97 f/s

NOTE: The Vertical axis represents the bits transferred per second. The Horizontal is the time in minutes.

Bitrate:

Audio
Mandarin (Dolby Digital 5.1 Dolby)
Subtitles
English, Traditional Chinese, Simplified Chinese, None
Features

Release Information:
Studio: Mei Ah Entertainment

Aspect Ratio:
Original aspect Ratio 2.35:1

Edition Details:
• Original trailer (4:3 widescreen - 3:02)
• Data Bank - Synopsis and Cast

DVD Release Date: October 28, 2003
Transparent Keep Case inside Slip Box
Chapters: 9
Comments:

Aside from the "ghosting" in motion sequences, I think this is a strong anamorphic image and 5.1 sound. Skin tones seem fairly good. Subtitles are clear and I didn't notice an inordinate amount of spelling or grammar errors. there are no Extras worth speaking of. So, aside from the sloppiness of the ghosting, it is a refreshing improvement over some of Mei Ah's DVDs of the past. This has a very film-like appearance to it. out of

This DVD includes approximately 17 minutes of additional footage which was omitted from Mei Ah's original DVD of this film.
---
DVD Menus
---
Ghosting Sample
Subtitle Sample
Screen Captures
---
DVD Box Cover

CLICK to order from:

Thinking of buying from YesAsia? CLICK HERE and use THIS UPDATED BEAVER PAGE to source their very best...

Distribution
Mei Ah - Region 0 - NTSC
---




















DONATIONS Keep DVDBeaver alive:
Mail cheques, money orders, cash to: or CLICK PayPal logo to donate!
Thank You!
Mabel Cheung's - The Soong Sisters - Song jia huang chao - DVD Review Mabel Cheung The Soong Sisters Song jia huang chao DVD Review Mabel Cheung The Soong Sisters Song jia huang chao DVD Review Mabel Cheung The Soong Sisters Song jia huang chao DVD Review Mabel Cheung The Soong Sisters Song jia huang chao DVD Review Mabel Cheung The Soong Sisters Song jia huang chao DVD Review Mabel Cheung The Soong Sisters Song jia huang chao DVD Review Mabel Cheung The Soong Sisters Song jia huang chao DVD Review Mabel Cheung's - The Soong Sisters - Song jia huang chao - DVD Review Mabel Cheung The Soong Sisters Song jia huang chao DVD Review Mabel Cheung The Soong Sisters Song jia huang chao DVD Review Mabel Cheung The Soong Sisters Song jia huang chao DVD Review Mabel Cheung The Soong Sisters Song jia huang chao DVD Review Mabel Cheung The Soong Sisters Song jia huang chao DVD Review Mabel Cheung The Soong Sisters Song jia huang chao DVD Review Mabel Cheung The Soong Sisters Song jia huang chao DVD Review Mabel Cheung's - The Soong Sisters - Song jia huang chao - DVD Review Mabel Cheung The Soong Sisters Song jia huang chao DVD Review Mabel Cheung The Soong Sisters Song jia huang chao DVD Review Mabel Cheung The Soong Sisters Song jia huang chao DVD Review Mabel Cheung The Soong Sisters Song jia huang chao DVD Review Mabel Cheung The Soong Sisters Song jia huang chao DVD Review Mabel Cheung The Soong Sisters Song jia huang chao DVD Review Mabel Cheung The Soong Sisters Song jia huang chao DVD Review Mabel Cheung's - The Soong Sisters - Song jia huang chao - DVD Review Mabel Cheung The Soong Sisters Song jia huang chao DVD Review Mabel Cheung The Soong Sisters Song jia huang chao DVD Review Mabel Cheung The Soong Sisters Song jia huang chao DVD Review Mabel Cheung The Soong Sisters Song jia huang chao DVD Review Mabel Cheung The Soong Sisters Song jia huang chao DVD Review Mabel Cheung The Soong Sisters Song jia huang chao DVD Review Mabel Cheung The Soong Sisters Song jia huang chao DVD Review Mabel Cheung's - The Soong Sisters - Song jia huang chao - DVD Review Mabel Cheung The Soong Sisters Song jia huang chao DVD Review Mabel Cheung The Soong Sisters Song jia huang chao DVD Review Mabel Cheung The Soong Sisters Song jia huang chao DVD Review Mabel Cheung The Soong Sisters Song jia huang chao DVD Review Mabel Cheung The Soong Sisters Song jia huang chao DVD Review Mabel Cheung The Soong Sisters Song jia huang chao DVD Review Mabel Cheung The Soong Sisters Song jia huang chao DVD Review Mabel Cheung's - The Soong Sisters - Song jia huang chao - DVD Review Mabel Cheung The Soong Sisters Song jia huang chao DVD Review Mabel Cheung The Soong Sisters Song jia huang chao DVD Review Mabel Cheung The Soong Sisters Song jia huang chao DVD Review Mabel Cheung The Soong Sisters Song jia huang chao DVD Review Mabel Cheung The Soong Sisters Song jia huang chao DVD Review Mabel Cheung The Soong Sisters Song jia huang chao DVD Review Mabel Cheung The Soong Sisters Song jia huang chao DVD Review Mabel Cheung's - The Soong Sisters - Song jia huang chao - DVD Review Mabel Cheung The Soong Sisters Song jia huang chao DVD Review Mabel Cheung The Soong Sisters Song jia huang chao DVD Review Mabel Cheung The Soong Sisters Song jia huang chao DVD Review Mabel Cheung The Soong Sisters Song jia huang chao DVD Review Mabel Cheung The Soong Sisters Song jia huang chao DVD Review Mabel Cheung The Soong Sisters Song jia huang chao DVD Review Mabel Cheung The Soong Sisters Song jia huang chao DVD Review Mabel Cheung's - The Soong Sisters - Song jia huang chao - DVD Review Mabel Cheung The Soong Sisters Song jia huang chao DVD Review Mabel Cheung The Soong Sisters Song jia huang chao DVD Review Mabel Cheung The Soong Sisters Song jia huang chao DVD Review Mabel Cheung The Soong Sisters Song jia huang chao DVD Review Mabel Cheung The Soong Sisters Song jia huang chao DVD Review Mabel Cheung The Soong Sisters Song jia huang chao DVD Review Mabel Cheung The Soong Sisters Song jia huang chao DVD Review Mabel Cheung's - The Soong Sisters - Song jia huang chao - DVD Review Mabel Cheung The Soong Sisters Song jia huang chao DVD Review Mabel Cheung The Soong Sisters Song jia huang chao DVD Review Mabel Cheung The Soong Sisters Song jia huang chao DVD Review Mabel Cheung The Soong Sisters Song jia huang chao DVD Review Mabel Cheung The Soong Sisters Song jia huang chao DVD Review Mabel Cheung The Soong Sisters Song jia huang chao DVD Review Mabel Cheung The Soong Sisters Song jia huang chao DVD Review Mabel Cheung's - The Soong Sisters - Song jia huang chao - DVD Review Mabel Cheung The Soong Sisters Song jia huang chao DVD Review Mabel Cheung The Soong Sisters Song jia huang chao DVD Review Mabel Cheung The Soong Sisters Song jia huang chao DVD Review Mabel Cheung The Soong Sisters Song jia huang chao DVD Review Mabel Cheung The Soong Sisters Song jia huang chao DVD Review Mabel Cheung The Soong Sisters Song jia huang chao DVD Review Mabel Cheung The Soong Sisters Song jia huang chao DVD Review Mabel Cheung's - The Soong Sisters - Song jia huang chao - DVD Review Mabel Cheung The Soong Sisters Song jia huang chao DVD Review Mabel Cheung The Soong Sisters Song jia huang chao DVD Review Mabel Cheung The Soong Sisters Song jia huang chao DVD Review Mabel Cheung The Soong Sisters Song jia huang chao DVD Review Mabel Cheung The Soong Sisters Song jia huang chao DVD Review Mabel Cheung The Soong Sisters Song jia huang chao DVD Review Mabel Cheung The Soong Sisters Song jia huang chao DVD Review Mabel Cheung's - The Soong Sisters - Song jia huang chao - DVD Review Mabel Cheung The Soong Sisters Song jia huang chao DVD Review Mabel Cheung The Soong Sisters Song jia huang chao DVD Review Mabel Cheung The Soong Sisters Song jia huang chao DVD Review Mabel Cheung The Soong Sisters Song jia huang chao DVD Review Mabel Cheung The Soong Sisters Song jia huang chao DVD Review Mabel Cheung The Soong Sisters Song jia huang chao DVD Review Mabel Cheung The Soong Sisters Song jia huang chao DVD Review Mabel Cheung's - The Soong Sisters - Song jia huang chao - DVD Review Mabel Cheung The Soong Sisters Song jia huang chao DVD Review Mabel Cheung The Soong Sisters Song jia huang chao DVD Review Mabel Cheung The Soong Sisters Song jia huang chao DVD Review Mabel Cheung The Soong Sisters Song jia huang chao DVD Review Mabel Cheung The Soong Sisters Song jia huang chao DVD Review Mabel Cheung The Soong Sisters Song jia huang chao DVD Review Mabel Cheung The Soong Sisters Song jia huang chao DVD Review Mabel Cheung's - The Soong Sisters - Song jia huang chao - DVD Review Mabel Cheung The Soong Sisters Song jia huang chao DVD Review Mabel Cheung The Soong Sisters Song jia huang chao DVD Review Mabel Cheung The Soong Sisters Song jia huang chao DVD Review Mabel Cheung The Soong Sisters Song jia huang chao DVD Review Mabel Cheung The Soong Sisters Song jia huang chao DVD Review Mabel Cheung The Soong Sisters Song jia huang chao DVD Review Mabel Cheung The Soong Sisters Song jia huang chao DVD Review Mabel Cheung's - The Soong Sisters - Song jia huang chao - DVD Review Mabel Cheung The Soong Sisters Song jia huang chao DVD Review Mabel Cheung The Soong Sisters Song jia huang chao DVD Review Mabel Cheung The Soong Sisters Song jia huang chao DVD Review Mabel Cheung The Soong Sisters Song jia huang chao DVD Review Mabel Cheung The Soong Sisters Song jia huang chao DVD Review Mabel Cheung The Soong Sisters Song jia huang chao DVD Review Mabel Cheung The Soong Sisters Song jia huang chao DVD Review Mabel Cheung's - The Soong Sisters - Song jia huang chao - DVD Review Mabel Cheung The Soong Sisters Song jia huang chao DVD Review Mabel Cheung The Soong Sisters Song jia huang chao DVD Review Mabel Cheung The Soong Sisters Song jia huang chao DVD Review Mabel Cheung The Soong Sisters Song jia huang chao DVD Review Mabel Cheung The Soong Sisters Song jia huang chao DVD Review Mabel Cheung The Soong Sisters Song jia huang chao DVD Review Mabel Cheung The Soong Sisters Song jia huang chao DVD Review