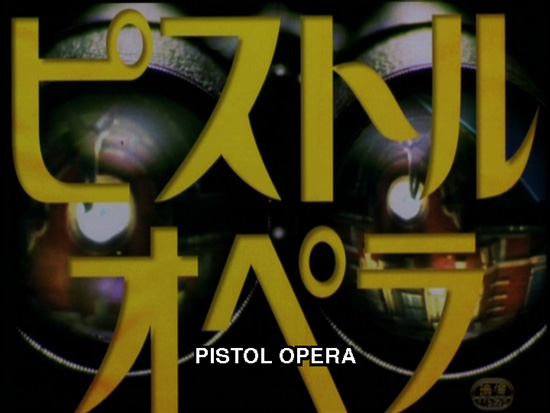 (aka "Pisutoru Opera" )
Stray Cat, the No. 3 killer in a guild of assassins, aspires to be No. 1, and so sets to take out her colleagues in a sometimes inscrutable, yet entirely entertaining whirlwind of a story. Makiko Esumi is enchanting in the lead role, and the rest of the cast fulfills their bizarre roles with tongue-in-cheek gusto. The cinematography is sometimes dazzling, and along with the stylized, fractured narrative, elevates what could've eaily been another lightweight action film into an above-average and fun experience.
Theatrical Release: October 27, 2001 - Japan
Reviews More Reviews DVD Reviews
DVD Review: Media Blasters - Region 1 - NTSC
Big thanks to Donald Brown for the Review!
DVD Box Cover

CLICK to order from:

Distribution

Media Blasters

Region 1 - NTSC

Runtime
1:52:12
Video

1.34:1 Original Aspect Ratio
Average Bitrate: 8.41 mb/s
NTSC 704x480 29.97 f/s

NOTE: The Vertical axis represents the bits transferred per second. The Horizontal is the time in minutes.

Bitrate:

Audio
Japanese - Dolby Digital 5.1
Subtitles
English, none
Features
Release Information:
Studio: Media Blasters

Aspect Ratio:
Fullscreen - 1.34:1

Edition Details:
• Trailers

DVD Release Date: June 24, 2003
Keepcase

Chapters 17
| | |
| --- | --- |
| Comments | This is generally a very good transfer, with a sharp image, vibrant colors, and excellent contrast. There is unfortunatly frequent artifacting, mostly on static background objects, such as blinds and other items with patterns, though it's not enough to overpower Suzuki's dynamic imagery. The film's fullframe composition is faithfully maintained. Recommended. |
---



DVD Menus
---
Screen Captures
---
Recommended Reading (CLICK COVERS or TITLES for more information)
The Midnight Eye Guide to New Japanese Film
by Tom Mes and Jasper Sharp
Eros Plus Massacre: An Introduction to the Japanese New Wave Cinema (Midland Book, Mb 469)
by David Desser

Kon Ichikawa (Cinematheque Ontario Monographs)

by James Quandt, Cinematheque Ontario

Shohei Imamura (Cinematheque Ontario Monographs, No. 1)
by James Quandt
Silver Screen Samurai: The Best of Japan's Samurai Movie Posters
by Na
The Films of Akira Kurosawa by Donald Ritchie
The Yakuza Movie Book : A Guide to Japanese Gangster Films
by Mark Schilling
Japanese Movie Posters: Yakuza, Monster, Pink, and Horror
by Chuck Stephens, Tetsuya Masuda, Kairakutei Black
A Hundred Years of Japanese Film by Donald Richie
Check out more in "The Library"
---
DVD Box Cover

CLICK to order from:

Distribution

Media Blasters

Region 1 - NTSC






---
Seijun Suzuki's - Pistol Opera - DVD Review Pisutoru opera Seijun Suzuki Pistol Opera DVD Review Seijun Suzuki Pistol Opera DVD Review Seijun Suzuki Pistol Opera DVD Review Seijun Suzuki Pistol Opera DVD Review Pisutoru opera Seijun Suzuki's - Pistol Opera - DVD Review Pisutoru opera Seijun Suzuki Pistol Opera DVD Review Seijun Suzuki Pistol Opera DVD Review Seijun Suzuki Pistol Opera DVD Review Seijun Suzuki Pistol Opera DVD Review Pisutoru opera Seijun Suzuki's - Pistol Opera - DVD Review Pisutoru opera Seijun Suzuki Pistol Opera DVD Review Seijun Suzuki Pistol Opera DVD Review Seijun Suzuki Pistol Opera DVD Review Seijun Suzuki Pistol Opera DVD Review Pisutoru opera Seijun Suzuki's - Pistol Opera - DVD Review Pisutoru opera Seijun Suzuki Pistol Opera DVD Review Seijun Suzuki Pistol Opera DVD Review Seijun Suzuki Pistol Opera DVD Review Seijun Suzuki Pistol Opera DVD Review Pisutoru opera Seijun Suzuki's - Pistol Opera - DVD Review Pisutoru opera Seijun Suzuki Pistol Opera DVD Review Seijun Suzuki Pistol Opera DVD Review Seijun Suzuki Pistol Opera DVD Review Seijun Suzuki Pistol Opera DVD Review Pisutoru opera Seijun Suzuki's - Pistol Opera - DVD Review Pisutoru opera Seijun Suzuki Pistol Opera DVD Review Seijun Suzuki Pistol Opera DVD Review Seijun Suzuki Pistol Opera DVD Review Seijun Suzuki Pistol Opera DVD Review Pisutoru opera Seijun Suzuki's - Pistol Opera - DVD Review Pisutoru opera Seijun Suzuki Pistol Opera DVD Review Seijun Suzuki Pistol Opera DVD Review Seijun Suzuki Pistol Opera DVD Review Seijun Suzuki Pistol Opera DVD Review Pisutoru opera Seijun Suzuki's - Pistol Opera - DVD Review Pisutoru opera Seijun Suzuki Pistol Opera DVD Review Seijun Suzuki Pistol Opera DVD Review Seijun Suzuki Pistol Opera DVD Review Seijun Suzuki Pistol Opera DVD Review Pisutoru opera Seijun Suzuki's - Pistol Opera - DVD Review Pisutoru opera Seijun Suzuki Pistol Opera DVD Review Seijun Suzuki Pistol Opera DVD Review Seijun Suzuki Pistol Opera DVD Review Seijun Suzuki Pistol Opera DVD Review Pisutoru opera Seijun Suzuki's - Pistol Opera - DVD Review Pisutoru opera Seijun Suzuki Pistol Opera DVD Review Seijun Suzuki Pistol Opera DVD Review Seijun Suzuki Pistol Opera DVD Review Seijun Suzuki Pistol Opera DVD Review Pisutoru opera Seijun Suzuki's - Pistol Opera - DVD Review Pisutoru opera Seijun Suzuki Pistol Opera DVD Review Seijun Suzuki Pistol Opera DVD Review Seijun Suzuki Pistol Opera DVD Review Seijun Suzuki Pistol Opera DVD Review Pisutoru opera Seijun Suzuki's - Pistol Opera - DVD Review Pisutoru opera Seijun Suzuki Pistol Opera DVD Review Seijun Suzuki Pistol Opera DVD Review Seijun Suzuki Pistol Opera DVD Review Seijun Suzuki Pistol Opera DVD Review Pisutoru opera Seijun Suzuki's - Pistol Opera - DVD Review Pisutoru opera Seijun Suzuki Pistol Opera DVD Review Seijun Suzuki Pistol Opera DVD Review Seijun Suzuki Pistol Opera DVD Review Seijun Suzuki Pistol Opera DVD Review Pisutoru opera Seijun Suzuki's - Pistol Opera - DVD Review Pisutoru opera Seijun Suzuki Pistol Opera DVD Review Seijun Suzuki Pistol Opera DVD Review Seijun Suzuki Pistol Opera DVD Review Seijun Suzuki Pistol Opera DVD Review Pisutoru opera Seijun Suzuki's - Pistol Opera - DVD Review Pisutoru opera Seijun Suzuki Pistol Opera DVD Review Seijun Suzuki Pistol Opera DVD Review Seijun Suzuki Pistol Opera DVD Review Seijun Suzuki Pistol Opera DVD Review Pisutoru opera Seijun Suzuki's - Pistol Opera - DVD Review Pisutoru opera Seijun Suzuki Pistol Opera DVD Review Seijun Suzuki Pistol Opera DVD Review Seijun Suzuki Pistol Opera DVD Review Seijun Suzuki Pistol Opera DVD Review Pisutoru opera