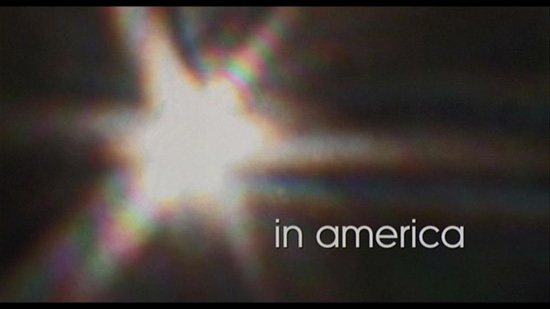 (aka "East of Harlem (working title)" )
directed by Jim Sheridan
Ireland 2002
Above all themes, the most dominant in Irish literature is the internal struggle for identity, which is an reflection upon the main characters crises against anything from the church to the world, which again is an reflection upon the Irish soul, and while this personal struggle varies from period to writer, it always ends with the main character overcoming the struggle. As such, "In America" is a film in the tradition of Irish literature.

Based upon their own experiences, "In America" is a semi autobiographic account of the early life of Jim Sheridan and his experiences coming to America. Originally outlined by Sheridan many years ago, it wasn't until his two daughters, Naomi and Kirsten Sheridan, began writing about it on their own, that he picked it up again and the script began to take form. The daughters wrote about what they remembered in notes, in diary form, which to some extend is visible in the film. Much of the film is accounted for, either in third person narration or point of view. However, their involvement, even though it most likely added more depth and credibility to the story, also is the scripts greatest weakness, as there is a overwhelming atmosphere of making everything look good. Where a original script, or perhaps even a uninvolved writer would have dared to go further, there always seems to be a life raft to save them from drowning. Then again, reality always seems unrealistic on film.

Paddy is an unemployed Irish actor, who takes his family to New York to fulfill his dream of becoming an actor. However that is just an excuse: In reality he has turned his back on God and is running away from himself, trying to recreate the family unity in a new land. Those Irish sure have to struggle.

There is nothing original in "In America": We have seen the story time and time again, in different forms, with more or less strength. Here we find a family, down on their luck, struggling to survive amongst junkies. We even have the token black person, who represents our fears. At time bordering cliché, "In America" surprisingly avoids becoming ordinary, thanks to not only a great story, but especially from the credibility of the characters. Helped by some of the most amazing acting, especially by the Bulger sisters and Sam Morton, who in my opinion out acts both Watts and Cheron, and deserved the Oscar (but I guess her role was not prolific enough), we see real people, having real problems and even the most common and trivial matters becomes larger than life.

Another area which one can critic is, while "In America" started out with a raw and honest display of what desperation does to people, it seemed to run out of steam and wasn't able to maintain the strength throughout the film. Then again, I am glad that Sheridan didn't have to suffer as much as we would like him to, so that we today could sit comfortably and judge if his life was hard enough for us to consider the film a masterpiece. When its all said and done, "In America" is celebration of story telling. (4½ of 5)

Posters
Theatrical Release: September 13, 2002 (Toronto International Film Festival)
Reviews More Reviews DVD Reviews
DVD Review: 20th Century Fox / Svensk Filmindustri - Region 2 - PAL
DVD Box Cover

CLICK to order from:

Distribution

20th Century Fox / Svensk Filmindustri

Region 2 - PAL

Runtime
1:41:04 (4% PAL speedup)
Video

1.85:1 Original Aspect Ratio

16X9 enhanced
Average Bitrate: 5.97 mb/s
PAL 720x576 25.00 f/s

NOTE: The Vertical axis represents the bits transferred per second. The Horizontal is the time in minutes.

Bitrate:

Audio
Dolby Digital 5.1
Subtitles
English, Danish, Swedish, Norwegian, Finnish, Icelandic, English (audio commentary) - 16x9 friendly
Features
Release Information:
Studio: 20th Century Fox / Svensk Filmindustri

Aspect Ratio:
Widescreen anamorphic - 1.85:1

Edition Details:
• Audio commentary by Jim Sheridan
• A Personal Journey: The making of 'In America' (20:20)
• 6 deleted scenes (12:29)

DVD Release Date: May 18, 2004
Keep Case

Chapters 28


Comments
This is a great DVD. While it isn't a film which we get high notes on sound and vision, the choice of additional material get them instead.

The weakest link is the 20 minutes running making of, which is the usual back clapping production documentary, but it still allows some background info to be known.

The real gem is the audio commentary, where Sheridan weaves back and forth between commenting the film, the actors, the production, the real events and his past. It is one of the best commentaries I have heard in a long time: So personal, so dedicated, so full of passion.

Finally, there are six deleted scenes with optional audio commentary by Sheridan. As always, we can question why the scenes weren't in the film, as they are great ones, especially "The Penny", but thankfully we are given the chance to see them and listen to what Sheridan meant with the scene.

---



DVD Menus

---
Subtitle Sample


















DONATIONS Keep DVDBeaver alive:
Mail cheques, money orders, cash to: or CLICK PayPal logo to donate!
Many Thanks...