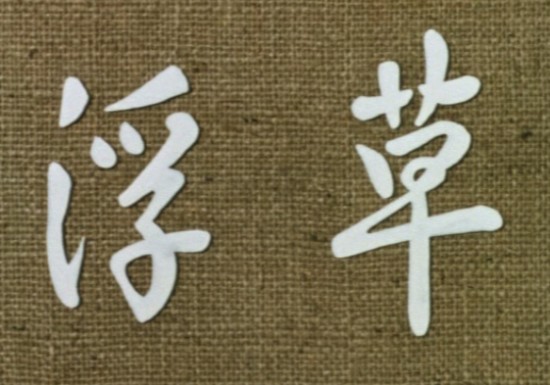 (aka "Ukigusa" or "Drifting Weeds" or "Floating Weeds")
directed by Yasujiro Ozu
Japan 1959
"Subtle, lyrical, and delicately bittersweet, Floating Weeds is a remake of a story Ozu first told in a 1934 silent film (The Story of Floating Weeds). Floating Weeds (1959) stands a bit apart from the bulk of Ozu's work, which primarily dealt with the middle-class mainstream. But his favorite theme of the stresses and strains of parent-child relationships figure prominently in this story of a raggle-taggle theater troupe giving its final performances in a small fishing village.
Given the scenario, most filmmakers would chart it out as a simple series of melodramatic "highs" and "lows." Not Ozu. From the first shot, comically juxtaposing a lighthouse (background) with a sake bottle (foreground), to the last one of a train swiftly moving over a nighttime landscape, it's plain we're in the hands of a filmmaker whose prime concern is understatement and overtone. Rather than rush to the heat of a "big" dramatic moment, Ozu concentrates on the warmth of "small" ones. In scene after scene the way the characters walk, sit, stand, and speak is scrupulously observed. Time and time again, he gives the screen over to "minor" characters (the secondary actors in the troupe, always on the prowl for women) and even "unimportant" ones (passers-by, old people, children).
Nothing is "unimportant" in Ozu's view. The story is not meant to stand as an "exceptional" dramatic incident, but rather as part of the context of the ebb and flow of life. "Unimportant" people and actions are part of this ebb and flow. In fact, so are the places and inanimate objects surrounding them. And so we are treated to lovingly photographed shots of banners blowing in the wind, gardens dripping with rain, empty small town streets. They punctuate the action, signaling the beginnings and ends of scenes. But they are also there to be seen for themselves in a manner that can only be called poetic. Ozu in Floating Weeds tells us a story, but at the same time he brings it to us through a child's eyes. We cannot ask more of a film artist." -- an excerpt from the old Criterion Laserdisc notes by David Ehrenstein
Poster
Theatrical Release: November 17th, 1959 - Japan
Reviews More Reviews DVD Reviews
DVD Review: Artificial Eye - Region 2 - PAL
DVD Box Cover

CLICK to order from:

NOTE: Purchases through DVDBeaver's links to Amazon help keep us afloat and advertisement free!

Distribution
Artificial Eye Film Company Ltd - Region 2- PAL
Runtime
1:53:58
Video
1.33:1 Original Aspect Ratio
PAL 720x576 25.00 f/s
Audio
Japanese (Dolby Digital 2.0 Mono)
Subtitles
English, None
Features

Release Information:
Studio: Artificial Eye Film Company

Aspect Ratio:
Original aspect Ratio 1.33:1

Edition Details:

None

DVD Release Date: January 26th, 2004
Keep Case
Chapters: 14
| | |
| --- | --- |
| Comments: | "This disc looks really, really nice. The colours are rich but not oversaturated like some VHS and cinema prints I've seen of this film - which probably overstated the beautifully luminous Kazuo Miyagawa cinematography (I believe this was the only time that Miyagawa worked with Ozu). I have a niggling feeling that the image is slightly cropped. Ozu's tight frames look slightly more zoomed in to me than usual and people look too thin. I will be very interested to see a comparison of this disc with the Criterion version which is due in 2004 (along with THE STORY OF FLOATING WEEDS in a 2 x disc set). For those that can wait, wait for Criterion. For those that can't - this Artificial Eye DVD is better than any of the Panorama Ozu discs from Hong Kong." The subtitles on this Artificial Eye release are in perfect English (unlike the appalling mess on some of the Panorama discs). Furthermore, it's unlikely that Panorama will be releasing FLOATING WEEDS because it was made by Daiei, and everything that Panorama are releasing is Shochiku." |
---
Recommended Reading for Japanese Film Fans (CLICK COVERS or TITLES for more information)
The Japan Journals : 1947-2004,

by Donald Richie

The Midnight Eye Guide to New Japanese Film
by Tom Mes and Jasper Sharp

Kon Ichikawa (Cinematheque Ontario Monographs)

by James Quandt, Cinematheque Ontario

Shohei Imamura (Cinematheque Ontario Monographs, No. 1)
by James Quandt
Eros Plus Massacre: An Introduction to the Japanese New Wave Cinema (Midland Book, Mb 469)
by David Desser
The Films of Akira Kurosawa by Donald Ritchie

by Yasujiro Ozu, Kogo Noda, Donald Richie, Eric Klestadt

Ozu by Donald Ritchie

A Hundred Years of Japanese Film by Donald Richie
Check out more in "The Library"
---


DVD Menus

---
Subtitle Sample
Screen Captures
---
---
---
DVD Box Cover

CLICK to order from:

NOTE: Purchases through DVDBeaver's links to Amazon help keep us afloat and advertisement free!