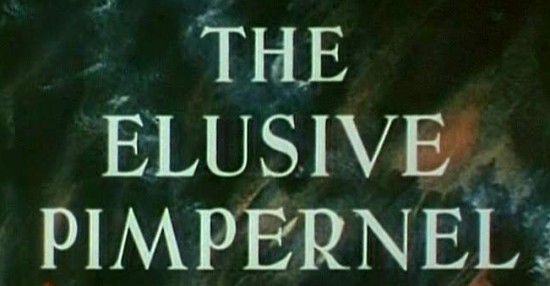 (aka "The Fighting Pimpernel" or "Le Chevalier de Londres")
In austere post-war Britain the Archers, Michael Powell from Kent and Emeric Pressburg from Hungary, produced some of the most deliriously imaginative British films ever made. The Elusive Pimpernel, a remake of the 1934 Scarlet Pimpernel, has been judged inferior to the original and largely neglected. It was intended to be a musical co-produced by Samuel Goldwyn, who in the end only loaned out David Niven to star in it. It was filmed on location notably in Mont Saint Michel, the Royal Crescent, Bath and Touraine.
The film follows the adventures of Sir Percy Blakely, the Scarlet Pimpernel, as he rescues French aristocrats from Madame Guillotine and matches wits with Citozen Chauvelin. It deals with Sir Percy's doubts about his wife who has helped Chauvelin in the past and although there are action sequences, the film is much more concerned with cerebral duels than flashing swords.

Filmed in sumptuous Technicolor (though only released in B&W in the USA), it is a rollicking adventure. David Niven portrays the twin roles of fop and adventurer with relish; Jack Hawkins does a wonderful turn as the Prince of Wales and a footpad. There are occasional narrative lapses, but these are of little consequence. In an interview given by Powell shortly after the film's release, he states that he was revisiting his childhood when making the Elusive Pimpernel. A considerable success as light entertainment, it only suffers when compared to the Archers' finest work.
Posters
Theatrical Release: 6th February 1950 UK, 17th April 1954 USA
DVD Review: PPP DVD - Region 0 - PAL
Distribution

PPP DVD

Region 0 - PAL

Runtime
1:44:28 (4% PAL speedup)
Video

4:3 Original Aspect Ratio
Average Bitrate:5.23 mb/s
PAL 720x576 25.00 f/s

Bitrate:

NOTE: The Vertical axis represents the bits transferred per second. The Horizontal is the time in minutes.

Audio
Mono
Subtitles
None
Features
Release Information:
Studio: PPP DVD

Aspect Ratio:
Fullscreen - 4:3

Edition Details:

DVD Release Date: April 2004
Chapters 21

Comments
Internal evidence suggests that this was produced from a British television broadcast from Channel 4, probably using home recording equipment. The picture is reasonably sharp with vivid colors and some faint ghosting. Certainly not worse than poorly produced commercial efforts, it is of acceptable quality. It does show that credible copies of undistributed films can be produced in this manner.
---



DVD Menus

---
Screen Captures
---
Associated Reading (CLICK COVERS or TITLES for more information)




















DONATIONS Keep DVDBeaver alive:
Mail cheques, money orders, cash to: or CLICK PayPal logo to donate!
Thank You!
Michael Powell Emeric Pressburger's The Elusive Pimpernel PPP - Region 2- PAL DVD Review Powell and Pressburger The Elusive Pimpernel DVD Review Powell and Pressburger The Elusive Pimpernel DVD Review Powell and Pressburger The Elusive Pimpernel DVD Review Powell and Pressburger The Elusive Pimpernel DVD Review Powell and Pressburger The Elusive Pimpernel DVD Review Powell and Pressburger The Elusive Pimpernel DVD Review Powell and Pressburger The Elusive Pimpernel DVD Review Powell and Pressburger The Elusive Pimpernel DVD Review Powell and Pressburger The Elusive Pimpernel DVD Review Powell and Pressburger The Elusive Pimpernel DVD Review Powell and Pressburger The Elusive Pimpernel DVD Review Powell and Pressburger The Elusive Pimpernel Michael Powell Emeric Pressburger's The Elusive Pimpernel P T Video / Fremantle - Region 2- PAL DVD Review Powell and Pressburger The Elusive Pimpernel DVD Review Powell and Pressburger The Elusive Pimpernel DVD Review Powell and Pressburger The Elusive Pimpernel DVD Review Powell and Pressburger The Elusive Pimpernel DVD Review Powell and Pressburger The Elusive Pimpernel DVD Review Powell and Pressburger The Elusive Pimpernel DVD Review Powell and Pressburger The Elusive Pimpernel DVD Review Powell and Pressburger The Elusive Pimpernel DVD Review Powell and Pressburger The Elusive Pimpernel DVD Review Powell and Pressburger The Elusive Pimpernel DVD Review Powell and Pressburger The Elusive Pimpernel DVD Review Powell and Pressburger The Elusive Pimpernel Michael Powell Emeric Pressburger's The Elusive Pimpernel P T Video / Fremantle - Region 2- PAL DVD Review Powell and Pressburger The Elusive Pimpernel DVD Review Powell and Pressburger The Elusive Pimpernel DVD Review Powell and Pressburger The Elusive Pimpernel DVD Review Powell and Pressburger The Elusive Pimpernel DVD Review Powell and Pressburger The Elusive Pimpernel DVD Review Powell and Pressburger The Elusive Pimpernel DVD Review Powell and Pressburger The Elusive Pimpernel DVD Review Powell and Pressburger The Elusive Pimpernel DVD Review Powell and Pressburger The Elusive Pimpernel DVD Review Powell and Pressburger The Elusive Pimpernel DVD Review Powell and Pressburger The Elusive Pimpernel DVD Review Powell and Pressburger The Elusive Pimpernel Michael Powell Emeric Pressburger's The Elusive Pimpernel P T Video / Fremantle - Region 2- PAL DVD Review Powell and Pressburger The Elusive Pimpernel DVD Review Powell and Pressburger The Elusive Pimpernel DVD Review Powell and Pressburger The Elusive Pimpernel DVD Review Powell and Pressburger The Elusive Pimpernel DVD Review Powell and Pressburger The Elusive Pimpernel DVD Review Powell and Pressburger The Elusive Pimpernel DVD Review Powell and Pressburger The Elusive Pimpernel DVD Review Powell and Pressburger The Elusive Pimpernel DVD Review Powell and Pressburger The Elusive Pimpernel DVD Review Powell and Pressburger The Elusive Pimpernel DVD Review Powell and Pressburger The Elusive Pimpernel DVD Review Powell and Pressburger The Elusive Pimpernel Michael Powell Emeric Pressburger's The Elusive Pimpernel P T Video / Fremantle - Region 2- PAL DVD Review Powell and Pressburger The Elusive Pimpernel DVD Review Powell and Pressburger The Elusive Pimpernel DVD Review Powell and Pressburger The Elusive Pimpernel DVD Review Powell and Pressburger The Elusive Pimpernel DVD Review Powell and Pressburger The Elusive Pimpernel DVD Review Powell and Pressburger The Elusive Pimpernel DVD Review Powell and Pressburger The Elusive Pimpernel DVD Review Powell and Pressburger The Elusive Pimpernel DVD Review Powell and Pressburger The Elusive Pimpernel DVD Review Powell and Pressburger The Elusive Pimpernel DVD Review Powell and Pressburger The Elusive Pimpernel DVD Review Powell and Pressburger The Elusive Pimpernel Michael Powell Emeric Pressburger's The Elusive Pimpernel P T Video / Fremantle - Region 2- PAL DVD Review Powell and Pressburger The Elusive Pimpernel DVD Review Powell and Pressburger The Elusive Pimpernel DVD Review Powell and Pressburger The Elusive Pimpernel DVD Review Powell and Pressburger The Elusive Pimpernel DVD Review Powell and Pressburger The Elusive Pimpernel DVD Review Powell and Pressburger The Elusive Pimpernel DVD Review Powell and Pressburger The Elusive Pimpernel DVD Review Powell and Pressburger The Elusive Pimpernel DVD Review Powell and Pressburger The Elusive Pimpernel DVD Review Powell and Pressburger The Elusive Pimpernel DVD Review Powell and Pressburger The Elusive Pimpernel DVD Review Powell and Pressburger The Elusive Pimpernel Michael Powell Emeric Pressburger's The Elusive Pimpernel P T Video / Fremantle - Region 2- PAL DVD Review Powell and Pressburger The Elusive Pimpernel DVD Review Powell and Pressburger The Elusive Pimpernel DVD Review Powell and Pressburger The Elusive Pimpernel DVD Review Powell and Pressburger The Elusive Pimpernel DVD Review Powell and Pressburger The Elusive Pimpernel DVD Review Powell and Pressburger The Elusive Pimpernel DVD Review Powell and Pressburger The Elusive Pimpernel DVD Review Powell and Pressburger The Elusive Pimpernel DVD Review Powell and Pressburger The Elusive Pimpernel DVD Review Powell and Pressburger The Elusive Pimpernel DVD Review Powell and Pressburger The Elusive Pimpernel DVD Review Powell and Pressburger The Elusive Pimpernel