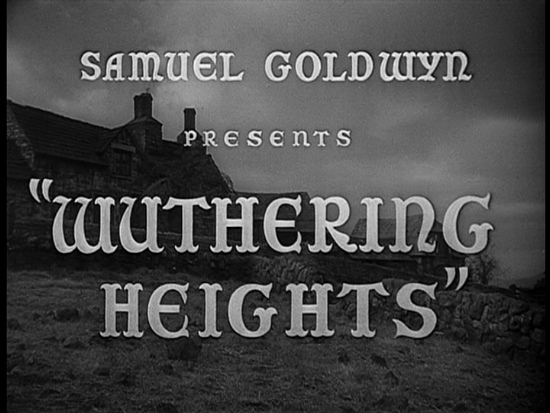 In the late winter months of 1801, a man named Lockwood rents a manor house called Thrushcross Grange in the isolated moor country of England. Here, he meets his dour landlord, Heathcliff, a wealthy man who lives in the ancient manor of Wuthering Heights, four miles away from the Grange. In this wild, stormy countryside, Lockwood asks his housekeeper, Nelly Dean, to tell him the story of Heathcliff and the strange denizens of Wuthering Heights. Nelly consents, and Lockwood writes down his recollections of her tale in his diary; these written recollections form the main part of Wuthering Heights.

Director William Wyler brings his deft and extremely personal touch to the magnificently romantic story of "Wuthering Heights" by Emily Bronte... mix in the extraordinary deep-focus cinematography of Gregg Toland and you have a masterpiece ready to stand the test of time for decade to come... and it has. Absolutely perfect!

out of

Gary W. Tooze
Posters
Theatrical Release: 24 March 1939 (Hollywood, CA)
Reviews More Reviews DVD Reviews
DVD Comparison:
Warner Home Video - Region 1 - NTSC vs. HBO - Region 1 - NTSC
Big thanks to Gregory Meshman for the Warner DVD Review!
Warner Home Video - Region 1 - NTSC LEFT vs. HBO - Region 1 - NTSC RIGHT
DVD Box Covers

Distribution

Warner Home Video

Region 1 - NTSC

HBO Region 1 - NTSC
Runtime
1:44:00
1:44:00
Video

1.33:1 Original Aspect Ratio
Average Bitrate: 4.51 mb/s
NTSC 720x480 29.97 f/s

1.33:1.00 Original Aspect ratio
Average Bitrate: 5.7 mb/s
NTSC 720x480 29.97 f/s

NOTE: The Vertical axis represents the bits transferred per second. The Horizontal is the time in minutes.

Bitrate: Warner

Bitrate: HBO

Audio
Dolby Digital Mono (English)
English (Dolby Digital 1.0), English (Dolby Digital 2.0 Surround)
Subtitles
English, French, Spanish, None
English, Spanish, French and None
Features
Release Information:
Studio: Warner Home Video

Aspect Ratio:
Fullscreen - 1.33:1

Edition Details:
• Interview with Geraldine Fitzgerald (9:19)
• Un-restored Theatrical trailer (1:59)

DVD Release Date: January 15th, 2013
Keep Case

Chapters 24


Release Information:
Studio: HBO Studios
Theatrical Release Date: April 13, 1939

Aspect Ratio:
Full Screen (Standard) - 1.33:1

Edition Details:
• Cast and crew bios
• Un-restored Theatrical trailer (1:47)
• Interview with Geraldine Fitzgerald (9:18)
• Soundtrack re-mastered in Chace stereo

DVD Release Date: October 28th, 1997
Snap Case
Chapters: 24
Comments

Wuthering Heights was released on DVD in 1997 by HBO and that release has been out-of-print for a very long time. While other Goldwyn titles were eventually re-released by MGM, this one somehow missed the boat despite having releases from MGM in other countries. Warner Home Video finally put the film back in print in region 1, first as a Costco exclusive in the fall of 2012 and releasing it widely in January of 2013. Unfortunately, the same transfer from 1997 was used for this released. We matched all of screen shots exactly, and side-by-side comparison shows the same damage spots and bitrate graph is identical. Warner disc is a bit softer and smoother. Same video extras were transferred over - a trailer and an interview with Geraldine Fitzgerald, and same number of subtitle options. We loose text screens with cast and crew bios and generic menu screens are bland. While we are happy to see the film back in print, it deserves so much more - a high-definition release would be welcome.

ON THE HBO: This HBO release is similar to other Wyler films/DVD that they did very adeptly; "The Best Years of Our Lives" and "The Little Foxes". Similarly the sound has been digitally re-mastered in Dolby 2.0 STEREO (Chace Surround) and also offered in the original mono English. Subtitles are available in removable English, French and Spanish.

Gregg Toland's cinematography is shown with solid shadow detail and clarity. This is a well done disc for the image and sound, and a 9 minute interview with an aged Geraldine Fitzgerald who has nothing flattering to say about anyone involved in the production.

Although this is officially "Out of Print" it is readily available 'used' from Amazon. I suggest that you should purchase this soon... before it escalates in price. I imagine that fairly soon this will be re-released, probably by MGM, but like history has shown us this is probably the definitive release. Not quite reaching Criterion contrast levels, but let me tell you, it is not far off... lots of fill grain ( or pseudo-film grain ) visible. Don't wait. Buy now. out of
---

DVD Menus

Warner Home Video - Region 1 - NTSC LEFT vs. HBO - Region 1 - NTSC RIGHT

| | |
| --- | --- |
| | |
| | |
| | |
| | |
---
Screen Captures
Subtitle sample
---
Warner Home Video - Region 1 - NTSC TOP vs. HBO - Region 1 - NTSC BOTTOM
---
Warner Home Video - Region 1 - NTSC TOP vs. HBO - Region 1 - NTSC BOTTOM
---
Warner Home Video - Region 1 - NTSC TOP vs. HBO - Region 1 - NTSC BOTTOM
---
Warner Home Video - Region 1 - NTSC TOP vs. HBO - Region 1 - NTSC BOTTOM
---
Warner Home Video - Region 1 - NTSC TOP vs. HBO - Region 1 - NTSC BOTTOM
---
Warner Home Video - Region 1 - NTSC TOP vs. HBO - Region 1 - NTSC BOTTOM
---
DVD Box Covers

Distribution

Warner Home Video

Region 1 - NTSC

HBO Region 1 - NTSC