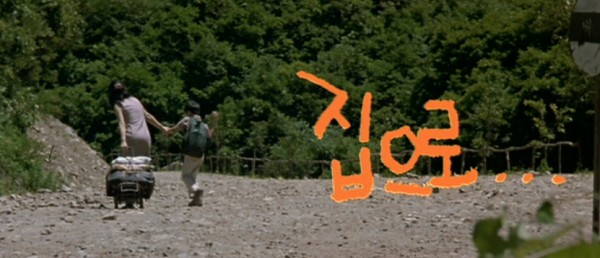 (aka 'Jibeuro' or 'The Way Home')
directed by Jeong-hyang Lee
South Korea 2002
A pleasant if hollow experience, "The Way Home' followed similar patterns to other Korean films I have seen recently. Starting from an exaggerated premise of character portrayal; in this case a young, superlatively spoilt and mean-spirited child overcomes his selfish demeanor... and we the audience are left to say collectively sigh "ahhhhh" in the conclusion. Other modern Korean films I have seen recently ('Peppermint Candy', 'Failan', 'Oasis' etc.) start very similarly with an unsavory male character that appears beyond redemption, and then quite expectantly we are eventually given signs that they are not all that bad after all. This usually occurs through interaction with a kindly innocent member of the opposite sex. Although I enjoyed much of "Peppermint Candy" and "Failan", I am also wondering when this trend will turn or how far it will extend while stuck in this current groove. There were some positive moments to "The Way Home" and at times reminded me of films by Chinese director Zhang Yimou. There were some beautifully photographed scenes and the storyline involved a young child. The plot was simplistic with a limited narrative. Unfortunately though, unlike Zhang Yimou films that leave a myriad of interpersonal interpretations, "The Way Home" was quite empty having really no place for your thoughts to go in its conclusion. A film should do more than extract sympathy from the audience and for myself, personally, this hardly did at all. No, I don't recommend this film.

out of

.
Gary W. Tooze
Posters
Reviews More Reviews DVD Reviews Official Site
Recommended Books on Korean Cinema (CLICK COVERS or TITLES for more information)
DVD Review: Paramount Home Video - Region 1 - NTSC
DVD Box Cover

CLICK to order from:

NOTE: Purchases through DVDBeaver's links to Amazon help keep us afloat and advertisement free!

Distribution
Paramount Home Video Region 1 - NTSC
Runtime
1:28:12
Video
1.78:1.00 Letterboxed WideScreen / anamorphic
Average Bitrate: 5.85 mb/s
NTSC 720x480 29.97 f/s
Bitrate:

Audio
Korean (Dolby Digital 5.1) ,
Subtitles
English, None
Features
Release Information:
Studio: Paramount Home Video
Theatrical Release Date: April 5th, 2002

Aspect Ratio:
Widescreen letterbox


Edition Details:
• Color, Widescreen
• Widescreen letterbox format

DVD Release Date: May 6, 2003
Keep Case
Chapters: 10

Comments:

Not unlike my interpretation of the film, this DVD looks great, but has no guts. The image quality and sound are both excellent, but there are NO extras at all... not even a filmography or some similar static text pages. Very impressive photography is detailed well with excellent contrast levels and adequately sharp detail. This is a good disc if you only want the film. To appreciate this film, something else should have been included. out of Gary W. Tooze
---

DVD Menus
---
Screen Captures
---
---
---
---
---




DONATIONS Keep DVDBeaver alive and advertisement free:
Mail cheques, money orders, cash to: or CLICK PayPal logo to donate!