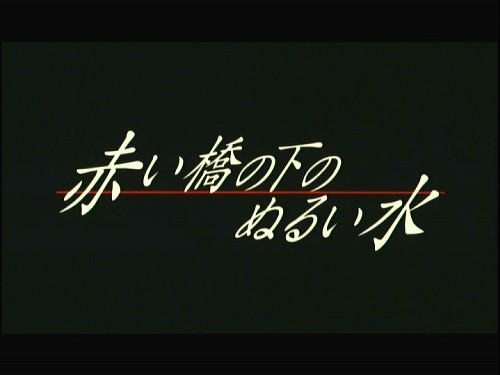 Warm Water Under a Red Bridge
( aka 'Akai hashi no shita no nurui mizu' )
directed by Shohei Imamura
Japan 2001

"Warm Water Under a Red Bridge" has modern automobiles and supermarkets, telephones and pepper cheese imported from Europe, but it resonates like an ancient Japanese myth. Imagine a traveler in search of treasure, who finds a woman with special needs that only he can fulfill, and who repays him by ending his misery.
Shohei Imamura, one of the greatest Japanese directors, tells this story with the energy and delight of a fairy tale, but we in the West are not likely to see it so naively, because unlike the Japanese, we are touchy on the subject of bodily fluids. In Japan, natural functions are accepted calmly as a part of life, and there is a celebrated children's book about farts. No doubt a Japanese audience would view "Warm Water" entirely differently than a North American one--because, you see, the heroine has a condition that causes water to build up in her body, and it can be released only by sexual intercourse."

Excerpt from Roger Ebert's review HERE
Poster
Review More Reviews DVD Review Official Site English Website
DVD Review: DeltaMac Region 0 - NTSC
DVD Box Cover

Order from:

Distribution
DeltaMac Region 0 - NTSC
Runtime
1:59:44
Video
1.70:1 Widescreen non-anamorphic Video Sourced!
Average Bitrate: 7.49 mb/s
NTSC 720x480 29.97 f/s
Bitrate: DeltaMac

NOTE: The Vertical axis represents the bits transferred per second. The Horizontal is the time in minutes.

Audio
Japanese (Dolby Digital 2.0)
Subtitles
White removable English subtitles (with black backing) are easy to read and well timed. Also included are traditional and simplified Chinese subtitles.
Features
Region Code: ALL
Aspect Ratio: 1.70:1 non- anamorphic VIDEO Sourced
Audio: Japanese, DD 2.0
Company: DeltaMac

Running Time: 1:59:44


Special Features: Cast & Crew Info

Cast and Crew Information
Trailer (2:00)
Chapters (12)

Comments:

Letterboxed presentation at 1.70: 1 features accurately-rendered colors and skin tones. The print appears to be clean although video as opposed to film sourced. Trailer, plus director & cast information (director's note about his cinematic vision for the film, incomplete biographies and film listings for Imamura and the two lead actors). The film premiered at the 2001 Cannes. After playing in a few festivals, it opened in Japan in November 2001. It played in Hong Kong cinemas earlier in 2002, and had a limited release in the United States in May, 2002. The DeltaMac DVD has a slight greenish tinge to it, otherwise the sound and picture are adequate with minor edge enhancement. It occasionally is somewhat dark and there are no extras to speak of.

out of

DVD Release Date: Summer, 2002
Transparent Snap Case
Chapters: 12
---
Recommended Reading for Japanese Film Fans (CLICK COVERS or TITLES for more information)
The Japan Journals : 1947-2004,

by Donald Richie

The Midnight Eye Guide to New Japanese Film
by Tom Mes and Jasper Sharp

Kon Ichikawa (Cinematheque Ontario Monographs)

by James Quandt, Cinematheque Ontario

Shohei Imamura (Cinematheque Ontario Monographs, No. 1)
by James Quandt
Eros Plus Massacre: An Introduction to the Japanese New Wave Cinema (Midland Book, Mb 469)
by David Desser
The Films of Akira Kurosawa by Donald Ritchie

by Yasujiro Ozu, Kogo Noda, Donald Richie, Eric Klestadt

Ozu by Donald Richie

A Hundred Years of Japanese Film by Donald Richie
Check out more in "The Library"
---
DVD Menu (s)

| | |
| --- | --- |
| | |
| | |
---
Screen Captures
Title
---



---
---