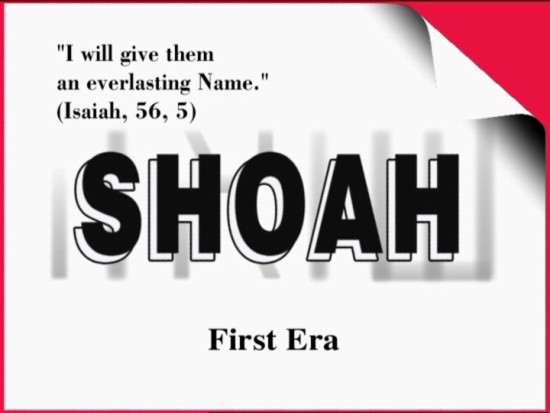 directed by Claude Lanzmann
France 1985
Claude Lanzmann's extraordinary nine-and-a-half-hour documentary (1985) is constructed as a series of approaches--through language, memory, and landscape--to a subject that can't be depicted: the Holocaust. Speaking with witnesses to the events, interpreting the apparent trivia of German train schedules, or (most powerfully) allowing his camera to roam the now-peaceful fields and forests of Poland where the exterminations took place, Lanzmann does not build his film chronologically but through patterns of repeated images. There is no historical footage in the film; the past emerges wholly through the present. In searching for the most vivid possible presentation of his subject, Lanzmann has been led to reinvent many of the principles of modernist and structuralist filmmaking, which here acquire a new kind of nonacademic urgency and justness. More than a treatment of a great subject, the film itself is a great achievement in form. In French with subtitles.
Capsule of Dave Kehr's review at the Chicago Reader found HERE
Poster
Theatrical Release: October 23rd, 1985 - New York City, USA
Reviews More Reviews DVD Reviews
DVD Review: New Yorker Video - Region 1 - NTSC
DVD Box Cover

CLICK to order from:

Distribution
New Yorker Region 1 - NTSC
Runtimes
1st disc: 2:22:50 Average Bitrate: 6.69 mb/s Chapters: 54

2nd Disc 1:54:24 Average Bitrate: 6.65 mb/s Chapters: 29

3rd Disc 2:19:30 Average Bitrate: 6.64 mb/s Chapters: 16

4th Disc 2:18:30 Average Bitrate: 6.63 mb/s Chapters : 21

Video
1.29:1.00
Average Bitrate: 6.65 mb/s
NTSC 720x480 29.97 f/s
Bitrate:

(First Disc)

Audio
French/Polish and occasional English (Dolby Digital 2.0 Mono)
Subtitles
English, French, None
Features

Release Information:
Studio: NEW YORKER Films

Edition Details:
• Black & White, Color, Box set

• Claude Lanzmann biography and Filmography (static screens)
• Number of discs: 4

DVD Release Date: October 7, 2003
Double fold-out with transparent holders slipping into VHS size case
Total Chapters: 120

Alternate Version:
Editor: Les Films Aleph.
Year: 1985
Director: Claude Lanzmann
Region: 2 Pal
Length: 550 Min.
Format: Original ratio 1.33:1
Audio: English, French
Subtitles: English, French, Spanish, German
Rating: Not rated
Country: France
Comments:

Congratulations to New Yorker for bringing this to Region 1 DVD. Addressing the major drawback - the aspect ratio. If my research is correct this was shot at 1.33:1 although I have heard elsewhere that it was at 1.66:1. I understand there was great difficulty in getting the original masters for creation of this DVD Boxset. The image on this DVD set is slightly cropped because of this. My own conclusion is that, although the original aspect ratio would be preferable, as this is not a specifically staged and framed film (being a documentary) it is not of the foremost concern. This film exports its message to the viewer most appropriately as it is shown on this DVD set. The picture quality is similar to other New Yorker releases - it has not gone through a restoration, but the colors seem true, and the image is not crystal clear. There are damage spots (see last capture) but they are few and far between. I see some occasional PAL->NTSC ghosting but not as bad as in other releases. The sound is clear and the subtitles are very well done. A White font with a black framing is the best way of displaying translated text in my opinion. Further gripes might be the lack of Extras, but as the entire film spans 9.5 hours, there is little left to say and even fewer individuals who would visit an extensive analysis. I was initially suspicious of the duplicate Lanzmann Bio and Filmography on each of the 4 discs, but I suppose it makes sense rather than returning to one individual disc to see these. I think the percentage of viewers who will watch this in one seating is in the single digits, so it is suitable to be able to peruse the Bio and Filmography after any one showing. The disc content is nicely divided in both disc and chapters and the bitrate and image quality are consistent. The DVDs are housed in a handsome double fold-out case with transparent holders that fit nicely into a VHS sized case. I'm so glad to have this as part of my DVD collection and show the beginning to friends and if they seem keen I can lend them one section at a time. Pretty good job New Yorker - I'm am curious to see the Bresson's in Dec !

out of

Gary W. Tooze
---
DVD Menus
---
Subtitle Sample
---
Screen Captures
Disc 1














DONATIONS Keep DVDBeaver alive:
Mail cheques, money orders, cash to: or CLICK PayPal logo to donate!
Thank You!
Claude Lanzmann Shoah DVD Review Claude Lanzmann Shoah DVD Review Claude Lanzmann Shoah DVD Review Claude Lanzmann Shoah DVD Review Claude Lanzmann Shoah DVD Review Claude Lanzmann Shoah DVD Review Claude Lanzmann Shoah DVD Review Claude Lanzmann Shoah DVD Review Claude Lanzmann Shoah DVD Review Claude Lanzmann Shoah DVD Review Claude Lanzmann Shoah DVD Review Claude Lanzmann Shoah DVD Review Claude Lanzmann Shoah DVD Review Claude Lanzmann Shoah DVD Review Claude Lanzmann Shoah DVD Review Claude Lanzmann Shoah DVD Review Claude Lanzmann Shoah DVD Review Claude Lanzmann Shoah DVD Review Claude Lanzmann Shoah DVD Review Claude Lanzmann Shoah DVD Review Claude Lanzmann Shoah DVD Review Claude Lanzmann Shoah DVD Review Claude Lanzmann Shoah DVD Review Claude Lanzmann Shoah DVD Review Claude Lanzmann Shoah DVD Review Claude Lanzmann Shoah DVD Review Claude Lanzmann Shoah DVD Review Claude Lanzmann Shoah DVD Review Claude Lanzmann Shoah DVD Review Claude Lanzmann Shoah DVD Review Claude Lanzmann Shoah DVD Review Claude Lanzmann Shoah DVD Review Claude Lanzmann Shoah DVD Review Claude Lanzmann Shoah DVD Review Claude Lanzmann Shoah DVD Review Claude Lanzmann Shoah DVD Review Claude Lanzmann Shoah DVD Review Claude Lanzmann Shoah DVD Review Claude Lanzmann Shoah DVD Review Claude Lanzmann Shoah DVD Review Claude Lanzmann Shoah DVD Review Claude Lanzmann Shoah DVD Review Claude Lanzmann Shoah DVD Review Claude Lanzmann Shoah DVD Review Claude Lanzmann Shoah DVD Review Claude Lanzmann Shoah DVD Review Claude Lanzmann Shoah DVD Review Claude Lanzmann Shoah DVD Review Claude Lanzmann Shoah DVD Review Claude Lanzmann Shoah DVD Review Claude Lanzmann Shoah DVD Review Claude Lanzmann Shoah DVD Review Claude Lanzmann Shoah DVD Review Claude Lanzmann Shoah DVD Review Claude Lanzmann Shoah DVD Review Claude Lanzmann Shoah DVD Review Claude Lanzmann Shoah DVD Review Claude Lanzmann Shoah DVD Review Claude Lanzmann Shoah DVD Review Claude Lanzmann Shoah DVD Review Claude Lanzmann Shoah DVD Review Claude Lanzmann Shoah DVD Review Claude Lanzmann Shoah DVD Review Claude Lanzmann Shoah DVD Review Claude Lanzmann Shoah DVD Review Claude Lanzmann Shoah DVD Review Claude Lanzmann Shoah DVD Review Claude Lanzmann Shoah DVD Review Claude Lanzmann Shoah DVD Review Claude Lanzmann Shoah DVD Review Claude Lanzmann Shoah DVD Review Claude Lanzmann Shoah DVD Review Claude Lanzmann Shoah DVD Review Claude Lanzmann Shoah DVD Review Claude Lanzmann Shoah DVD Review Claude Lanzmann Shoah DVD Review Claude Lanzmann Shoah DVD Review Claude Lanzmann Shoah DVD Review Claude Lanzmann Shoah DVD Review Claude Lanzmann Shoah DVD Review