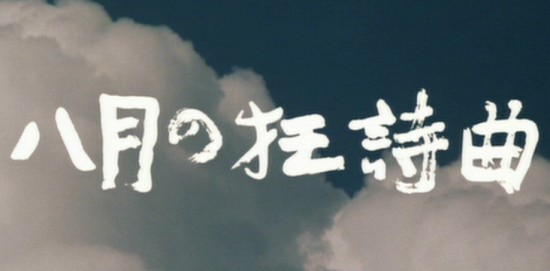 (aka "Hachi-gatsu no rapusodÓ " or "Hachigatsu no kyoshikyoku" or "Rhapsody in August")
A wonderfully warm (perhaps too 'soft' for some critics) film on the understanding of generations, respect for the past, cultural cross-communication and the persistence of memory. Four grandchildren of a very elderly woman have come to visit her at her home in Nagasaki one summer. They are not impressed with her cooking and strive to convince her to vacation in Hawaii where their parents are attempting to contract some lucrative pineapple import business with a relation. It would be an opportunity for the grandmother to see her ill brother, whom she can now barely remember. They really want to go to Hawaii as they are curious about their wealthy half American/half Japanese cousin Clark (played by Richard Gere).
While biding time in Nagasaki the children visit the spot where their grandfather died from the Atomic bomb blast of 1945 and see memorials of that event as well as his favorite meditation spots near the home. They easily come to respect the wishes of their grandmother who desires to stay and commemorate the anniversary of his death on August 9th. After that she says she they can all go to Hawaii. But in the interim the cousin intercepts a telegram meant for the returning parents and himself travels to Nagasaki. Fear abounds as the parents assume their prosperous deal has been put in jeopardy by the mentioning of the Atomic bomb in the telegram. Instead Clark travels to Nagasaki to show his concern to the grandmother (his aunt) on the death of her husband some 45 years earlier. He apologizes for not knowing that he was killed by the atomic bomb in a gesture that reflects American sympathy and respect for the events of World War 2.
Very subtly Kurosawa has imbedded messages that juxtapose the rather simplistic overt messages that are so obviously expressed. Kurosawa's images are, as expected, some of the most beautiful and positioned most delicately within the context of the story to exaggerate the somewhat cloying nature of the film. Regardless, this film hit me very hard and will stay with me for a long time. It broached a subject that seems both forgotten and never been dealt with on the extreme gravity that it deserves. The mere process of the communication of the harrowing topic is the first step. Respect, understanding and education of the events support this expression. Others may not call this a masterpiece but for me it was one of my favorite Kurosawa films. I strongly recommend everyone see it.

out of

Posters
Theatrical Release - December 16th, 1991- USA
Reviews More Reviews DVD Reviews
DVD Review: MGM - Region 0 - NTSC
DVD Box Cover

CLICK to order from:

Distribution
MGM (World Film Series) Region 0 - NTSC
Runtime
1:37:39
Video
1.85:1.00 Letterboxed WideScreen / anamorphic
Average Bitrate: 5.36 mb/s
NTSC 720x480 29.97 f/s
Bitrate:

Audio
Japanese (Dolby Digital 2.0 Surround)
Subtitles
English, Spanish, French, None
Features

Release Information:
Studio: M G M, Inc

Aspect Ratio:
Widescreen anamorphic - 1.85:1



Edition Details:
• Theatrical trailer (2:42)

DVD Release Date: July 1, 2003
Keep Case
Chapters: 20
Comments:

Well, initially I was glad this film was released by someone, but now am wishing Criterion had picked it up instead. The MGM image is a little soft, but the colors are strong and don't seem tampered with. It looked fine on my television, but am guessing Kurosawa's images could have looked remarkable if given a stellar treatment. There are no Extras, except a non-subtitled trailer. Everything was adequately done, but after watching the film I am wishing for someone to do it to the 9's. out of .

Gary W. Tooze
---
Recommended Reading for Japanese Film Fans (CLICK COVERS or TITLES for more information)
The Japan Journals : 1947-2004,

by Donald Richie

The Midnight Eye Guide to New Japanese Film
by Tom Mes and Jasper Sharp

Kon Ichikawa (Cinematheque Ontario Monographs)

by James Quandt, Cinematheque Ontario

Shohei Imamura (Cinematheque Ontario Monographs, No. 1)
by James Quandt
Eros Plus Massacre: An Introduction to the Japanese New Wave Cinema (Midland Book, Mb 469)
by David Desser
The Films of Akira Kurosawa by Donald Ritchie

Ozu by Donald Richie

A Hundred Years of Japanese Film by Donald Richie
Check out more in "The Library"
---


DVD Menus
---
Screen Captures
---
---
---
Recommended Reading for Kurosawa Fans (CLICK COVERS or TITLES for more information)
Check out more in "The Library"
---
DVD Box Cover

CLICK to order from:

Distribution
MGM (World Film Series) Region 0 - NTSC





---

VD Review