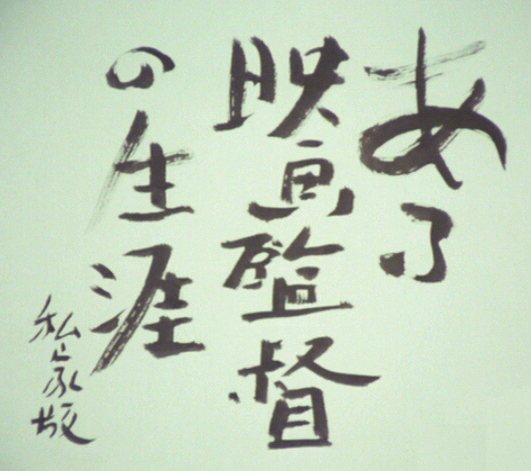 (aka "Aru eiga-kantoku no shogai" or "Kenji Mizoguchi: The Life of a Film Director" )
directed by Kaneto Shindō
Japan 1974
Says Kaneto Shindo, "Mizoguchi was totally and utterly Japanese. He was unique in that he was not in any way influenced by the directors of the West. He preferred long takes, and managed to squeeze into that one take all the trials and tribulations of life." Shindo's "The Life of a Film Director" concerns itself with the life and work of Kenji Mizoguchi. It is based around numerous interviews with people who knew Mizoguchi personally (both intimately and professionally). The film was made in 1974, almost 20 years after Mizoguchi's 1956 death. The feature is rather unique as an historical document, in that it was made at a time when several of those who had interacted with Mizoguchi were still alive and able to tell about their experiences. Throughout the film we are also shown stills and clips from Mizoguchi's films, as well as footage of Mizoguchi himself. Mizoguchi is portrayed as privately a troubled man, but professionally a perfectionist who followed his artistic vision ruthlessly, unwilling to compromise. As we know, people like Andrei Tarkovsky, Jean-Luc Godard, Pier Paolo Pasolini, Rainer Werner Fassbinder, Theo Angelopoulos, Jacques Rivette and Akira Kurosawa all hold the work of Mizoguchi in high esteem. With the upcoming DVD releases of the oeuvre of Mizoguchi, his popularity should again be on the rise. This documentary, while of no artistic value in itself (as a Shindo film, it's a bit of a doozie!), is indeed highly recommended for those who wish to more closely look into the life and times of Kenji Mizoguchi.
DVD Review: Asmik Ace (Japan) - Region 2 - NTSC
Big thanks to Trond Trondsen of Masters of Cinema.org for all the Screen Caps!
DVD Box Cover

CLICK to order from:

Distribution
Asmik Ace Region 2 - NTSC
Runtime
2:29:40
Video
1.33:1.00 Original Aspect Ratio
Average Bitrate: 6.50 mb/s
NTSC 720x480 29.97 f/s
Bitrate:

Audio
Japanese (Dolby Digital 2.0 Mono)
Subtitles
English, Japanese, None
Features

Release Information:
Studio: Asmik Ace (Japan) / Kindai Eiga Kyokai Ltd

Aspect Ratio:
Original Aspect Ratio - 1.33:1

DVD Release Date: September 10th, 2001
Keep Case
Chapters: 36

Edition Details:




Comments:

The quality of the transfer used for this DVD is almost unbelievable. The 1974 16-mm footage shows not a single scratch, no dirt, no dust. Flesh tones are spot-on, and there are no compression artifacts whatsoever. Remarkable. out of

Trond wishes to thank Glynford Hatfield for lending him a copy of the DVD for this review.
---
Recommended Reading for Japanese Film Fans (CLICK COVERS or TITLES for more information)
The Japan Journals : 1947-2004,

by Donald Richie

The Midnight Eye Guide to New Japanese Film
by Tom Mes and Jasper Sharp

Kon Ichikawa (Cinematheque Ontario Monographs)

by James Quandt, Cinematheque Ontario

Shohei Imamura (Cinematheque Ontario Monographs, No. 1)
by James Quandt
Eros Plus Massacre: An Introduction to the Japanese New Wave Cinema (Midland Book, Mb 469)
by David Desser
The Films of Akira Kurosawa by Donald Ritchie

Ozu by Donald Richie

A Hundred Years of Japanese Film by Donald Richie
Check out more in "The Library"
---


DVD Menus
---
Screen Captures