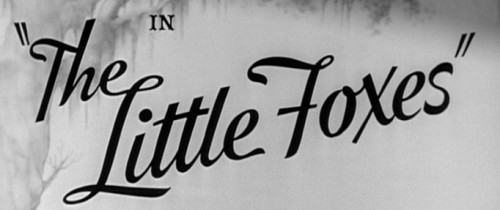 Directed by William Wyler
USA 1941
"Take us the foxes,
The little foxes that spoil the vines.
For our vines have tender grapes."
-- Song of Solomon 2:15
Little Foxes have lived in all times, in all places. This family happened to live in the deep south in the year 1900.
From a politically left leaning Lillian Hellman penned novel-turned-film THE LITTLE FOXES (1941) is a hidden triumph of Hollywood. A harsh, desperate look at a family living in the deep south circa 1900 plagued by deceit, greed and selfishness. Master director William Wyler once again crafts an engaging cinematic gem with an all-star cast and powerful themes. Bette Davis portrayed one of the most despicable roles of her career. Teresa Wright plays her daughter, who, as the saving grace of the film, is able to distinguish her villainous mothers traits and seeks to distance herself before she too is caught up in its cancerous influences. Masterpiece is appropriate to describe the subtle interplay or character traits, many of whom are likeable until their hidden agenda is determined. Add into this mix, the extraordinary deep-focus cinematography of Gregg Toland and you have a film worthy of multiple repeat viewings.

out of

Gary W. Tooze
Poster
Reviews More Reviews DVD Reviews
DVD Review: HBO (OOP) - Region 1 - NTSC
DVD Box Cover

CLICK to order from:

DVDBeaver strongly endorses Amazon for reliable and expedient purchase transactions, but we have also had successful ordering through DVDEmpire and can recommend them with confidence. Compare pricing and availability and give them a try:

Distribution
HBO Region 1 - NTSC ( North America only )
Runtime
1:56:16
Video
1.33:1.00 Original Aspect ratio
Average Bitrate: 4.84 mb/s
NTSC 720x480 29.97 f/s
Bitrate:

Audio
English (Dolby Digital 2.0 Stereo), English (Dolby Digital 1.0), DUBS: Spanish (Dolby Digital 1.0), French (Dolby Digital 1.0), Italian (Dolby Digital 1.0), German (Dolby Digital 1.0)
Subtitles
English, Spanish, German, French and None
Features
Release Information:
Studio: Hbo Studios
Theatrical Release Date: August 21, 1941

Aspect Ratio:
Full Screen (Standard) - 1.33:1

Edition Details:
• Black & White
• Theatrical trailer - 1:37
• Includes English Audio Track in Chace Surround Stereo


DVD Release Date: June 30, 1998
Snap Case
Chapters: 27

Cast overview, first billed only:
Bette Davis .... Regina Giddens
Herbert Marshall .... Horace Giddens
Teresa Wright .... Alexandra Giddens
Richard Carlson (I) .... David Hewitt
Dan Duryea .... Leo Hubbard
Patricia Collinge .... Birdie Hubbard
Charles Dingle .... Ben Hubbard
Carl Benton Reid .... Oscar Hubbard
Jessica Grayson .... Addie (as Jessie Grayson)
John Marriott (I) .... Cal
Russell Hicks (I) .... William Marshall
Lucien Littlefield .... Manders
Virginia Brissac .... Mrs. Hewitt
Terry Nibert .... Julia Jordan
Henry 'Hot Shot' Thomas .... Harold
Comments:

This HBO release is similar to another Wyler film/DVD that they did very adeptly; "The Best Years of Our Lives". Similarly the sound has been digitally re-mastered in Dolby 2.0 STEREO (Chace Surround) and also offered in the original mono English. Included it is dubbed into French, German, Spanish and Italian . Subtitles are available in removable English, French and Spanish. Gregg Toland's cinematography is shown with solid shadow detail and clarity. This is a well done disc for the image and sound, but nothing except a trailer and bios on the Extras front. Still a worthwhile purchase in my opinion. As some work appears to have been put into this I don't expect a re-release anytime soon. out of

Gary W. Tooze
---

DVD Menus
---
Screen Captures
---




DONATIONS Keep DVDBeaver alive and advertisement free:
Mail cheques, money orders, cash to: or CLICK PayPal logo to donate!