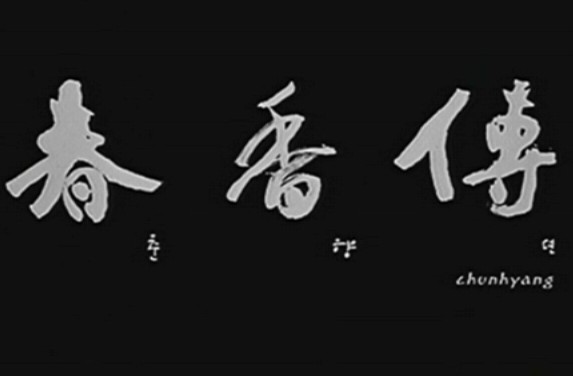 (aka 'Chunhyang')
directed by Kwon-taek Im
South Korea 2000

Director Im Kwon Taek is regarded by many as the father of modern Korean Cinema, and certainly the first director to receive global critical acclaim. With around a hundred films to his credit, in a career spanning five decades, Im has crafted some of Korea's most revered, and successful films.

Chunhyung received its World Premiere at the 2000 Cannes Film Festival, becoming the first Korean film to ever to be selected for the official competition. Two years later, Im would win the Best Director prize for his film Chiwaseon.

Based on a classic Korean tale, Chunhyung tells the story of a privileged governor's son, Mongryong (Cho Seung Woo - Marathon), who falls in love with the beautiful Chunhyung (Lee Hyo Jung), the daughter of a proud former courtesan. The two fall in love and marry in secret. But soon afterwards, Mongryong is ordered back to Seoul to complete his schooling. He leaves his betrothed reluctantly, promising to return as soon as he has completed his studies. However, while he is away a new governor is appointed, an evil, vindictive man who takes an instant liking to Chunhyung. But when she refuses his advances, the governor imprisons her and sentences her to death. Chunhyung's only hope is that Mongryong will return from Seoul in time to save her.

Like with his classic film Seopyonje, Im again employs the ancient Korean tradition of pansori to retell this classic story. The effects are dazzling and Chunhyung can claim responsibility for helping to announce the birth of a new wave of Korean cinema to rest of the World.
****
"Steeped in poetic beauty and deep-rooted culture, Chunhyang is a fascinating escape into a traditional Korean love story based on the opera of the same name. A gem of a viewing experience, this is a film that will stay with you for quite some time. Beautifully shot, it adeptly reflects the intrinsic essence of the characters emotions of loyalty as well as the ancient class structure of power, control and its abuse."

NOTE: A "pansori" (on which this movie is based) was a four to six-hour long musical poem performed by a singer and a drummer.
Posters
Theatrical release: May 200 - Canes Film Festival
Reviews More Reviews DVD Reviews Official Site (in Korean) In English Trailer
Recommended Books on Korean Cinema (CLICK COVERS or TITLES for more information)
DVD Comparison:
New Yorker - Region 1 - NTSC vs. Spectrum - Region 3- NTSC
(New Yorker - Region 1 NTSC - LEFT vs. Spectrum - Region 3 - NTSC RIGHT)
DVD Box Cover

Thinking of buying from YesAsia? CLICK HERE and use THIS UPDATED BEAVER PAGE to source their very best...

Distribution
New Yorker Region 1 - NTSC
Spectrum - Region 3 - NTSC
Runtime
1:54:48
2:16:30
Video
1.85:1.00 WideScreen / anamorphic
NTSC 720x480 29.97 f/s
1.85:1.00 WideScreen / anamorphic Bitrate: 6.87
NTSC 720x480 29.97 f/s
Audio
Korean (2.0 Surround)
Korean (2.0 Surround)
Subtitles
English, None
Korean , Japanese , English , Simplified Chinese, none
Features

Release Information:
Studio: New Yorker Films


Extras:

Non-anamorphic Trailer (1:50)


DVD Release Date: October 16, 2001
Keep Case
Chapters: 20

Release Information:
Studio: Spectrum Entertainment

Extras:

Trailer (1:50)

poster

Photo Gallery

Director and star bio (text screens)




DVD Release Date: October 27th, 2005
Keep Case inside cardboard box
Chapters: 24
Comments:

ADDITION Spectrum - Region 3 - NTSC - Jan 06': We can see the staggering difference in quality from a non-progressive manipulated transfer to a clean, tight progressive one. Both are anamorphic but the new Spectrum is well ahead. it also offers the long version of the film (over 20 minutes longer). The Spectrum is far sharper and brighter and it may be slightly cropped on top and bottom a very negligible amount (ditto for the NY'er on both edges). Although the Spectrum extras are meager they also eclipse the NY'ers.

This is a favorite film and I cherish my Spectrum DVD.

*****

A wonderful film but not a totally perfect DVD. I reviewed this on a Panasonic 28 inch tube, a Sony 53 inch rear-projection and a 19 inch Viewsonic monitor with pretty much the same results. I do see there is some validity to the complaints regarding horizontal movement and blurred images, BUT during all three normal screenings I did not notice it. Where this image really falls apart is on a progressive scan TV where it is virtually unwatchable because of the advanced combing (also known as 'trailing'). When grabbing screen captures and/or reducing the speed did this problem blatantly arise. The blurriness exhibited when screen caps were obtained is quite unusual. I understand that there is speculation that it is caused by the conversion from PAL to NTSC. This is accurate. out of

BOTTOM line: NOT FOR Progressive TV's!

Alternate Version

Looks like a nice Region 2 anamorphic PAL edition from Arte Video, but it only had French sub-titles (also a French dub as choice) unfortunately.

Extras include: Commentary, Interviews with Director and actors, animated menus and Future release announcements.

Listed HERE.
---



DVD Menus
(New Yorker - Region 1 NTSC - LEFT vs. Spectrum - Region 3 - NTSC RIGHT)
| | |
| --- | --- |
| | |
| | |
| | |
| | |
| | |
---
Subtitle Sample
(New Yorker - Region 1 NTSC - TOP vs. Spectrum - Region 3 - NTSC BOTTOM)
---
Screen Captures
(New Yorker - Region 1 NTSC - TOP vs. Spectrum - Region 3 - NTSC BOTTOM)
---
(New Yorker - Region 1 NTSC - TOP vs. Spectrum - Region 3 - NTSC BOTTOM)
---
(New Yorker - Region 1 NTSC - TOP vs. Spectrum - Region 3 - NTSC BOTTOM)
---
(New Yorker - Region 1 NTSC - TOP vs. Spectrum - Region 3 - NTSC BOTTOM)
---
(New Yorker - Region 1 NTSC - TOP vs. Spectrum - Region 3 - NTSC BOTTOM)
---
(New Yorker - Region 1 NTSC - TOP vs. Spectrum - Region 3 - NTSC BOTTOM)
---
(New Yorker - Region 1 NTSC - TOP vs. Spectrum - Region 3 - NTSC BOTTOM)
Report Card:
| | |
| --- | --- |
| Image: | Spectrum |
| Sound: | - |
| Extras: | Spectrum |
| Menu: | - |
| | | |
| --- | --- | --- |
| DVD Box Cover | | Thinking of buying from YesAsia? CLICK HERE and use THIS UPDATED BEAVER PAGE to source their very best... |
| Distribution | New Yorker Region 1 - NTSC | Spectrum - Region 3 - NTSC |
---

---