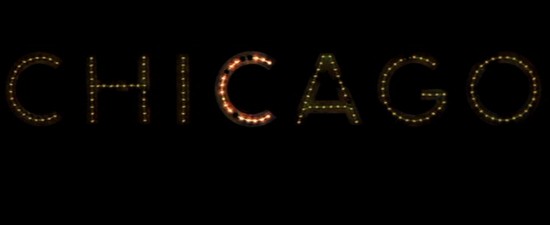 directed by Rob Marshall
USA 2002
At my wife's request DVDBeaver is reviewing "Chicago". Normally it wouldn't fit the usual type of film or DVD that we take the trouble to examine, but here it goes...
Okay, aside from the obvious hard work, extensive expense, detail of costumes/editing, vocal training etc. that went into this production (I'm sure you can read it on a multitude of websites) I find the entire concept of "Chicago" reaches deeply into perpetuating the celebrity fascination myth that is so manically popular in North American culture. I reflected on how many more dedicated and talented singers and dancers could have more adeptly portrayed the roles of Catherine Zeta-Jones, Richard Gere and Renée Zellweger. I thought they were all quite good, but it kind of sparked my head-scratching when I saw an obvious pregnant Catherine Zeta-Jones (see last large capture below) parading around on stage as a character who is not (supposed to be) with child. How easily we accept and forgive the incongruities simply to help perpetuate their "stardom"... and more importantly, why do we do it? It seems so unjust. I guess the whole genre of musicals is meant to suspend one's belief in a different manner than most dramatic cinema. Don't get me wrong, I liked "Chicago". It was fun has some great choreographed numbers, but give me some vestige of truth, even for a musical. I reflect on the intense and dedicated young stars of stage productions and continue to see in today's film world that with tricks of audio and editing we can be made to believe the most surprisingly unrealistic things just to advance our own delusions further widening the avenues into the fraudulent. Personally I thought the un-rewarded Zellweger was the real highlight of the film, but I suppose politically it wasn't her time for recognized acclaim (don't they take turns?). I better stop now as you might think I sound bitter. This is a good film, just, like so much of our throw-away culture, not a lasting one.
Gary W. Tooze
Posters
Theatrical Release Date: December 10th, 2002
Reviews More Reviews DVD Reviews
DVD Review: Miramax (WS) - Region 1/4 - NTSC
DVD Box Cover

CLICK to order from:

Distribution
Miramax Home Entertainment Region 1/4 - NTSC
Runtime
1:53:12
Video
1.85:1.00 Letterboxed WideScreen / 16X9 enhanced
Average Bitrate: 7.3 mb/s
NTSC 720x480 29.97 f/s
Bitrate:

Audio
English (Dolby Digital 5.1), English (5.1 DTS ES), French
Subtitles
English, Spanish, French, None
Features
Release Information:
Studio: Miramax Home Entertainment

Aspect Ratio:
Widescreen anamorphic - 1.85:1


DVD Release Date: August 19, 2003
Keep Case
Chapters: 20

Edition Details:


• Color, Closed-captioned, Widescreen, Dolby
• Commentary by director Rob Marshall and screenwriter Bill Condon
• Deleted musical number "Class"
• Behind-the-scenes featurette - widescreen - non-anamorphic (28:26)
• Widescreen anamorphic format

Comments:

Super Disc... I even see some grain. Extensive Extras, Commentary... my only complaint is the subs which are unusually large. Picky, I know. Still a good purchase if you want to see the film. Gary W. Tooze
---
DVD Menus
---
Subtitle sample
Screen Captures