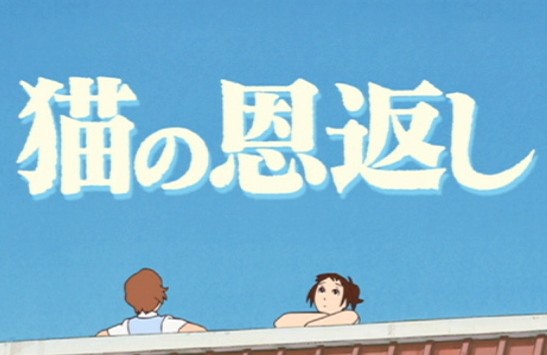 (aka "Neko no ongaeshi" or "The Cat Returns" )
directed by Hiroyuki Morita
Japan 2002
A young Japanese girl courageously prevents a strange cat from being runover by a truck. A coterie of eternally grateful cats (who she can understand) invite her to their mysterious cat kingdom to say thankyou...

"Contrary to various misinformed imdb.com reviewers, THE CAT RETURNS is *not* a Miyazaki film. It is, however a GHIBLI film and like OCEAN WAVES and WHISPER OF THE HEART, a chance for Isao Takahata and Hayao Miyazaki to rest their eyes and let another director take the reins. First-time Ghibli director Hiroyuki Morita here displays his skill as a brilliant mimic of Miyazaki but alas doesn't bring much more than that to the dinner table. The technical side of the film is up to the usual blisteringly high standards and for the first half, it's a fine, exhilarating watch. However, towards the end, like Miyazaki's CASTLE OF CAGLIOSTRO and CASTLE IN THE SKY (LAPUTA) I found it relied too heavily on chases and collapsing buildings that you knew weren't really that dangerous (and were done better in other Ghibli films over the last 20 years). THE CAT RETURNS didn't have the confidence to follow its more mature multidirectional cousins like MY NEIGHBOUR TOTORRO, SPIRITED AWAY, PRINCESS MONONOKE - films that relished moments of abstraction just as much as following the narrative train. Having said that, don't let me put you off, the first half of THE CAT RETURNS is full of life, imagination and great possibilities. This is a safe Ghibli hit, a crowd pleaser, with some wonderful moments and it's highly recommended indeed."
Nick Wrigley of Masters of Cinema
Posters
Theatrical Release: July 19th, 2002 - Japan
Reviews More Reviews DVD Reviews
DVD Comparison:
Buena Vista Japan - Region 2 - NTSC vs. Optimum (The Studio Ghibli Collection) - Region 2 - PAL
Big thanks to Nick Wrigley and Henrik Sylow for the Screen Caps!
(Buena Vista Japan - Region 2 - NTSC - LEFT vs. Optimum (The Studio Ghibli Collection) - Region 2 - PAL - RIGHT)
DVD Box Covers

Distribution

Buena Vista Japan

Region 2 - NTSC

Optimum
Region 2 - PAL
Runtime
1:15:00
1:14:59
Video

1.83:1 Original Aspect Ratio

16X9 enhanced
Average Bitrate: NA mb/s
NTSC 720x480 29.97 f/s

1.83:1 Original Aspect Ratio

16X9 enhanced
Average Bitrate: NA mb/s
PAL 720x576 25.00 f/s

Audio
2.0 Dolby Digital Japanese, 5.1 Dolby Digital Japanese, DTS Japanese

5.1 Dolby Digital Japanese, 5.1 Dolby Digital English (dub)

Subtitles
Japanese, English, Mandarin, Cantonese, None
English (translated), English (HoH), None
Features
Release Information:
Studio: Buena Vista Japan

Aspect Ratio:
Widescreen anamorphic - 1.83:1

Edition Details:
• Entire features in storyboard form
• Trailers
• Previews
• 2 making of specials (one from NTV) - not subtitled

DVD Release Date: July 4, 2003
Amarey

Chapters 13

Release Information:
Studio: Optimum

Aspect Ratio:
Widescreen anamorphic - 1.83:1

Edition Details:
• Alternative Angle Storyboard for entire film
• Original Trailers (4:41 / 4x3)
• Making of 'The Cat Returns' (34:10 / 4x3)
• The Studio Ghibli Collection trailers


DVD Release Date: September 26, 2005
Keep Case

Chapters 14
Comments
Nick Wrigley's comments
Faultless, zero problems, rock-solid anamorphic gorgeousity. A state of the art animation DVD (no SPIRITED AWAY-style red-tint issue, not that it bothered this reviewer). NOTE: You might want to get the recently released Hong Kong / Taiwanese official IVL 2 x disc set of THE CAT RETURNS which was released last week as it will be about half the price of the Japanese set. This review does not reflect the content of the IVL set because I don't know if they've used the same materials.

A real treat with this Japanese 2 x DVD release is the "Ghiblies Episode 2" short, a made-for-Japanese-TV animation combining traditional hand-drawn Ghibli techniques with MY NEIGHBOUR THE YAMADAS style CG. Visually it's extremely fresh and impressive. Surprisingly experimental, if a little inconsequential.

Henrik Sylow's comments:
No surprise that Optimum is less compressed than Buena Vista R2J. A DTS track and an additional Making Of featurette leaves less room for the film, even though it only lasts 75 minutes. Already at 200% Buena Vista R2J displays pixelations and edge enhancements, whereas Optimum has no compression artifacts at all.

Optimum has combing issues, about every third frame displays 'ghosting' as it was taken from the NTSC standard without converting first. But as this isn't visible when playing, even on projector, my pick for best image goes to Optimum.

The subtitles are interesting. Where the Japanese translations says

Had something in his mouth. Stolen Goods?

the English translation (Hard of Hearing) subtitles say:

What was that? A Cat Burglar?

While it needs confirming, but it appears to me as if the Japanese subtitles are a direct translation of what's said, not what it means, lacking syntax. On the other side, the English translation is very liberal.

Additional materials are basically identical, except that Buena Vista R2J has an extra 'making of' featurette, but as none of its material has English subtitles, it is not available for average viewers.
---

DVD Menus
(Buena Vista Japan - Region 2 - NTSC - LEFT vs. Optimum (The Studio Ghibli Collection) - Region 2 - PAL - RIGHT)
| | |
| --- | --- |
| | |
| | |
| | |
| | |
---
Screen Captures
(Buena Vista Japan - Region 2 - NTSC - TOP vs. Optimum (The Studio Ghibli Collection) - Region 2 - PAL - BOTTOM)
Subtitle sample (English only)
Captures resized to 800px from 1016px
---
(Buena Vista Japan - Region 2 - NTSC - TOP vs. Optimum (The Studio Ghibli Collection) - Region 2 - PAL - BOTTOM)
---
(Buena Vista Japan - Region 2 - NTSC - TOP vs. Optimum (The Studio Ghibli Collection) - Region 2 - PAL - BOTTOM)
---
(Buena Vista Japan - Region 2 - NTSC - TOP vs. Optimum (The Studio Ghibli Collection) - Region 2 - PAL - BOTTOM)
---
(Buena Vista Japan - Region 2 - NTSC - TOP vs. Optimum (The Studio Ghibli Collection) - Region 2 - PAL - BOTTOM)
Ghosting issues on Optimum (taken from inappropriate standard)
Report Card:
| | |
| --- | --- |
| Image: | - |
| Sound: | Buena Vista R2J (DTS) |
| Extras: | Optimum (subtitles on extras) |
| Menu: | -- |