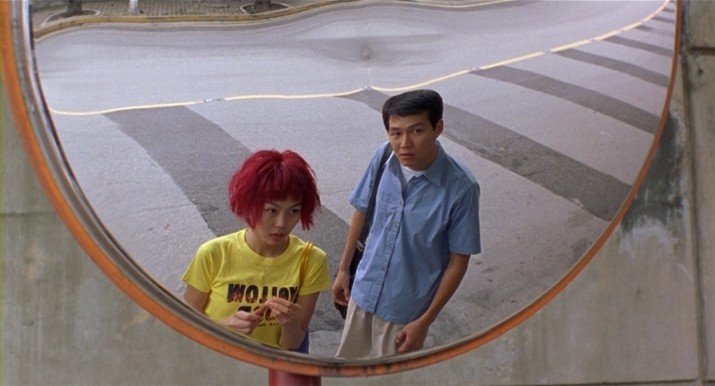 Asako in Ruby Shoes
directed by J-Yong E

Korean/Japan 2000
Official Website (in Japanese)
DVD REVIEW: Cinema Service Region 3 - NTSC
DVD Box Covers

Misc. Film Details

Front Cover

Back Cover

DVD Bitrate:

NOTE: The Vertical axis represents the bits transferred per second. The Horizontal is the time in minutes.

Features
Released by Cinema Service
Region 3, Korea
NTSC, color
118 minutes

oar 1.85:1, 16:9 enhanced
Video-sourced
Average bit rate: 5.84 mbps
Japanese/Korean Dolby Digital 2.0 (192 kbps)
Japanese/Korean Dolby Digital 5.1 (384 kbps)
Korean or English optional subtitles

Extras (no subtitles):
- synopsis, cast & crew, production notes (text only)
- photo gallery (just captures from the film as far as I can tell)
- music video
- trailer
- highlights (selected scenes from the film)
- director interview (3 minutes, video-sourced)
- making-of (6 minutes, video-sourced)

Click the logos to order from:

Thinking of buying from YesAsia? CLICK HERE and use THIS UPDATED BEAVER PAGE to source their very best...

Comments:

First the good news: absolutely no edge enhancement, excellent 7.5 ire black level with plenty shadow detail, vibrant colors with true skin tones and good detail. Not sure about sharpness because I had to watch it in bob mode on the htpc. Which brings me to the bad news: it's video-sourced with major de-interlacing problems. When the camera is moving it actually looks like 24fps slow-motion, with terrible stuttering and flicker. I have no idea how this will look on an interlaced display because i don't have one, but on a progressive setup without faroudja dcdi de-interlacing (can't wait for my holo3dgraph, this disc will be my first torture test) it looks hideous. Oh there's also some minor chroma delay, and some dirt on the print here and there. Hardly a problem.

Seeing how it's a Japanese/Korean co-production I'm keeping my fingers crossed for a superior looking Region 2 Japanese DVD soon.

That said I'm sure that if you love the film as much as I do you simply stop noticing any picture quality problem after a few minutes. Not everyone's cup of tea I'm sure but if you like slow-moving drama with a touch of quirky humor and original visual style be sure to check it out. Parts of it reminded me of atom Egoyan's EXOTICA, and to a lesser degree Bernard Rose's PAPERHOUSE. Both stories really spoke to me and touched me, especially the one about the depressed Japanese girl. When towards the end the soundtrack plays jigsaw's SKY HIGH ('you've blown it all sky high') it's a really sad but perfect moment. The entire soundtrack is wonderful btw, subtly underlining sad moments but never in the foreground. Despite it's complicated structure of jumping back and forth between multiple storylines it's one of these films that (to my warbled little mind at least) just make sense start to finish. The ending where the two stories come together is far-fetched, but i like to think of it more as a fairy tale fantasy ending and thus it works. Loved the visuals! The use of freeze frame was brilliant. It only happens two or three times, but at just the right moment.

Highly recommended.

.

out of Jeroen

Note: There also exists a cheaper 4:3 (p&s or full-frame I don't know) Hong Kong release of this film. No extras on that one.
---
Recommended Reading for Asian Film Fans (CLICK COVERS or TITLES for more information)
The Japan Journals : 1947-2004,

by Donald Richie

The Midnight Eye Guide to New Japanese Film
by Tom Mes and Jasper Sharp

Kon Ichikawa (Cinematheque Ontario Monographs)

by James Quandt, Cinematheque Ontario

Shohei Imamura (Cinematheque Ontario Monographs, No. 1)
by James Quandt
Eros Plus Massacre: An Introduction to the Japanese New Wave Cinema (Midland Book, Mb 469)
by David Desser
The Films of Akira Kurosawa by Donald Ritchie

by Yasujiro Ozu, Kogo Noda, Donald Richie, Eric Klestadt

Ozu by Donald Ritchie

A Hundred Years of Japanese Film by Donald Richie


DVD Menus
| | |
| --- | --- |
| | |
| | |
---

Screen Captures
---