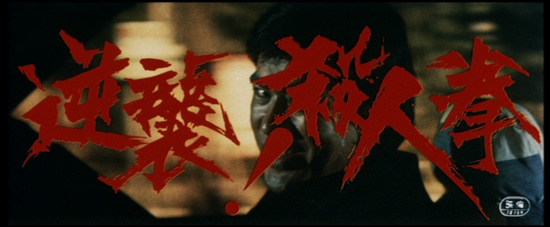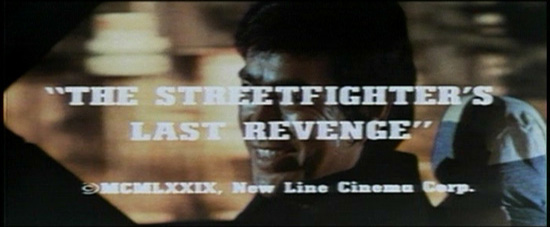 (aka "Gyakushū! Satsujin ken" or "Revenge! The Killing Fist" or "Street Fighter Counterattacks!")
directed by Iishi Teruo
Japan 1974
Ok, now we are Toho, we just made two very successful films with China as the street fighter, both directed by Ozawa and written by Takada Koji, so what do we do? Lets replace the writer and director.

In the last official street fighter film, veteran director Iishi Teruo, best for his adaptations of mystery author Edogawa Rampo stories, turns Tsurugi into a James Bond sort of antihero and while the film has it's share of action, the story is a cliché upon the street fighter legacy and also is the weakest story of them all. And many blame Iishi for killing the series, as Iishi never liked to make karate flicks, and draw reference to his work with Chiba in "Chokugeki! Jigoku-ken", where he parodied the entire genre, even while making one of the most violent Chiba films ever.

Tsurugi chases two audio tapes, who combined reveal the formula for synthetic heroin. Along the way he loses them, gets them back and loses them again. Tsurugi is far from the anti-hero of the two prior films and openly puts his brain on stand-by whenever he is near a girl. And where the two prior films had great villains , this one has one the most stupid villains ever to be seen in a karate flick: A sombrero wearing Mexican bandito named Mr. Black. And speaking of villains, they are really mean this time: They use guns. And the girls are really naked this time, and Tsurugi never misses an opportunity to grab a tit.

The probably reason why Toho changed director and writer should be seen in the speed by which they turned out street fighter flicks. Between "Return of Street Fighter" and "Street fighters Last Revenge", they also made "Sister Street fighter", which only had Chiba in a few scenes, directed by Yamaguchi Kazuhiko, who made two additional sequels to "Sister Street fighter", before making the last and fourth entry in the street fighter saga with "Kozure satsujin ken", perhaps the best of all four flicks story wise. Chiba continued to make karate flicks up thru the seventies, mostly bad ones, some horrible bad ones as "Karate Kiba", perhaps his worst film ever, and some truly great ones, as "Gekitotsu! Aikidō", where he joined up with Ozawa again.
Theatrical Release: November 22, 1974
Reviews More Reviews DVD Reviews
DVD Comparison:
Brentwood (10 Faces of Sonny Chiba Box) - Region 0 - NTSC vs. Optimum (The Street Fighter Box Set) - Region 0 - PAL
Big thanks to Henrik Sylow for all the Screen Caps!
(Brentwood (10 Faces of Sonny Chiba Box) - Region 0 - NTSC - LEFT vs. Optimum (The Street Fighter Box Set) - Region 0 - PAL - RIGHT)
DVD Box Covers

NOTE: Purchases through DVDBeaver's links to Amazon help keep us afloat and advertisement free!

Distribution

Brentwood

Region 0 - NTSC

Optimum
Region 0 - PAL
Runtime
1:18:49
1:20:06 (4% PAL speedup)
Video

2.24:1 Aspect Ratio
Average Bitrate: 4.32 mb/s
NTSC 720x480 29.97 f/s

2.39:1 Original Aspect Ratio

16X9 enhanced
Average Bitrate: 5.31 mb/s
PAL 720x576 25.00 f/s

NOTE: The Vertical axis represents the bits transferred per second. The Horizontal is the time in minutes.

Bitrate:

Brentwood (10 Faces of Sonny Chiba Box)

Bitrate:

Optimum (The Street Fighter Box Set)

Audio
2.0 Dolby Digital English (dub), 2.0 Dolby Digital Chinese (dub)

2.0 Dolby Digital Mono Japanese

Subtitles
None
English, Dutch, None
Features
Release Information:
Studio: Brentwood

Aspect Ratio:
Widescreen letterboxed - 2.24:1

Edition Details:
• Filmography

DVD Release Date: June 25, 2002
Keep case

Chapters 13


Release Information:
Studio: Optimum

Aspect Ratio:
Widescreen anamorphic - 2.39:1

Edition Details:
• Stills Gallery
• Trailers



DVD Release Date: January 24, 2005
Keep Case

Chapters 15
Comments
Native resolution of the Brentwood DVD is 720px, but as there are black bars left and right, the film frame takes up approx 705px. Black bars were removed and frame resized to 700px. In order to compare, the Optimum frame of 1016px was resized to 700px.

Both are DVD5 editions, but there is a world in difference.

BRENTWOOD
The Brentwood suffer from edge enhancements, heavy ghosting (even during normal movement), its very bright and lacks detail and.

It is dubbed into English (and Chinese) and the dub is simply awful. All the characters have gotten English names, like Takuma (Chiba) now is Terry, and translation is very "liberal". It also has an English title sequence, but if its created by Jack Shoulder ("The Hidden"), as "Street Fighter" was, I don't know.

OPTIMUM
The Optimum is based on a digitally re-mastered source of the recently restored original version, showing next to none signs of artifacts. It is as dark as "Street Fighter", but has great details and contrast, and while it also has ghosting, it seems only to be during fast movement. Again a great transfer.

It comes with the original Japanese 2.0 Dolby Digital mono track, which also has been re-mastered. There is no noise and dialogue is clear.

The interesting difference here is running time, as Optimum runs 80 seconds longer, even with 4% PAL-Speed up. The reason is, that Optimum is the complete fully restored 83 minute version.
---



DVD Menus
(Brentwood (10 Faces of Sonny Chiba Box) - Region 0 - NTSC - LEFT vs. Optimum (The Street Fighter Box Set) - Region 0 - PAL - RIGHT)
| | |
| --- | --- |
| | |
| | |
| | |
| | |
---
Screen Captures
(Brentwood (10 Faces of Sonny Chiba Box) - Region 0 - NTSC - TOP vs. Optimum (The Street Fighter Box Set) - Region 0 - PAL - BOTTOM)
Captures resized to 700px width from 1016px original (Optimum)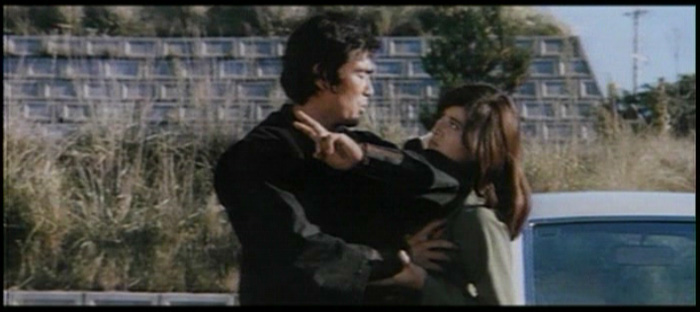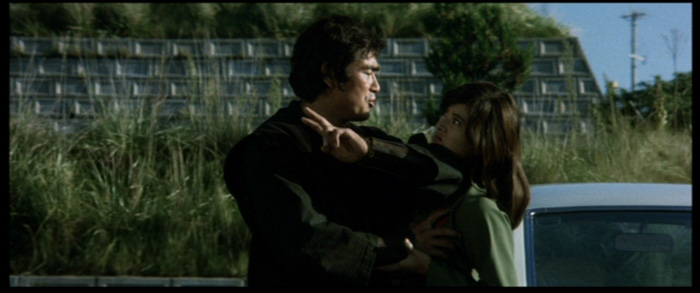 ---
(Brentwood (10 Faces of Sonny Chiba Box) - Region 0 - NTSC - TOP vs. Optimum (The Street Fighter Box Set) - Region 0 - PAL - BOTTOM)
---
(Brentwood (10 Faces of Sonny Chiba Box) - Region 0 - NTSC - TOP vs. Optimum (The Street Fighter Box Set) - Region 0 - PAL - BOTTOM)
---
(Brentwood (10 Faces of Sonny Chiba Box) - Region 0 - NTSC - TOP vs. Optimum (The Street Fighter Box Set) - Region 0 - PAL - BOTTOM)
---
(Brentwood (10 Faces of Sonny Chiba Box) - Region 0 - NTSC - TOP vs. Optimum (The Street Fighter Box Set) - Region 0 - PAL - BOTTOM)
---
(Brentwood (10 Faces of Sonny Chiba Box) - Region 0 - NTSC - TOP vs. Optimum (The Street Fighter Box Set) - Region 0 - PAL - BOTTOM)
---
(Brentwood (10 Faces of Sonny Chiba Box) - Region 0 - NTSC - TOP vs. Optimum (The Street Fighter Box Set) - Region 0 - PAL - BOTTOM)

---
Report Card: