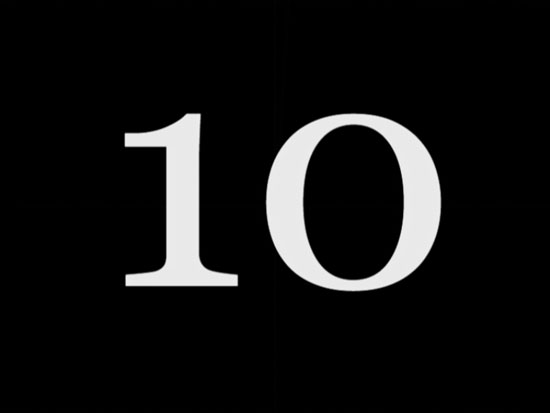 directed by Abbas Kiarostami
Iran 2002
"Kiarostami's TEN is shot entirely with two mini-DV cameras attached to a dashboard. They never move for the length of the whole film (except for one unexpected shot through the driver-side window). Kiarostami cuts between one camera pointed at the driver (an Iranian divorced mother) and the other camera pointed at her passenger seat which throughout the film contains her various passengers (her son, a prostitute, and her friends). The film consists of ten parts each book-ended with a numbered introduction and the ding of a bell.
I could write reams about why I didn't like the film but this isn't the place. TEN is a DV experiment and feels like a graveyard slot TV piece made for $50 (and that was for the car's gas). It isn't beautiful to look at either. If this is the future of cinema I'm terribly worried. I love Kiarostami's films hugely, but, despite the incredible performance by little Amin Maher, I was left cold by the claustrophobic minimalism and the miniDV aesthetic."
Nick Wrigley of Masters of Cinema
"I did watch Kiarostami's TEN yesterday. I wanted to wait till any expectations I had ( both good and bad ) wore off. I guess at present I would be somewhere in the middle between the disappointed critics (Nick, Ebert etc. ) and those who are gushing over it. I have the impression that Kiarostami is mineralizing the directional process. Hardly any effort seems to have been put into production and I understand he wasn't even there for any of the filming... This doesn't make the message of the film any less impacting on me though, but I understand why the Ebert's of the world infer that he is a charlatan. This appears to be Kiarostami's style.. as well as saying as little as possible in in hopes of a myriad of interpretations. TEN shows the plight of Iranian society (again) - erosion of family values seems to be at the core of the discontent. My trouble is I am becoming less and less caring about this country's problems... simply because it appears to be forced down my throat. It may be told subtly but it is being repeated over and over in many Iranian films that I see. I had flashes of watching both 'Leila' and 'The Circle'. 'A Time For Drunken Horses' really pushed me over the edge. I began to question that the identifying of the problem does not seem to be the first step in alleviating it. Now, I don't know what is... but a lot of what goes on seems to bring forth a martyr-like acceptance as opposed to a defiant individualistic attitude of change. Perhaps I am being too cynical but this film gripped me far less than say "The Wind Will Carry Us" or "Children of Heaven"... it lacked some appeal. I think I have seen better CBC documentaries... but they are never as long.... but the format of the message convenience is the same. I also questioned the realism of it on a number of occasions. Passing cars are constantly peering into the truck so I lost a little suspension of acceptance."
Posters
Theatrical Release: May 20th, 2002 - Cannes, France
Reviews More Reviews DVD Reviews
DVD Comparison:
Optimum Releasing - Region 2 - PAL vs. Zeitgeist - Region 1 - NTSC
Big thanks to Donald Brown for all the Screen Caps!
(Optimum Releasing - Region 2 - PAL - LEFT vs. Zeitgeist - Region 1 - NTSC - RIGHT)
DVD Box Covers

CLICK to order from:

Distribution

Optimum Releasing

Region 2 - PAL

Zeitgeist
Region 1 - NTSC
Runtime
1:29:00
1:29:09
Video

1.33:1 Original Aspect Ratio
Average Bitrate: 5.30 mb/s
PAL 720x576 25.00 f/s

1.33:1 Original Aspect Ratio
Average Bitrate: 5.76 mb/s
NTSC 720x480 29.97 f/s

NOTE: The Vertical axis represents the bits transferred per second. The Horizontal is the time in minutes.

Bitrate:

Optimum Releasing

Bitrate:

Zeitgeist

Audio
Farsi - Dolby Digital 2.0

Farsi - Dolby Digital 2.0

Subtitles
English, none
English, none
Features
Release Information:
Studio: Optimum Releasing

Aspect Ratio:
Fullscreen - 1.33:1

Edition Details:

DVD Release Date: July 28th, 2003
Keepcase

Chapters 10


Release Information:
Studio: Zeitgeist

Aspect Ratio:
Fullscreen - 1.33:1

Edition Details:
• 10 on Ten: A Cinematic Masterclass by Kiarostami (1:23:30)



DVD Release Date: Nov. 2, 2004
Keepcase

Chapters 10
Comments
Optimum's edition is slightly sharper than Zeitgeist's, probably because Zeitgeist includes an hour+ documentary on the same disc, which has led to some compression of the main feature. The R1 is also cropped on all sides, and has a faint green cast. There's no discernible difference in sound quality. Since this was shot on digital video, there's no PAL speed-up on the R2 edition.

There are no extras from Optimum, while Zeitgeist features the excellent 10 on Ten, a video essay wherein Kiarostami thoroughly elucidates his ideas and techniques in making the film. It's a most insightful documentary which, gives a greater understanding of Kiarostami's approach toward filmmaking in general.
---



DVD Menus
(Optimum Releasing - Region 2 - PAL - LEFT vs. Zeitgeist - Region 1 - NTSC - RIGHT)
| | |
| --- | --- |
| | |
| | |
| | |
| | |
| | |
---
Screen Captures
(Optimum Releasing - Region 2 - PAL - TOP vs. Zeitgeist - Region 1 - NTSC - BOTTOM)
Subtitle sample
---
(Optimum Releasing - Region 2 - PAL - TOP vs. Zeitgeist - Region 1 - NTSC - BOTTOM)
---
(Optimum Releasing - Region 2 - PAL - TOP vs. Zeitgeist - Region 1 - NTSC - BOTTOM)
---
(Optimum Releasing - Region 2 - PAL - TOP vs. Zeitgeist - Region 1 - NTSC - BOTTOM)
---
(Optimum Releasing - Region 2 - PAL - TOP vs. Zeitgeist - Region 1 - NTSC - BOTTOM)
---
(Optimum Releasing - Region 2 - PAL - TOP vs. Zeitgeist - Region 1 - NTSC - BOTTOM)
---
(Optimum Releasing - Region 2 - PAL - TOP vs. Zeitgeist - Region 1 - NTSC - BOTTOM)

---
Report Card: