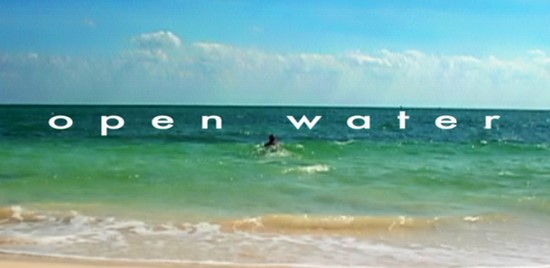 directed by Chris Kentis
USA 2003
Based on the true story of a couple on vacation who decide to go on a paid scuba diving excursion. The boat guide miscounts the head total and they are left stranded in jellyfish and shark infested waters. Both characters go through the gamut of emotions in eventual acceptance of their fate - disbelief, fear, anger and resignation.

It is quite exhilarating to see independent films like this that do not overly-pander to the audiences most base desires. Frankly, I find it quite unusual in the American market. Nothing about "Open Water" is exceptional - not the narrative, the performances, nor the cinematography, but it all pulls itself together wonderfully in the end. I suspect that many seasoned film viewers can see through the manipulations quite easily, but regardless they are a welcome expression from where a film of this nature could find itself going for the sake of money. I honestly had a good time watching this film, it held no pretension for obviousness and its minimal plot was not easy to deduce. Yes, I think I recommend it.
Posters
Theatrical Release: October 26th, 2003 - Hamptons International Film Festival
Reviews More Reviews DVD Reviews
DVD Comparison:
Lions Gate Home Entertainment - Region 1 - NTSC vs. Scanbox - Region 2 - PAL
Big thanks to Gary Tooze and Henrik Sylow for the Screen Caps!
(Lions Gate Home Entertainment - Region 1 - NTSC - LEFT vs. Scanbox - Region 2 - PAL - RIGHT)
DVD Box Covers

NOTE: Purchases through DVDBeaver's links to Amazon help keep us afloat and advertisement free!

Distribution

Lions Gate Home Entertainment

Region 1 - NTSC

Scanbox
Region 2 - PAL
Runtime
1:19:36
1:16:24 (4% PAL speedup)
Video

1.85:1 Original Aspect Ratio

16X9 enhanced
Average Bitrate: 7.94 mb/s
NTSC 720x480 29.97 f/s

1.85:1 Original Aspect Ratio

16X9 enhanced
Average Bitrate: 9.15 mb/s
PAL 720x576 25.00 f/s

NOTE: The Vertical axis represents the bits transferred per second. The Horizontal is the time in minutes.

Bitrate:

Lions Gate Home Entertainment

Bitrate:

Scanbox

Audio
2.0 Dolby Digital English, 5.1 Dolby Digital EX English, DTS 6.1 ES English

5.1 Dolby Digital EX English, DTS 5.1 English

Subtitles
English, Spanish, none
Danish, Swedish, Norwegian, Finnish, None
Features
Release Information:
Studio: Lions Gate Home Entertainment

Aspect Ratio:
Widescreen anamorphic - 1.85:1

Edition Details:
• Audio Commentary by Chris Kentis and Laura Lau (Directors)
• Audio Commentary by Blanchard Ryan and Daniel Travis (Actors)
• Featurette - 'Calm Before the Storm'
• Featurette - 'The Indie Essentials'
• Bonus 'on-location' footage
• Deleted Scenes
• Trailer

DVD Release Date: December 28th, 2004
Keep case

Chapters 20


Release Information:
Studio: Scanbox

Aspect Ratio:
Widescreen anamorphic - 1.85:1

Edition Details:
• Audio Commentary by Chris Kentis and Laura Lau (Directors)
• Audio Commentary by Blanchard Ryan and Daniel Travis (Actors)
• Calm before the storm: Making of 'Open Waters' (15:48)
• The Indie essentials (5:01)
• Attacking the shark myth (10:25)
• Open Water survival guide (8:13)
• Chain Mail (2:28)
• Cast and Crew
• Production Notes
• Trailers


DVD Release Date: January 10, 2005
Amaray

Chapters 12
Comments
Well, it looks like I was wrong. Lions Gate are not to blame for the poor transfer -it IS how the film was shot. I agree with Henrik that the Region 1 is marginally sharper and has the better audio and extras.

Gary W. Tooze

One must take into account when reviewing the image, that its shot with with DV camera, which makes bright seem very bright and dark more hazy. There are problems with focus, but this is to me expected. Having worked with such, the image is quiet good, but not what one normally expects from a professional HD camera. But when one compares the DV shots from the featurettes with the film itself, the image has undergone some adjustments for theatrically release.

Comparing the two images, they are virtually identical, but enlarging 600% and the R1 image is more steady and has less pixelations. Not that anyone ever would notice it by normal viewing.

The sound is very impressive for this sort of film, putting us front row into the open sea and really making all channels work during the thunderstorm. But I'm surprised that the Danish DTS only is 5.1, while the US is 6.1 ES. Perhaps its a misprint, perhaps something else.

The DVD comes with two audio commentaries, one from the production / directorial point of view, the other from the actors, and give us a detailed look into the production.

Skipping the making of, which is what it is, the DVD has two really great small featurettes. The first is about Sharks and the reality of them, the second about what divers can do to increase their odds surviving on open sea. Both note towards the realism of the story and are very informative.


Henrik Sylow
---



DVD Menus
(Lions Gate Home Entertainment - Region 1 - NTSC - LEFT vs. Scanbox - Region 2 - PAL - RIGHT)

| | |
| --- | --- |
| | |
| | |
| | |
| | |
| | |
| | |
---
Screen Captures
(Lions Gate Home Entertainment - Region 1 - NTSC - TOP vs. Scanbox - Region 2 - PAL - BOTTOM)
---
(Lions Gate Home Entertainment - Region 1 - NTSC - TOP vs. Scanbox - Region 2 - PAL - BOTTOM)
---
(Lions Gate Home Entertainment - Region 1 - NTSC - TOP vs. Scanbox - Region 2 - PAL - BOTTOM)
---
(Lions Gate Home Entertainment - Region 1 - NTSC - TOP vs. Scanbox - Region 2 - PAL - BOTTOM)
---
(Lions Gate Home Entertainment - Region 1 - NTSC - TOP vs. Scanbox - Region 2 - PAL - BOTTOM)
---
(Lions Gate Home Entertainment - Region 1 - NTSC - TOP vs. Scanbox - Region 2 - PAL - BOTTOM)
---
(Lions Gate Home Entertainment - Region 1 - NTSC - TOP vs. Scanbox - Region 2 - PAL - BOTTOM)
Enlargement 600%

---
Report Card:
| | |
| --- | --- |
| Image: | R1 (marginally) |
| Sound: | R1 (DTS 6.1 ES vs. DTS 5.1) |
| Extras: | R1 (due to deleted scenes) |
| Menu: | R1 |
DVD Box Covers

NOTE: Purchases through DVDBeaver's links to Amazon help keep us afloat and advertisement free!

Distribution

Lions Gate Home Entertainment

Region 1 - NTSC

Scanbox
Region 2 - PAL