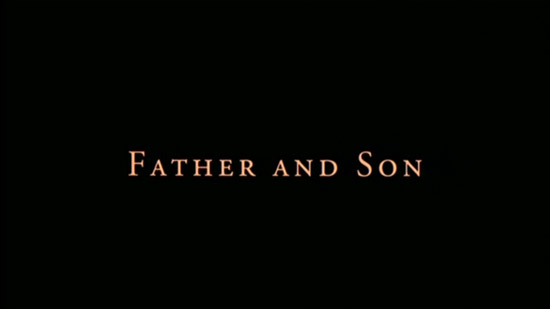 (aka "Otets i syn" )
directed by Aleksandr Sokurov
Russia 2003
Sokurov seeks to transport us into the gentle, lyrical world of the titular father and son, where most communication is made through gestures and glances, and the strength of the understanding and love shared between the lead characters is intuitively, palpably, oppressively understood. The tools Sokurov uses to take us there are similar to those used in the companion film, Mother and Son: stylized photography, with distorted, two-dimensional imagery, earth tones, Tchaikovsky-inspired music, understated acting. Though thematically and stylistically akin to Mother and Son, Father and Son fails to evoke the same profound emotions, try as hard as it may. The whole affair feels too empty, the numerous shots of a head resting silently, lovingly on a shoulder feel too affected. There's a whole lot syle here, but it's inadequate, for it's in service of something that doesn't amount to much.
Posters
Theatrical Release: May 23, 2003 - Cannes Film Festival
Reviews More Reviews DVD Reviews
DVD Comparison:
Wellspring - Region 0 - NTSC vs. Artificial Eye - Region 2 - PAL
Big thanks to Donald Brown and Henrik Sylow for the Screen Caps!
(Wellspring - Region 0 - NTSC - LEFT vs. Artificial Eye - Region 2 - PAL - RIGHT)
DVD Box Covers

NOTE: Purchases through DVDBeaver's links to Amazon help keep us afloat and advertisement free!
Distribution

Wellspring

Region 0 - NTSC

Artificial Eye
Region 2 - PAL
Runtime
1:22:24
1:22:30
Video

1.77:1 Aspect Ratio

16X9 enhanced
Average Bitrate: 5.72 mb/s
NTSC 720x480 29.97 f/s

1.76:1 Aspect Ratio

16X9 enhanced
Average Bitrate: 8.18 mb/s
PAL 720x576 25.00 f/s

NOTE: The Vertical axis represents the bits transferred per second. The Horizontal is the time in minutes.

Bitrate:

Wellspring

Bitrate:

Artificial Eye

Audio
Dolby Digital 2.0, Dolby Digital 5.1

2.0 Dolby Digital Russian

Subtitles
English, none
English, None
Features
Release Information:
Studio: Wellspring

Aspect Ratio:
Widescreen anamorphic - 1.77:1

Edition Details:
• Photo Gallery
• Trailers
• Weblink

DVD Release Date: Oct. 26, 2004
Keep case

Chapters 16


Release Information:
Studio: Artificial Eye

Aspect Ratio:
Widescreen anamorphic - 1.76:1

Edition Details:
• 'A Soldiers Dream' (10:42) - Sokorov Short from 1995
• Theatrical Trailer (1:36)
• Filmographies
• - Alexander Sokorov
• - Sergey Potepalov (Screenwriter)
• - Alexander Burov (Cinematography)


DVD Release Date: Dec. 6, 2004
Amaray

Chapters 12
Comments
The warm, muted colors and slightly soft, dreamy imagery of the film are pretty well represented on this video-sourced disc. It's often dark and murky, but that's presumably an effect Sokurov was going for. The handful of still photos included as an extra are quite lovely, with imagery that's even nicer than what's seen in the film. (Donald Brown)

----------------------
The image of Artificial Eye is almost identical to Wellspring, however it is sharper in detail. While the film is very soft in tone, image #5 shows the difference in detail (notice the reflection on Aleksei's arm [also compare the sharpness of the x-ray in these captures - DB]). There is also more frameinformation in the AE image, aprx 1% more top and bottom, and 1% right.

Most striking is the difference is subtitling. As shown here, on the Wellspring DVD it says "Are you over there again?", while the AE says "Are you still over there?", which are two completely different questions. It would be nice, if someone who understood Russian could comment on what is said, in order to determine the most correct translation.

Following a trailer and filmography of director, writer and DoP, AE has added the 1995 short "Soldatski Son" (A Soldier's Dream). Directed by Alexander Sokurov, its an poetic account of lonely Russian soldiers stationed on the Tajiki-Afghani border are a meditation on humanity's ultimately spiritual nature. It is presented in 4:3 full screen and is very dark and murky.

The image may have been cropped for theatrical, and subsequently DVD, release, as the Ruscico DVD is presented in 1.33:1 full screen, according to (http://shop.gay.ru/products/4155.html) and other Russian sources. The Ruscico DVD also runs reported 97 minutes, vs. the 83 minutes running time of both DVDs reviewed here, as has 5.1 Dolby Digital sound, vs. 2.0 Dolby Digital. (Henrik Sylow)

------------------
It should also be pointed out that the Wellspring is a PAL-to-NTSC transfer, a fact I was unaware when I wrote the review for that edition. (DB)

-Henrik and Donald
---



DVD Menus
(Wellspring - Region 0 - NTSC - LEFT vs. Artificial Eye - Region 2 - PAL - RIGHT)
| | |
| --- | --- |
| | |
| | |
| | |
| | |
---
Subtitle sample
Captures resized to 700px width
(Wellspring - Region 0 - NTSC - TOP vs. Artificial Eye - Region 2 - PAL - BOTTOM)

Note the difference in the question!
---
Screen Captures
(Wellspring - Region 0 - NTSC - TOP vs. Artificial Eye - Region 2 - PAL - BOTTOM)
---
(Wellspring - Region 0 - NTSC - TOP vs. Artificial Eye - Region 2 - PAL - BOTTOM)
---
(Wellspring - Region 0 - NTSC - TOP vs. Artificial Eye - Region 2 - PAL - BOTTOM)
---
(Wellspring - Region 0 - NTSC - TOP vs. Artificial Eye - Region 2 - PAL - BOTTOM)
---
(Wellspring - Region 0 - NTSC - TOP vs. Artificial Eye - Region 2 - PAL - BOTTOM)
---
(Wellspring - Region 0 - NTSC - TOP vs. Artificial Eye - Region 2 - PAL - BOTTOM)

---
Report Card:
| | |
| --- | --- |
| Image: | Artificial Eye |
| Sound: | -- |
| Extras: | Artificial Eye |
| Menu: | Artificial Eye |
DVD Box Covers

Distribution

Wellspring

Region 0 - NTSC

Artificial Eye
Region 2 - PAL