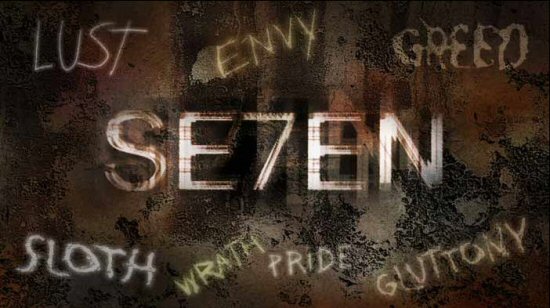 (aka "Seven" or "The Seven Deadly Sins")
directed by David Fincher
USA 1995
"
Seven," a dark, grisly, horrifying and intelligent thriller, may be too disturbing for many people, I imagine, although if you can bear to watch, it you will see filmmaking of a high order. It tells the story of two detectives - one ready to retire, the other at the start of his career - and their attempts to capture a perverted serial killer who is using the Seven Deadly Sins as his scenario.
[...]
"Seven" is unique in one detail of its construction; it brings the killer onscreen with half an hour to go, and gives him a speaking role. Instead of being simply the quarry in a chase, he is revealed as a twisted but articulate antagonist, who has devised a horrible plan for concluding his sermon. (The actor playing the killer is not identified by name in the ads or opening credits, and so I will leave his identity as another of his surprises.) "Seven" is well-made in its details, and uncompromising in the way it presents the disturbing details of the crimes. It is certainly not for the young or the sensitive. Good as it is, it misses greatness by not quite finding the right way to end. All of the pieces are in place, all of the characters are in position, and then - I think the way the story ends is too easy. Satisfying, perhaps. But not worthy of what has gone before.
Excerpt from Roger Ebert at The Chicago Sun Times located HERE
Posters
Theatrical Release: September 22th, 1995
Reviews More Reviews DVD Reviews
DVD Comparison:
New Line (Platinum Series) - Region 1 - NTSC vs. Paramount (Benelux CE) - Region 2 - PAL
Big thanks to Gregory Meshman and Maarten de Haas for the Screen Caps!
(New Line (Platinum Series) - Region 1 - NTSC - LEFT vs. Paramount (Benelux CE) - Region 2 - PAL - RIGHT)
DVD Box Covers

Distribution

New Line

Region 1 - NTSC

Paramount
Region 2 - PAL
Runtime
2:06:40
2:01:32 (4% PAL speedup)
Video

Original Aspect Ratio

16X9 enhanced
Average Bitrate: 7.89 mb/s
NTSC 720x480 29.97 f/s

Original Aspect Ratio

16X9 enhanced
Average Bitrate: 7,58 mb/s
PAL 720x576 25.00 f/s

NOTE: The Vertical axis represents the bits transferred per second. The Horizontal is the time in minutes.

Bitrate:

New Line (Platinum Series)

Bitrate:

Paramount (Benelux CE)

Audio
English DTS ES 6.1 (discrete), English Dolby Digital 5.1 EX, English Dolby Digital 2.0 Surround

English DTS ES 6.1 (discrete), English Dolby Digital 5.1 EX, English Dolby Digital 2.0 Surround, French DTS 5.1, French Dolby Digital 5.1

Subtitles
English, French, None
English, Dutch and French
Features
Release Information:
Studio: New Line

Aspect Ratio:
Widescreen anamorphic -

Edition Details:
• 4 Audio Commentary's: the Stars, the Story, the Picture, the Sound
• Exploration of the Opening Title Sequence (3 Angle Options; 6 Audio Options)
• Deleted Scenes and Extended Takes (with Optional Commentary by David Fincher)
• Cast And Crew Filmographies
• Production Designs (with Commentary by the Photographers)
• Alternate Endings (with Optional Commentary by David Fincher)
• Still Photographs
• Promotional Materials
• The Notebooks (with Commentary by the Designers)
• Mastering for the Home Theater
• DVD-Rom Content

DVD Release Date: December 19, 2000
Beautiful Digipack

Chapters 37

Release Information:
Studio: Paramount

Aspect Ratio:
Widescreen anamorphic -

Edition Details:
• 3 Audio Commentary's: the Stars, the Story, the Sound
• Exploration of the Opening Title Sequence (3 Angle Options; 6 Audio Options)
• Deleted Scenes and Extended Takes (with Optional Commentary by David Fincher)
• Cast And Crew Filmographies
• Production Designs (with Commentary by the Photographers)
• Alternate Endings (with Optional Commentary by David Fincher)
• Still Photographs
• Promotional Materials
• The Notebooks (with Commentary by the Designers)
• Mastering for the Home Theater
• Telecine Gallery


DVD Release Date: May 26th, 2001
Beautiful Digipack

Chapters 38
| | |
| --- | --- |
| Comments | The Region 1 has better contrast and shadow detail as well as being sharper overall (and brighter?). The Region 1 has an extra audio commentary as an additional feature. Subtitles look fine and both appear 16X9 friendly. The Region 2 has an additional French dub. Once again for a Hollywood film the Region 1 is ahead and this is considered the definitive version |
---



DVD Menus
(New Line (Platinum Series) - Region 1 - NTSC - LEFT vs. Paramount (Benelux CE) - Region 2 - PAL - RIGHT)
---
Screen Captures
(New Line (Platinum Series) - Region 1 - NTSC - TOP vs. Paramount (Benelux CE) - Region 2 - PAL - BOTTOM)
---
(New Line (Platinum Series) - Region 1 - NTSC - TOP vs. Paramount (Benelux CE) - Region 2 - PAL - BOTTOM)
---
(New Line (Platinum Series) - Region 1 - NTSC - TOP vs. Paramount (Benelux CE) - Region 2 - PAL - BOTTOM)
---
(New Line (Platinum Series) - Region 1 - NTSC - TOP vs. Paramount (Benelux CE) - Region 2 - PAL - BOTTOM)
---
(New Line (Platinum Series) - Region 1 - NTSC - TOP vs. Paramount (Benelux CE) - Region 2 - PAL - BOTTOM)
---
(New Line (Platinum Series) - Region 1 - NTSC - TOP vs. Paramount (Benelux CE) - Region 2 - PAL - BOTTOM)
---
(New Line (Platinum Series) - Region 1 - NTSC - TOP vs. Paramount (Benelux CE) - Region 2 - PAL - BOTTOM)
---

---
Report Card:
| | |
| --- | --- |
| Image: | Region 1 |
| Sound: | R2 (for French audio tracks) |
| Extras: | R1 (for 1 extra audio commentary) |
| Menu: | Region 1 |