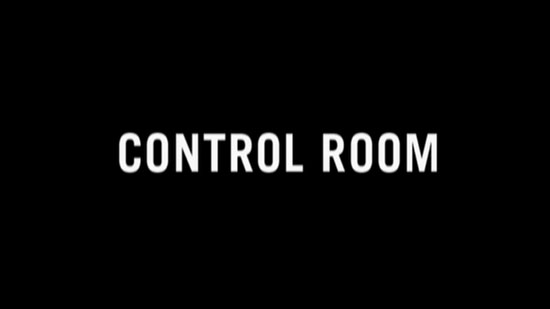 directed by Jehane Noujaim
USA 2004
[...]Jehame Noujaim's Control Room (2004) [is] a look behind the scenes at the famed Arabic television station, Al-Jazeera. I've pretty much avoided all mainstream coverage of the war in Iraq from the get-go and sought alternative news sources from international reports and human rights groups rather than embedded broadcasts from Fox or CNN, but seeing Control Room underscored how slanted even my perception of the station was, given the Bush administration's constant attempts to vilify it. Donald Rumsfeld has publicly referred to it, among other things, as "Osama bin Laden's mouthpiece." In fact, the station has been banned by several Arab governments for its open criticism of their policies, and its staff is not a bunch of Islamic fundamentalists with cameras, but many ex-BBC reporters and Western-trained journalists and entrepreneurial producers who praise the US Constitution and dream of sending their kids to American universities.

Al-Jazeera (which means "the island") is widely admired in the journalistic community as well, and regularly interacts with American, British, and international reporters. It is the first independent television station in the Arabic world (although it's still partially-subsidized by the government of Qatar), and watched by over 50 million people, regularly featuring point/counterpoint discussions and debates fueled by the station's motto: "The opinion...and the other opinion." While it's arguable how well it adheres to Western myths of journalistic objectivity (and the same concern could be directed toward the US corporate-owned media), it's a pioneering effort in the Middle East, determined to cover and debate international events for Arabic viewers, offering them their own news source rather than leaving them to fish for coverage of their own region from the BBC or other European news agencies.

[...]

Control Room is a highly informative film that helps contextualize the media wars and their importance to world events of the past year. The media people it focuses on are intelligent, articulate, and observant, and the images and juxtapositions it offers provide considerably new contexts for the invasion than have been seen on American airwaves. It's required viewing.
Posters
Theatrical Release: January, 2004 - Sundance Film Festival
Reviews More Reviews DVD Reviews
DVD Comparison:
Lions Gate Films - Region 0 - NTSC vs. Tartan - Region 0 - PAL
Big thanks to Donald Brown and Henrik Sylow for the Screen Caps!
(Lions Gate Films - Region 0 - NTSC - LEFT vs. Tartan - Region 0 - PAL - RIGHT)
DVD Box Covers

NOTE: Purchases through DVDBeaver's links to Amazon help keep us afloat and advertisement free!
Distribution

Lions Gate Films

Region 0 - NTSC

Tartan
Region 0 - PAL
Runtime
1:26:21
1:26:31
Video

1.78:1 Original Aspect Ratio

16X9 enhanced
Average Bitrate: 5.89 mb/s
NTSC 720x480 29.97 f/s

1.78:1 Original Aspect Ratio

16X9 enhanced
Average Bitrate: 5.40 mb/s
PAL 720x576 25.00 f/s

NOTE: The Vertical axis represents the bits transferred per second. The Horizontal is the time in minutes.

Bitrate:

Lions Gate Films

Bitrate:

Tartan

Audio
Dolby Digital 2.0

Dolby Digital 2.0

Subtitles
English, Arabic, French, Spanish, none
English (fixed, only when English is not spoken)
Features
Release Information:
Studio: Lions Gate Films

Aspect Ratio:
Widescreen anamorphic - 1.78:1

Edition Details:
• Commentary with director Jehane Noujaim and producer/cinematographer Hani Salama
• Commentary with Captain Josh Rushing, Central Command Press Officer
• Commentary with Al-Jazeera producers/journalists Hassan Ibrahim and Samir Khader
• Theatrical trailer
• Deleted scenes
• Samir Khader: 1 Year Later in Baghdad
• Samir's first trip to the USA

DVD Release Date: Oct. 26, 2004
Keep case

Chapters 20

Release Information:
Studio: Tartan

Aspect Ratio:
Widescreen anamorphic - 1.78:1

Edition Details:
• Theatrical Trailer
• Trailer reel
• 4-page booket with Ben Walters Film Notes



DVD Release Date: Oct. 25, 2004
Amaray

Chapters 16
Comments
The Tartan image is slightly sharper in detail and has more frame information, as the Lions Gate image is either cropped or overscanned by 2%.

For curious reason, Tartan has decided to make their subtitles only viewable when no English is spoken. While it gives the film a more "documentary" feel, it prohibits hard of hearing and deaf people from viewing this film.

As additional material, the Tartan DVD only has a trailer and a few film notes; Due to rights, not choice.

The same running time is due to that both transfers are based upon the Digital Video source.
---



DVD Menus
(Lions Gate Films - Region 0 - NTSC - LEFT vs. Tartan - Region 0 - PAL - RIGHT)
| | |
| --- | --- |
| | |
| | |
| | |
| | |
---
Screen Captures
(Lions Gate Films - Region 0 - NTSC - TOP vs. Tartan - Region 0 - PAL - BOTTOM)
Subtitle sample (English subtitles only)
---
(Lions Gate Films - Region 0 - NTSC - TOP vs. Tartan - Region 0 - PAL - BOTTOM)
---
(Lions Gate Films - Region 0 - NTSC - TOP vs. Tartan - Region 0 - PAL - BOTTOM)
---
(Lions Gate Films - Region 0 - NTSC - TOP vs. Tartan - Region 0 - PAL - BOTTOM)
---
(Lions Gate Films - Region 0 - NTSC - TOP vs. Tartan - Region 0 - PAL - BOTTOM)
---
(Lions Gate Films - Region 0 - NTSC - TOP vs. Tartan - Region 0 - PAL - BOTTOM)
---
(Lions Gate Films - Region 0 - NTSC - TOP vs. Tartan - Region 0 - PAL - BOTTOM)

---
Report Card:
| | |
| --- | --- |
| Image: | Tartan |
| Sound: | tie |
| Extras: | Lions Gate |
| Menu: | Lions Gate |