It seems (we assume) some early pressings (or later ?) of the Blow-up sold in Region 1 are actually region 1,4 NTSC meaning e-tailors were reselling the Brazilian censored ones in North America (possibly because they are cheaper ?)... Perhaps it will be a collector's item one day... you probably just need to check the region coding of your disc. If it is only Region 1 it is not censored, if it is Region 1+4 it IS.
RE: Blowup Censorship
DVDBeaver recently received this email:
Dear Sirs,

I am ancient art film buff, and recently posted messages at the Internet Movie Database, and later at the Home Theater Talk (Armchair Director sub-section), regarding the R1/R4 edition of Blow-up, recently issued by Warner Bros. In the latter forum, I was advised by forum member Peter Apruzesse, who write this message to you, in order to expose the problem of censorship contained in this edition, and hopefully getting an expert's opinion about the issue.

First, let me clarify that as soon as I watched Blow-up on my system, I didn't have a pristine recollection of some of the missing or altered shots, so I decided to write an e-mail message to Professor Peter Brunette, who was responsible for the commentary track on the DVD, but Mr. Brunette never managed to get himself an intact print of Blow-up as I did, back in the mid-1960's.

As soon as the movie starts, I noticed that both the MGM logo and credits were missing, and these were not missing in the last video copy that I had with the movie. As the story unfolds, I noticed that there was something wrong in the scene where Vanessa Redgrave meets David Hemmings inside his studio. The framing seemed to be wrong, and I knew that something was missing. To cut a long story short, this is what I saw on the DVD: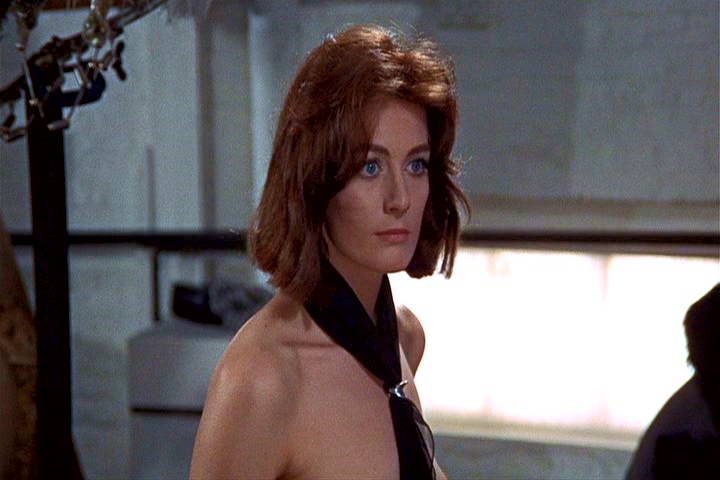 But this (taken from an old VHS tape) is what should have been seen instead, less the pan&scan aspect of the shot: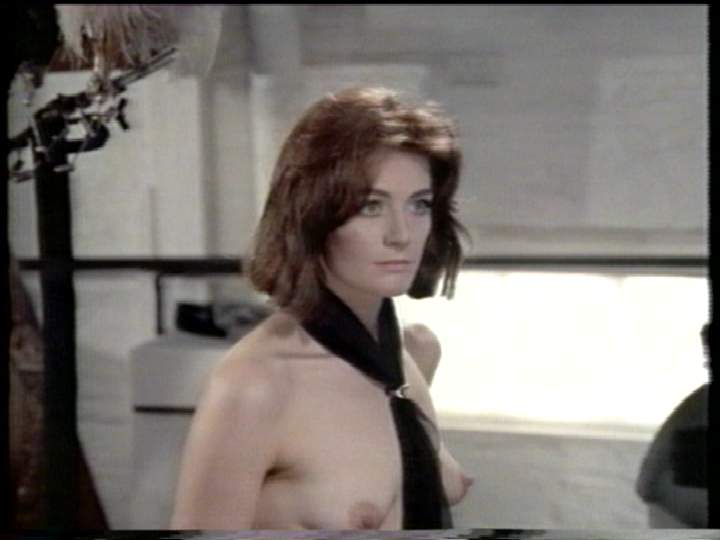 At that point, however, I wasn't even sure that Vanessa Redgrave was shot in frontal nudity, although I remember seeing it in the original theatrical presentation. Nevertheless, during the notorious "ménage-a-trois" romp, a sequence well-known amongst film buffs, a digital blurr was inserted, and highly visible on my TV set. This is one fragment that I captured from the sequence: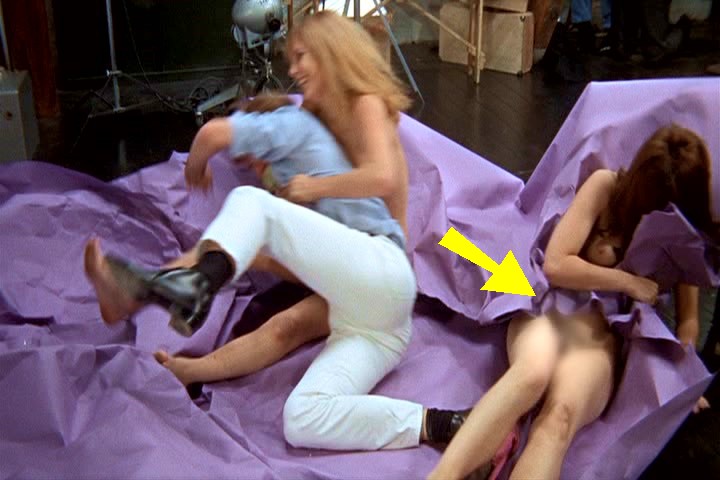 And this is the intact shot: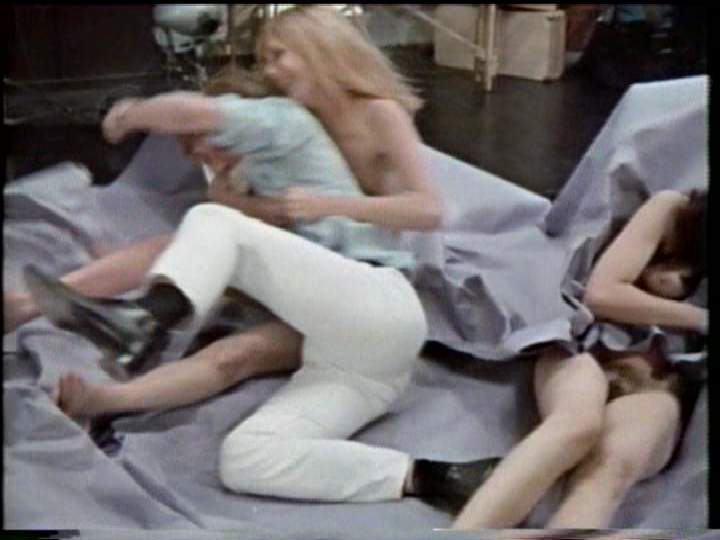 NOTE:
Below image is from the Nordic DVD edition R2 (but also German and Spain have the same). The UK has different subtitle options but is also uncensored. The Australian is not censored either.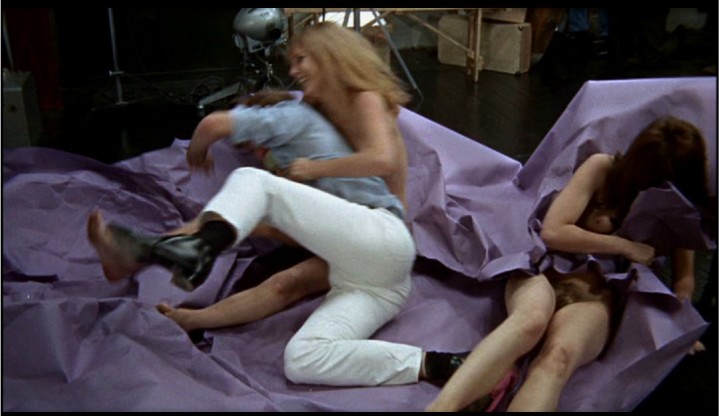 Now, I had no doubt in my mind that the transfer of the original picture had been tampered with. It was a matter of time, to get the VHS frames from a forum user, which of course, I immediately sent to Professor Brunette.

Since there is conclusive evidence that Antonioni's masterpiece was censored by someone at Warner, it seemed logical to start a thread to that regard, which I did, in the hope that those who do not agree with censorship could make the Warner staff see how low it is to change or alter a film of this stature, for whatever reason, and as a result, destroy the film's legacy for posterity and new viewers. I hope that you will agree that Blow-up was shot in exactly the way it was meant to be seen in theaters. Not even in the harshest years of censorship in Brazil was the film mutilated in any possible way.

I also sincerely hope that any of you could do anything to stop the censoring that is going on, in case you agree to censorship is not an option to film lovers. Apart from my local WB contacts, I have no one to turn to.

Thanks for taking your time to read this message. The threads containing more details and opinions are posted at the Home Theater Talk and at the IMDB site.
Dear Mr. Tooze,

Please feel free to post whatever is right for your web site. I am already aware of the quality of the reviews that you have been providing web users, and just to reinforce the idea that the cropping was done on purpose, let me show you yet another shot from another segment of the VHS, as compared to the same shot in the DVD. Please note that if you look top to bottom, the entire 1.85:1 shot is there, which evidences that Vanessa's shot was indeed cropped:

From the VHS: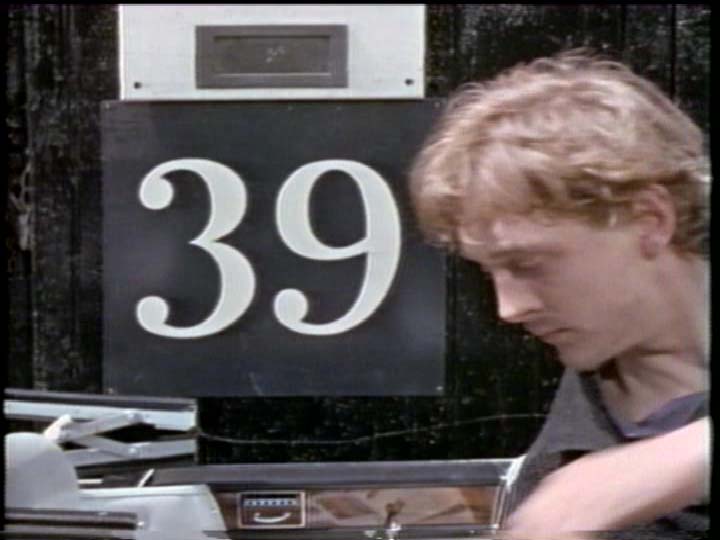 From the DVD: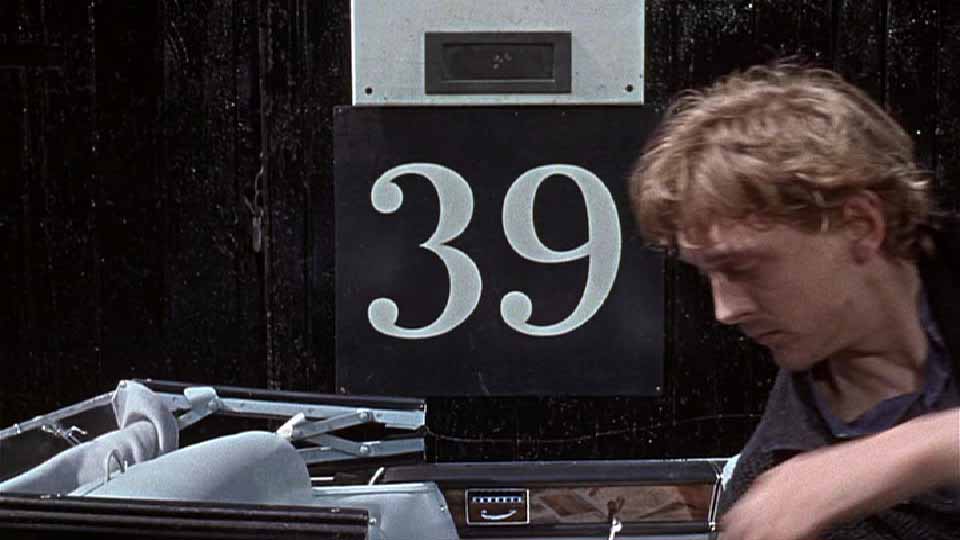 Now, the match for comparison: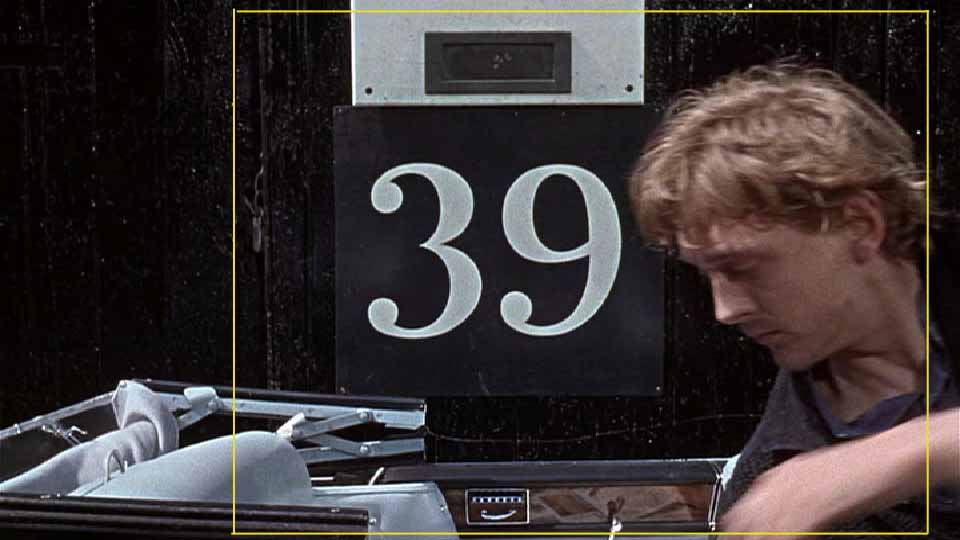 The comparison was made by forum user Luke Joplin, to whom I owe the recovery of my sanity!

Best regards,

Paulo Roberto Elias,