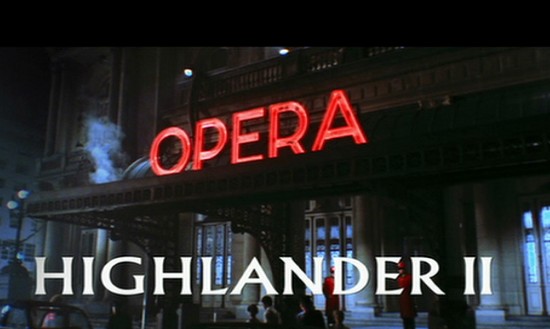 (aka "Highlander II: The Renegade Version" or "Highlander - Le retour"or "Highlander II: The Quickening" )
directed by Russell Mulcahy
France / UK / Argentina 1991
The second "Highlander" movie, again stars Christopher Lambert and Sean Connery. The plot: it's the year 2025 and the entire ozone layer is believed to have been destroyed. To protect people from dying, MacLeod (Lambert) assisted in the construction of a giant "shield" several years previous. Opposition comes from both the planet Ziest which is MacLeod and Ramirez's (Connery) home world. A corporation profiting from the supposed lack of ozone is the key villain. Continued flashbacks fill in details of the story behind MacLeod and Ramirez's original exile from Ziest.

This film has a cult following from the success of the first film, but also many individuals feel this is one of the worst films ever made. Its 3.4/10 (8,446 votes) on Imdb is testament to that. As Roger Ebert says:
This movie has to be seen to be believed. On the other hand, maybe that's too high a price to pay. "Highlander 2: The Quickening" is the most hilariously incomprehensible movie I've seen in many a long day - a movie almost awesome in its badness. Wherever science fiction fans gather, in decades and generations to come, this film will be remembered in hushed tones as one of the immortal low points of the genre.
Posters
Theatrical Release: January 31st, 1991 - Germany
Reviews More Reviews DVD Reviews
DVD Comparison:
Lionsgate / Fox (SE - 2 disc) - Region 1 - NTSC vs. Republic Studios (Renegade) - Region 1 - NTSC
Thanks to Enrico for all the screen captures!
(Lionsgate / Fox SE - Region 1 - NTSC - LEFT vs. Republic - Renegade - Region 1- NTSC - RIGHT)
DVD Box Covers

NOTE: Purchases through DVDBeaver's links to Amazon help keep us afloat and advertisement free!

Distribution

Lionsgate / Fox (SE)

Region 1 - NTSC

Republic Studios (Renegade Edition)
Region 1 - NTSC
Runtime
1:49:32
1:49:44
Video

2.55:1 Original Aspect Ratio

16X9 enhanced
Average Bitrate: 7.90 mb/s
NTSC 720x480 29.97 f/s

2.35:1 Original Aspect Ratio
Average Bitrate: 4.12 mb/s
NTSC 704x480 29.97 f/s

NOTE: The Vertical axis represents the bits transferred per second. The Horizontal is the time in minutes.

Bitrate:

(SE)

Bitrate:

(Renegade)

Audio
DTS 5.1, Dolby Digital 6.1 EX, Dolby Digital 2.0 Surround

English (Dolby Digital 5.1)

Subtitles
English, (close-captioned) and none
English, Spanish and none
Features
Release Information:
Studio: Lionsgate / Fox

Aspect Ratio:
Widescreen anamorphic - 2.35:1



Edition Details:
• Disc One offers a cool deconstruct branching option that allows a peek into the making of certain scenes in the film

• Highlander 2: Seduced By Argentina - 50:03 The Redemption of Highlander 2 - 13:46 The Music of Highlander 2 - 9:05 The Fabric of Highlander 2 - 10:07 Shadow & Darkness: The Cinematography of Highlander 2 - 5:51

• Original Cannes Film Festival Promotional Reel - 9:29

• Deleted scenes - 5:48

• Trailer* - 0:52

DVD Release Date: July 20th, 2004
Keep Case

Chapters 24


Release Information:
Studio: Republic Studios

Aspect Ratio:
Original aspect Ratio 2.35:1

Edition Details:

• Audio commentary with Russell Mulcahy and Bill Panzer & Peter Davis
• Still photos, production sketches, publicity stills
• Featurette - 17:57min

DVD Release Date: October 23, 2001
Keep Case
Chapters: 33
Comments:

The non-anamorphic 'Renegade' version is fraught with errors - color balance, zooming in, soft, haziness etc. However, Enrico suggest that owners may wish to keep it for the Featurette and audio commentary.

NOTE: In the renegade version, a documentary following the film has the filmmakers explain why the original theatrical release contradicted the first film. According to them, the inflation in Argentina had risen so high during filming that the film's insurance company started to take creative control, and made a film they thought would make the most money.
---



DVD Menus
(Lionsgate / Fox SE - Region 1 - NTSC - LEFT vs. Republic - Renegade - Region 1- NTSC - RIGHT)
---
Subtitle Sample
(Lionsgate / Fox SE - Region 1 - NTSC - TOP vs. Republic - Renegade - Region 1- NTSC - BOTTOM)
---
Screen Captures
(Lionsgate / Fox SE - Region 1 - NTSC - TOP vs. Republic - Renegade - Region 1- NTSC - BOTTOM)
---
(Lionsgate / Fox SE - Region 1 - NTSC - TOP vs. Republic - Renegade - Region 1- NTSC - BOTTOM)
---
(Lionsgate / Fox SE - Region 1 - NTSC - TOP vs. Republic - Renegade - Region 1- NTSC - BOTTOM)
---
(Lionsgate / Fox SE - Region 1 - NTSC - TOP vs. Republic - Renegade - Region 1- NTSC - BOTTOM)
---
(Lionsgate / Fox SE - Region 1 - NTSC - TOP vs. Republic - Renegade - Region 1- NTSC - BOTTOM)

---
Report Card:
| | |
| --- | --- |
| Image: | (SE) |
| Sound: | (SE) |
| Extras: | (SE) |
| Menu: | (SE) |