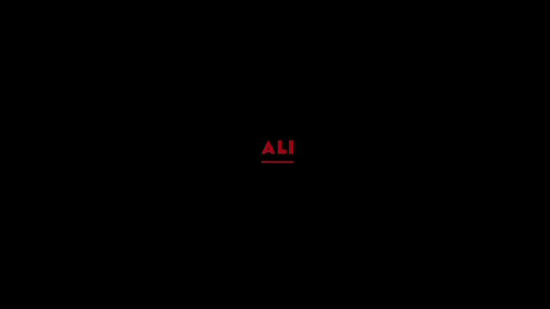 directed by Michael Mann
USA 2001
When I first heard about "Ali" and that Will Smith was to play him, I had to pinch myself. Smith, a skinny somewhat talented actor, who seems to prefer comic relief, was an odd choice, and while he pulled of a decent performance in "Six Degrees of Separation", he was best known for his mouth in "Bad Boys" and "Men in Black". But after having seen "Ali", all my doubts and reservations were turned into admiration. Smith not only gave a bravour performance as Ali, but as Muhammad Ali gave Liston "Talkin' lessons, boxing lessons and falling down lessons", Smith gave acting lessons.

Mann is one of today's most accomplished auteur, as he in addition also is a great character director and has a great eye for compositions. And "Ali" belongs to his best films, in regards to the technical aspects: the direction is dedicated (especially Smith, Voight and Foxx are totally in character) and the mise-en-scene is perhaps his best yet. Notable here is Mann's use of High Definition, in combination with normal 35mm film, a technique he developed further in "Collateral", which needs a closer examination. Additional he used a special miniature camera, to literary be within the fight. Spending countless hours studying the fights, Mann recreates them punch by punch, having the boxers hitting each other for real, thereby creating the most amazing fight sequences yet seen.

Despite perfection in all departments, "Ali" is a flawed film. The story covers the central period of Ali (1964-1974), from where he, as Cassius Clay, wins the heavyweight championship of the world over Sonny Liston to his regaining of the title over George Forman, in the most famous boxing match ever, "The Rumble in the Jungle". Where Ali has two lives, one as the icon of World Champion, the other as a man who loves women, there are two storylines present: The first deals with his career as boxer and his fight against the US government and the Muslim Nation, the other with his marriages. Where the first storyline is flawless, the "love interest" storyline slows the pace down and feels disjoined from the central plot.

In the "Directors Cut", Mann adds about ten minutes of new material. The question is why?

Where a few of the new scenes add to character and theme, many of the new scenes feels superfluous, as we get little from the added information, and a few of the new scenes directly distorts the flow of the scene they are inserted into. We are talking "darlings" here. An example is the scenes involving friend and actor Bruce McGill (the Mobutu scenes). Where we already have one semi superfluous scene in the original version, we now have a new scene showing Mobutu coming to power. It is irrelevant for the storyline to know this and the scene even raises some questions, which never are answered directly. Where this clearly was a darling killed in the original version, one can suspect it being inserted due to his friendship with McGill. Finally, some of the scenes involving his three marriages now feels almost anorexic, due to the contrast of newly added scenes. The result is a different flawed film; improved in some areas, weakend in others: Its not better, nor is it worse, its just different. Personally, I prefer the original version.

But despite "Ali" being flawed, it is a stunning, historically quiet accurate film, which accounts the ten most important years in the life of the greatest boxer ever. Mann worked closely with both Howard Bingham (Ali's photographer) and Ali himself, in order to recreate history as accurate as possible. The film is full of small personal touches, which one might not notice, but which Mann now elaborates upon in his commentary. Personally, I consider this his best film in terms of direction and towards Mann as auteur. In retrospect, I also dare say, that Smith deserved the Oscar for best leading male. So whatever flaws it has, it remains a very powerful and wonderful epic.

Poster
Theatrical Release: December 11, 2001 (London)
Reviews More Reviews DVD Reviews
DVD Comparison:
Entertainment in Video - Region 2 - PAL vs. Roadshow Home Entertainment - Region 4 - PAL vs. Columbia Tristar (Directors Cut) - Region 1 - NTSC
Big thanks to Henrik Sylow for all the Screen Caps!
(Entertainment in Video - Region 2 - PAL - LEFT vs. Roadshow Home Entertainment - Region 4 - PAL - MIDDLE vs. Columbia Tristar (Directors Cut) - Region 1 - NTSC - RIGHT)
DVD Box Covers

NOTE: Purchases through DVDBeaver's links to Amazon help keep us afloat and advertisement free!
Distribution

Entertainment in Video

Region 2 - PAL

Roadshow Home Entertainment
Region 4 - PAL
Columbia Tristar
Region 1 - NTSC
Runtime
2:30:11 (4% PAL speedup)
2:30:11 (4% PAL speedup)
2:44:59
Video

2.33:1 Original Aspect Ratio

16X9 enhanced
Average Bitrate: 6.57 mb/s
PAL 720x576 25.00 f/s

2.34:1 Original Aspect Ratio

16X9 enhanced
Average Bitrate: 6.73 mb/s
PAL 720x576 25.00 f/s

2.36:1 Original Aspect Ratio

16X9 enhanced
Average Bitrate: 5.22 mb/s
NTSC 704x480 29.97 f/s

NOTE: The Vertical axis represents the bits transferred per second. The Horizontal is the time in minutes.

Bitrate:

Entertainment in Video

Bitrate:

Roadshow Home Entertainment

Bitrate:

Columbia Tristar (Directors Cut)

Audio
5.1 Dolby Digital English, DTS English

5.1 Dolby Digital English, DTS English

5.1 Dolby Digital English

Subtitles
None
English, None
English, French, Spanish, None
Features
Release Information:
Studio: Entertainment in Video

Aspect Ratio:
Widescreen anamorphic - 2.33:1

Edition Details:
• Disc 2 (4:3)
• Trailer (2:40)
• Behind the Scenes (11:56)
• The Making of 'Ali' (28:01)
• Cast and Crew sound bites

DVD Release Date: June 24, 2002
2 disc keep case

Chapters 32


Release Information:
Studio: Roadshow Home Entertainment

Aspect Ratio:
Widescreen anamorphic - 2.34:1

Edition Details:
• Disc 2 (16x9)
• Trailer (2:42)
• The Making of 'Ali' (28:02)
• Rove Live: Interview with Will Smith (14:31)
• Muhammad Ali Timeline: 9 pages of text
• Biographies


DVD Release Date: August 14, 2002
2 disc keep case

Chapters 29

Release Information:
Studio: Columbia Tristar

Aspect Ratio:
Widescreen anamorphic - 2.36:1

Edition Details:
• Audio Commentary by Michael Mann
• The Making of 'Ali' (28:55)



DVD Release Date: June1, 2004
Amaray

Chapters 28
Comments
The new R1 (Directors Cut) image is clearly superior to both the R2 and the R2 DVD. While all versions look great, especially the R4 lacks sharpness. Then again, the R1, being the sharpest in details, is the most grainy. But the R1 is not without flaws, which the blow-ups show, most likely because of the encoding, as all versions take up more or less the same storage: R1 takes up 6.23 GB vs. the R4/R2 6.74 GB (with 5.1 DD track).

The images differ in aspect. The R2 image is, just as the R4 image, cropped 1.25% left / right, and where the R2 image is squeezed vertically, the R4 is stretched horizontally. The R1 image wins here.

Where all versions have a nice 5.1 DD track, the DTS track simply is superior. Especially during the fight sequences, the DTS kicks in: The punches are deep and the roaring audience is full in the rears.

The R2 and R4 both has the same "Making of" documentary, the R1 "Making of" documentary it not the same, but all covers the basics. Where the R2 has a "Behind the scenes" featurette, the R4 has an interview with Will Smith, where he discusses his approach to the character and how he prepared for it. Finally the R4 has a timeline of Muhammad Ali, for those not familiar with his life and career.

The new Directors Cut however has an audio commentary by Michael Mann. While he doesn't talk during the entire film, it still is around 2 hours of solid Mann commentary, where he goes into great detail about history vs. film and the historical contexts of the period. Also notable about the commentary is Mann's admiration for Smith as an actor, both technically and dedicated to the project.

A special note towards the "Directors Cut" is, that if played on a PC, it will activate itself into a flash screen, from where you can access the film
---



DVD Menus
(Entertainment in Video - Region 2 - PAL - LEFT vs. Roadshow Home Entertainment - Region 4 - PAL - MIDDLE vs. Columbia Tristar (Directors Cut) - Region 1 - NTSC - RIGHT)
---
Screen Captures
(Entertainment in Video - Region 2 - PAL - TOP vs. Roadshow Home Entertainment - Region 4 - PAL - MIDDLE vs. Columbia Tristar (Directors Cut) - Region 1 - NTSC - BOTTOM)
---
(Entertainment in Video - Region 2 - PAL - TOP vs. Roadshow Home Entertainment - Region 4 - PAL - MIDDLE vs. Columbia Tristar (Directors Cut) - Region 1 - NTSC - BOTTOM)
---
(Entertainment in Video - Region 2 - PAL - TOP vs. Roadshow Home Entertainment - Region 4 - PAL - MIDDLE vs. Columbia Tristar (Directors Cut) - Region 1 - NTSC - BOTTOM)
---
(Entertainment in Video - Region 2 - PAL - TOP vs. Roadshow Home Entertainment - Region 4 - PAL - MIDDLE vs. Columbia Tristar (Directors Cut) - Region 1 - NTSC - BOTTOM)
---
(Entertainment in Video - Region 2 - PAL - TOP vs. Roadshow Home Entertainment - Region 4 - PAL - MIDDLE vs. Columbia Tristar (Directors Cut) - Region 1 - NTSC - BOTTOM)
---
(Entertainment in Video - Region 2 - PAL - TOP vs. Roadshow Home Entertainment - Region 4 - PAL - MIDDLE vs. Columbia Tristar (Directors Cut) - Region 1 - NTSC - BOTTOM)

---
Report Card:
| | |
| --- | --- |
| Image: | Columbia Tristar Directors Cut |
| Sound: | Entertainment / Roadshow |
| Extras: | Columbia Tristar Directors Cut |
| Menu: | Roadshow |