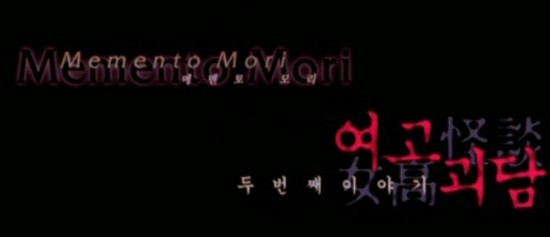 (aka "Yeogo Goedam II" )
directed by Tae-Yong Kim and Kyu-Dong Min
South Korea 1999
"I have never seen a film like Memento Mori. It captured the difficult topic of the adolescence of the young women in an all girls school with a totally unique expression. Absolutely beautiful cinematography and imaginative focal points fill dynamic scenes of gorgeous eye candy... creepy and horrific at times as well as romantic and melodramatic it takes you on a ride that I am anxious to revisit and few who see it will forget. Almost hypnotically I had trouble turning away and although the narrative was difficult to follow it didn't seem to matter. The points were being made about life, conforming, acceptance, peer pressure, identity, love, fear, desire, cruelty, selfishness. This romantic-horror film (a unique genre right there) is a magnificent viewing experience. I only wish I could see it again for the first time. First-time directors Tae-Yong Kim and Kyu-Dong Min prove to be the 'real deal'. Watch this soon!"
Theatrical Release: December 24th, 1999
Reviews More Reviews DVD Reviews
DVD Comparison:
Mei Ah - Region 0 - NTSC vs. Spectrum - Region 0 - NTSC vs. Tartan - Region 1 - NTSC
Big thanks to Kevin Yip for all the Screen Caps!
(Mei Ah - Region 0 - NTSC - LEFT vs. Spectrum - Region 0 - NTSC - MIDDLE vs. Tartan - Region 1 - NTSC - RIGHT)
DVD Box Covers

Distribution

Mei Ah

Region 0 - NTSC

Spectrum
Region 0 - NTSC
Tartan
Region 1 - NTSC
Runtime
1:38:21
1:38:18
1:38:39
Video

1.45:1 Original Aspect Ratio
Average Bitrate: 5.53 mb/s
NTSC 720x480 29.97 f/s

1.78:1 Original Aspect Ratio

16X9 enhanced
Average Bitrate: 7.47 mb/s
NTSC 720x480 29.97 f/s

1.78:1 Original Aspect Ratio

16X9 enhanced
Average Bitrate: 7.22 mb/s
NTSC 720x480 29.97 f/s

NOTE: The Vertical axis represents the bits transferred per second. The Horizontal is the time in minutes.

Bitrate:

Mei Ah

Bitrate:

Spectrum

Bitrate:

Tartan

Audio
Korean (Dolby Digital 2.0 Stereo)

Korean (Dolby Digital 5.1), Korean (Dolby Digital 2.0 Stereo)

Korean (Dolby Digital 5.1), Korean (DTS 5.1), Korean (Dolby Digital 2.0 Stereo)

Subtitles
English, and none
English, and none
English, Spanish, and none
Features
Release Information:
Studio: Mei Ah

Aspect Ratio:
Widescreen letterboxed - 1.45:1

Edition Details:
• Cast and Synopsis

DVD Release Date: Dec 4th, 2001

Chapters 9


Release Information:
Studio: Spectrum

Aspect Ratio:
Widescreen anamorphic - 1.78:1

Edition Details:
• Cast & Crew
• Theatrical Trailer
• Film's Soundtrack (10 music themes)


DVD Release Date: Sep 4th, 2001

Chapters 20

Release Information:
Studio: Tartan

Aspect Ratio:
Widescreen anamorphic - 1.78:1

Edition Details:
• Making-of Featurette
• Photo Gallery
• Music Video
• Trailers for other Tartan Asia Extreme releases


DVD Release Date: Apr 12th, 2005

Chapters 16
Comments
The all-region disc from Mei-Ah (distributed by Tai Seng) shows ghosting, has noticeable edge enhancement, is cropped on the left and right, but shows a little more picture at the top and bottom than the all-region Korean-made Spectrum disc. The Mei-Ah disc is slightly letterboxed at an odd 1.45:1 ratio (non-anamorphic)

The Spectrum disc also has the ghosting effect (see one of the screenshot comparisons below). The anamorphic widescreen picture of the Spectrum disc is less contrasty, has less saturated and more realistic colors, and shows more picture on the left and right sides of the screen than the Meh-Ah disc.

The Region 1 disc by Tartan seems to have been transferred from the same source that made the Spectrum DVD. It looks to have identical colors and aspect ratio, except that it has no ghosting, and looks a little sharper. The last two screenshot comparisons better demonstrate the sharper image of the Tartan disc -- clearer details in the background. The greater sharpness is much more apparent while viewing the Tartan disc after having viewed the Spectrum disc. In fact, in my original review a year ago, I said the Spectrum disc was "not particularly sharp," and I stand by that. I would also say the Tartan disc looks "pretty sharp." Combined with the lack of ghosting, the Tartan image clearly looks superior to me, even though some of the comparisons below may not show a big difference.

The Mei-Ah disc is in stereo only. The Spectrum disc has a 5.1 Dolby Digital track in which the rear channels seem way too loud. The Tartan has a much more realistic and pleasant-sounding DD5.1 track and an even better DTS 5.1 track.

The Tartan disc runs about 20 seconds longer than the other two discs due to an additional opening logo.

The subtitle comparison (see 1st set of screenshots below) shows that the Spectrum disc, unlike the other discs, has all the profanity removed. The strong language is mainly what got the film an R rating in the US and on the Tartan DVD.

I prefer the chapter menus on the Spectrum disc, which has picture thumbnails for the chapters. The Tartan disc shows all chapters on one page, but has no thumbnails to guide you.

Only the Tartan disc has any meaningful extra -- a half-hour making-of featurette that consists mainly of on-the-set footage. There are some brief interviews of the cast and crew talking about basic things, but not much insight on anything else.

The Spectrum disc's special features include 10 musical themes from the film.

(Written Apr-30-2005)
---



DVD Menus
(Mei Ah - Region 0 - NTSC - LEFT vs. Spectrum - Region 0 - NTSC - MIDDLE vs. Tartan - Region 1 - NTSC - RIGHT)
---
Screen Captures
(Mei Ah - Region 0 - NTSC - TOP vs. Spectrum - Region 0 - NTSC - MIDDLE vs. Tartan - Region 1 - NTSC - BOTTOM)
Subtitle sample
---
(Mei Ah - Region 0 - NTSC - TOP vs. Spectrum - Region 0 - NTSC - MIDDLE vs. Tartan - Region 1 - NTSC - BOTTOM)
---
(Mei Ah - Region 0 - NTSC - TOP vs. Spectrum - Region 0 - NTSC - MIDDLE vs. Tartan - Region 1 - NTSC - BOTTOM)
---
(Mei Ah - Region 0 - NTSC - TOP vs. Spectrum - Region 0 - NTSC - MIDDLE vs. Tartan - Region 1 - NTSC - BOTTOM)
---
(Mei Ah - Region 0 - NTSC - TOP vs. Spectrum - Region 0 - NTSC - MIDDLE vs. Tartan - Region 1 - NTSC - BOTTOM)
---
(Mei Ah - Region 0 - NTSC - TOP vs. Spectrum - Region 0 - NTSC - MIDDLE vs. Tartan - Region 1 - NTSC - BOTTOM)
---
(Mei Ah - Region 0 - NTSC - TOP vs. Spectrum - Region 0 - NTSC - MIDDLE vs. Tartan - Region 1 - NTSC - BOTTOM)

---
Report Card:
| | |
| --- | --- |
| Image: | Tartan |
| Sound: | Tartan |
| Extras: | Tartan |
| Menu: | Spectrum |
DVD Box Covers

Distribution

Mei Ah

Region 0 - NTSC

Spectrum
Region 0 - NTSC
Tartan
Region 1 - NTSC
Recommended Books on Korean Cinema (CLICK COVERS or TITLES for more information)