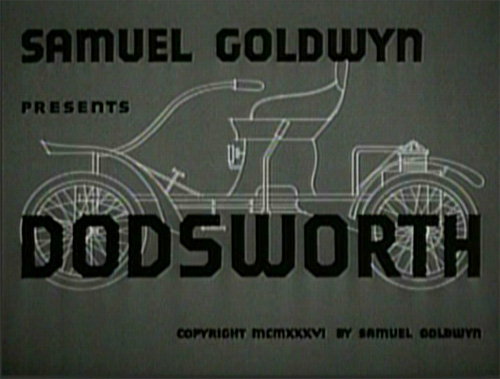 Dodsworth shows a marriage on the brink of dissolution with a realism and complexity that's rare in films from any era. After 20 years of hard work, Sam Dodsworth (Walter Huston) has just sold his automotive company and is looking forward to spending his extremely well-funded retirement with his beloved wife Fran (Ruth Chatterton). The day after Sam leaves the company, the couple sail for Europe full of high hopes and happiness. But Fran's increasing dependence on the attentions of other men threatens their marriage, forcing Sam to make some painful decisions.

Among the movie's many pleasant surprises is its subject matter: a well-established relationship in turmoil (well, perhaps "pleasant" isn't quite the right word). Throughout Hollywood history, marriage has generally come at the end of a romantic movie rather than two decades before its beginning. Plus, Sam and Fran truly love each other, and Huston and Chatterton beautifully convey their familiar fondness in their first scene together. However, even in that first scene, you can also glimpse Fran's discontent with the small town where they live and her fervent desire to be seen as worldlier – and considerably younger – than she actually is.

Dodsworth was nominated for seven Academy Awards in 1937, including Best Picture, Best Director and Best Writing, Screenplay. The only Oscar it won was for Art Direction, which it deserved. But the most criminally non-awarded nomination the film garnered was Huston's Best Actor turn. Huston's flawless performance as Sam Dodsworth is the film's greatest joy. When Huston pores over a sea captain's map, then drags Fran off the dance floor to see a lighthouse off the coast of England, your heart goes out to this middle-aged man who still takes a boyish delight in the world around him. Likewise, when he withstands Fran's veiled insults in front of her friends, or tries to wait out her midlife crisis, you can sense his pain all too well. It's not so much a performance as it is a perfect habitation of a character, and it should have been rewarded by Hollywood.

Honestly, the only negative things I can say about this movie involve the inevitable problems with many older films. The screen format is the non-widescreen television-friendly aspect ratio, and the quality of the stock is borderline in many places. However, once the movie starts, you'll probably quit noticing the occasional static pops and white specks on the film. Dodsworth now has the dubious honour of being the oldest movie on my personal All-Time Top 10.
Excerpt from Catherine Cantieri's review at the Apollo film Guide located HERE.
Posters
Theatrical Release: 23 September 1936 - USA
Reviews More Reviews DVD Reviews
DVD Comparison:
HBO - Region 1 - NTSC vs. MGM - Region 1 - NTSC
Big thanks to Ole Kofoed for the HBO Screen Caps!
(HBO - Region 1 - NTSC - LEFT vs. MGM - Region 1 - NTSC - RIGHT)
DVD Box Covers

Distribution

HBO

Region 1 - NTSC

MGM
Region 1 - NTSC
Runtime
1:40:57
1:41:09
Video

1.33:1 Original Aspect Ratio
Average Bitrate: 5.43 mb/s
NTSC 704x480 29.97 f/s

1.33:1 Original Aspect Ratio
Average Bitrate: 5.5 mb/s
NTSC 704x480 29.97 f/s

NOTE: The Vertical axis represents the bits transferred per second. The Horizontal is the time in minutes.

Bitrate:

HBO

Bitrate:

MGM

Audio
English Dolby Digital 1.0 mono, DD 2.0 Surround (Chase Surround Sound) , French, German, Italian and Spanish DD mono.

English (Dolby Digital 2.0 Mono), French (Dolby Digital 2.0 Mono)


Subtitles
English, Spanish, French or none.
English, Spanish, French or none.
Features
Release Information:
Studio: HBO

Aspect Ratio:
Fullscreen - 1.33:1

Edition Details:
• Biographies of Cast, director and writer.

DVD Release Date: September 29, 1998
Snapper

Chapters 18


Release Information:
Studio: MGM

Aspect Ratio:
Fullscreen - 1.33:1

Edition Details:



DVD Release Date: December 11, 2001
Keep Case

Chapters

Comments

Looks that both are from the same print ( with same damage marks). The HBO has a yellowish/sepia tinge to it, but truly, there is not a lot of difference in these two editions - same subtitle options, but the HBO has some additional audio DUBS. Nothing appears to be cut or cropped. The HBO has some minor Bio additions for Extras where as the MGM has none. I suppose get whichever is most reasonably priced - or that you can find without effort. This is a good film - shame it hasn't had better treatment yet.
---



DVD Menus
(HBO - Region 1 - NTSC - LEFT vs. MGM - Region 1 - NTSC - RIGHT)
---
Screen Captures
(HBO - Region 1 - NTSC - TOP vs. MGM - Region 1 - NTSC - BOTTOM)
---
(HBO - Region 1 - NTSC - TOP vs. MGM - Region 1 - NTSC - BOTTOM)
---
(HBO - Region 1 - NTSC - TOP vs. MGM - Region 1 - NTSC - BOTTOM)
---
(HBO - Region 1 - NTSC -
TOP
vs. MGM - Region 1 - NTSC -
BOTTOM
)
---
(HBO - Region 1 - NTSC - TOP vs. MGM - Region 1 - NTSC - BOTTOM)

---
Report Card:
| | |
| --- | --- |
| Image: | MGM (slightly) |
| Sound: | HBO |
| Extras: | HBO |
| Menu: | HBO |