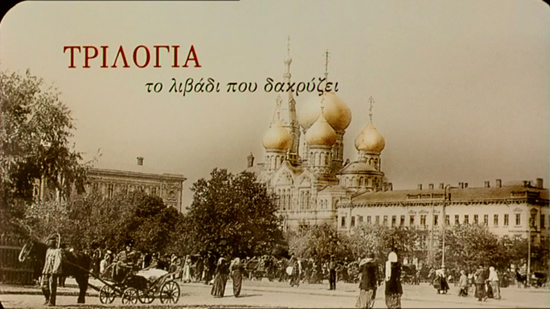 (aka "Trilogy: The Weeping Meadow" or "Eleni" or "Tårarnas Äng")
directed by Theo Angelopoulos
Greece 2004
Angelopoulos moves his forces like a juggernaut to stage formidable set-pieces, coups de théâtre that impress with their vast scale without necessarily engaging our emotions. In his most remarkable feat, he constructs a low-lying town in a dry lakebed only to drown it for a spectacular inundation. There follows a floating funeral on a water-borne raft, players posed beside the open coffin, as a flotilla of boats proceeds with a flourish of black flags. Prows part the water as the camera glides ahead, like a courtier preparing the way, but a sudden change of angle confronts us with a massive phalanx of figures reflected in the floodwater, with blue sky streaking the top of the frame.

While primal drums beat, village women dance around a flaming bonfire bearing icons, turning to superstition to lift the "dark curse" that sent torrential floods. Later, a demonstration of tribalist revenge puts dozens of dead sheep hanging from a tree (the camera panning down to the blood mingling in the mud). More than before, Angelopoulos here succumbs to a cosmic miserabilism, allowing the churning dark clouds above and the mud below to seep into his work.
Excerpt from Robert Kessler's comments at Bright Lights Big City HERE
Posters
Theatrical Release: 12 February 2004
Reviews More Reviews DVD Reviews
DVD Comparison:
New Yorker - Region 1- NTSC vs. Sandrews - Region 2 - PAL vs. Artificial Eye - Region 2 - PAL
Big thanks to Arvid and Per-olaf Strandberg for the Screen Caps!
(New Yorker - Region 1- NTSC LEFT vs. Sandrews - Region 2 - PAL - MIDDLE vs. Artificial Eye - Region 2 - PAL - RIGHT)
DVD Box Covers

Distribution

New Yorker

Region 1 - NTSC

Sandrews

Region 2 - PAL

Artificial Eye
Region 2 - PAL
Runtime
2:42:10
2:42:15 (4% PAL speedup)
2:42:20 (4% PAL speedup)

Video

1.78:1 Aspect Ratio

16X9 enhanced
Average Bitrate: 6.26 mb/s
NTSC 720x480 29.97 f/s

1.78:1 Original Aspect Ratio

16X9 enhanced
Average Bitrate: 6.06 mb/s
PAL 720x576 25.00 f/s

1.78:1 Aspect Ratio

16X9 enhanced
Average Bitrate: 5.23 mb/s
PAL 720x576 25.00 f/s

NOTE: The Vertical axis represents the bits transferred per second. The Horizontal is the time in minutes.

Bitrate:

New Yorker

Bitrate:

Sandrews

Bitrate:

Artificial Eye

Audio
Greek (Dolby Digital 2.0)
Greek (Dolby Digital 2.0)

Greek (Dolby Digital 2.0)

Subtitles
English, None
Swedish, Norwegian, None
English, None
Features
Release Information:
Studio: New Yorker

Aspect Ratio:
Widescreen anamorphic - 1.78:1

Edition Details:

• Interview with Angelopoulos (29:00)

• Trailer

• Booklet with a print interview with Angelopoulos, an abridged modern Greek history timeline, and an essay by the director

DVD Release Date: Dec 19th, 2006
Keep Case

Chapters

22
Release Information:
Studio: Sandrews

Aspect Ratio:
Widescreen anamorphic - 1.78:1

Edition Details:

DVD Release Date: 2005-06-15
Keep Case

Chapters 24


Release Information:
Studio: Artificial Eye

Aspect Ratio:
Widescreen anamorphic - 1.78:1

Edition Details:
• Interview With Theo Angelopoulos (4:3 / 29:10)
• Theatrical Trailer (2:22)
• Filmography ( 1 page)
• Biography (1 page)


DVD Release Date: June 27th, 2005
Keep Case

Chapters 17
Comments:

ADDITION: New Yorker - Region 1- NTSC - Dec 06 - We can tell by the times that the New Yorker was taken from an unconverted PAL source and hence exhibits the artifacts associated with that frugal process (combing and a dulling of the image clarity). There really isn't much else to say - it has that usual greenish haze over it that many NY'er European films transfers have. It offers the same director interview as the Artificial Eye, but does include a nice booklet - it's only positive attribute. We strongly recommend the Artificial Eye release for this magnificent film.

***

Artificial-Eye are going to release 11 more films of the great director Theo Angelopoulos in the near future! We can't wait.

The picture in the AE disc is very sharp, and even tough I haven't seen this in cinema, it looks like this should be the original colors for the film.

We get a solid 2.0 mix, where most of the information is on the front speakers. Why the 5.1 mix is absent I don't know, maybe there wasn't enough space on a single disc?

In the extras we get a 30 minute interview with Theo Angelopoulos. He's speaking of the collaboration with Tonino Guerra, about the actors and the music in his films.

Great work AE ! (Thanks Per-Olaf Strandberg)

*****

It is very tough to say which is most correct - colors are very slightly varied in the two transfers, but they are equally as sharp. Obviously the deal-breaker for many is that the Sandrew has no English subtitles. We feel the Artificial Eye is the more accurate representation.

-Gary Tooze
---

DVD Menus
New Yorker - Region 1- NTSC

(Sandrews - Region 2 - PAL - LEFT vs. Artificial Eye - Region 2 - PAL - RIGHT)
---
Screen Captures
(New Yorker - Region 1- NTSC - TOP vs. Sandrews - Region 2 - PAL - MIDDLE vs. Artificial Eye - Region 2 - PAL - BOTTOM)
---
(New Yorker - Region 1- NTSC - TOP vs. Sandrews - Region 2 - PAL - MIDDLE vs. Artificial Eye - Region 2 - PAL - BOTTOM)
---
(New Yorker - Region 1- NTSC - TOP vs. Sandrews - Region 2 - PAL - MIDDLE vs. Artificial Eye - Region 2 - PAL - BOTTOM)
---
(New Yorker - Region 1- NTSC - TOP vs. Sandrews - Region 2 - PAL - MIDDLE vs. Artificial Eye - Region 2 - PAL - BOTTOM)
---
(New Yorker - Region 1- NTSC - TOP vs. Sandrews - Region 2 - PAL - MIDDLE vs. Artificial Eye - Region 2 - PAL - BOTTOM)
---
(New Yorker - Region 1- NTSC - TOP vs. Sandrews - Region 2 - PAL - MIDDLE vs. Artificial Eye - Region 2 - PAL - BOTTOM)
---
(New Yorker - Region 1- NTSC - TOP vs. Sandrews - Region 2 - PAL - MIDDLE vs. Artificial Eye - Region 2 - PAL - BOTTOM)

---
Report Card:
| | |
| --- | --- |
| Image: | Artificial Eye |
| Sound: | |
| Extras: | Artificial Eye |
| Menu: | Artificial Eye |