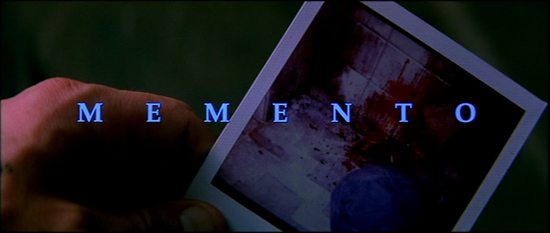 directed by Christopher Nolan
USA 2000
I have here a message from Vasudha Gandhi of Queens Village, N.Y., about the movie "Memento": "Although I loved the film, I don't understand one key plot-point. If the last thing the main character remembers is his wife dying, then how does he remember that he has short-term memory loss?" Michael Cusumano of Philadelphia writes with the same query. They may have identified a hole big enough to drive the entire plot through. Perhaps a neurologist can provide a medical answer, but I prefer to believe that Leonard, the hero of the film, has a condition similar to Tom Hanks' "brain cloud" in "Joe vs. the Volcano"--Leonard suffers from a condition brought on by a screenplay that finds it necessary, and it's unkind of us to inquire too deeply.

Leonard is played by Guy Pearce, in a performance that is curiously moving, considering that by definition it has no emotional arc. He has witnessed the violent death of his wife and is determined to avenge it. But he has had short-term memory loss ever since the death and has to make copious notes--he even has memos tattooed to his body as reminders.

If Leonard keeps forgetting what has already happened, we in the audience suffer from the opposite condition. We begin at the end, and work our way back toward the beginning, because the story is told backward.

Well, not exactly; it begins with a brilliant idea, a Polaroid photograph that fades instead of developing, but every individual scene plays with time running forward, and there are some lateral moves and flashbacks that illuminate, or confuse, the issue. Essentially, Leonard is adrift in time and experience, and therefore so are we.
Excerpt from Roger Ebert's at the Chicago-Sun Times located HERE.
Posters
Theatrical Release: 5 September 2000
Reviews More Reviews DVD Reviews
DVD Comparison:
Columbia Tristar (Limited Edition) - Region 1 - NTSC vs. New Star - Region 2 - PAL
Big thanks to Arvid for all the Screen Caps!
(Columbia Tristar (Limited Edition) - Region 1 - NTSC - LEFT vs. New Star - Region 2 - PAL - RIGHT)
DVD Box Covers

Distribution

Columbia Tristar

Region 1 - NTSC

New Star
Region 2 - PAL
Runtime
1:53:16
1:48:40 (4% PAL speedup)
Video

2.35:1 Original Aspect Ratio

16X9 enhanced
Average Bitrate: 6.70 mb/s
NTSC 720x480 29.97 f/s

2.35:1 Original Aspect Ratio

16X9 enhanced
Average Bitrate: 4.73 mb/s
PAL 720x576 25.00 f/s

NOTE: The Vertical axis represents the bits transferred per second. The Horizontal is the time in minutes.

Bitrate:

Columbia Tristar (Limited Edition)

Bitrate:

New Star

Audio
English DTS 5.1, English Dolby Digital 5.1, French Dolby Digital 5.1

English Dolby Digital 5.1, English Dolby Digital 2.0

Subtitles
English, Spanish, none
Swedish, Norwegian, Finnish, Danish (forced)
Features
Release Information:
Studio: Columbia Tristar

Aspect Ratio:
Widescreen anamorphic - 2.35:1

Edition Details:
• 2-Disc Set
• Director's Commentary (with alternative endings)
• Director's Script
• 23-minute
• Original Short Story by Jonathan Nolan
• Production Stills and Sketches
• Theatrical Trailer, International Trailer and TV Advertising

DVD Release Date:
Digipack

Chapters 16

Release Information:
Studio: New Star

Aspect Ratio:
Widescreen anamorphic - 2.35:1

Edition Details:
none


DVD Release Date: 2002-01-09
Keepcase

Chapters 12
Comments
Memento is one of my favorite movies of this millennium, and there is no question about which disc to buy here. I only include the Swedish disc here to make it a comparison, I bought that one first and later "upgraded" to get more extras. The R1 disc has better sharpness and the colors seems more real to what I saw in the cinema. R2 seems to cropped about 2% in the top to. If the image isn't a god enough reason to buy the r1 disc the extras definitely are. Except the features listed we also got a Easter Egg to watch the movie in chronological order.

- Arvid
---



DVD Menus
(Columbia Tristar (Limited Edition) - Region 1 - NTSC - LEFT vs. New Star - Region 2 - PAL - RIGHT)
| | |
| --- | --- |
| | |
| | |
| | |
| | |
---
Screen Captures
(Columbia Tristar (Limited Edition) - Region 1 - NTSC - TOP vs. New Star - Region 2 - PAL - BOTTOM)
Subtitle Sample on R2
---
(Columbia Tristar (Limited Edition) - Region 1 - NTSC - TOP vs. New Star - Region 2 - PAL - BOTTOM)
---
(Columbia Tristar (Limited Edition) - Region 1 - NTSC - TOP vs. New Star - Region 2 - PAL - BOTTOM)
---
(Columbia Tristar (Limited Edition) - Region 1 - NTSC - TOP vs. New Star - Region 2 - PAL - BOTTOM)
---
(Columbia Tristar (Limited Edition) - Region 1 - NTSC - TOP vs. New Star - Region 2 - PAL - BOTTOM)

---
Report Card:
| | |
| --- | --- |
| Image: | NTSC Limited Edition |
| Sound: | NTSC Limited Edition (DTS and extra dub) |
| Extras: | NTSC Limited Edition |
| Menu: | NTSC Limited Edition is cooler / R2 is easier |