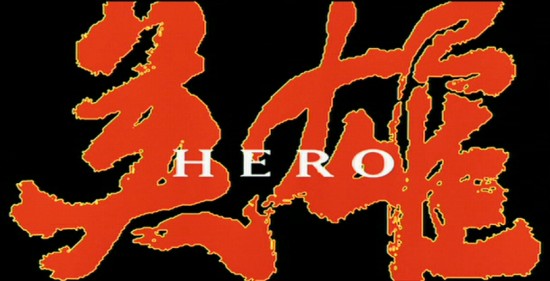 (aka "Jet Li's Hero" or "Ying xiong")
Zhang Yimou's latest feature film "Hero" is a box office phenomenon in China and also the most costly Asian film ever made tipping the scales at about 240 million HK$. It would immediately spark comparisons to Ang Lee's "Crouching Tiger, Hidden Dragon" for aggressive use of the absurdist martial arts ballet sequences with all but the remnants of supporting wires gracefully floating fiery combatants of a duel. Asian cinema has been producing these extravaganzas for years prior to "Crouching Tiger..." but many western audiences garnered their first exposure with Lee's action infused soap opera.
Excerpt From Gary Tooze's review found HERE.
The Japanese Elite Group version compared HERE is on the TOP 100 List of DVDs.
Theatrical Release Date: October 24th, 2002 - China (premiere)
DVD Comparison:
Guang Dong Face Video (Chinese Extended SE version) - Region 0 - NTSC vs. EDKO Video Ltd. (Director's Cut) - Region 3 - NTSC
Big thanks to Chris Gould for the Review!
DVD Box Cover

Distribution

Guang Dong Face

Region 0 - NTSC

EDKO Video Ltd.

Region 3 - NTSC

Runtime
1:47:15
1:49:13
Video
2.35:1 Original Aspect Ratio 16X9 enhanced
Average Bitrate: 6.90
NTSC 704x480 29.97 f/s

2.35:1 Original Aspect Ratio

16X9 enhanced
Average Bitrate: 9.3 mb/s
NTSC 720x480 29.97 f/s

NOTE: The Vertical axis represents the bits transferred per second. The Horizontal is the time in minutes.

Bitrate Guang Dong Face

Bitrate EDKO Video Ltd.

Audio
Mandarin DTS5.1, Dolby Digital 5.1, DD2.0
Mandarin Dolby Digital 5.1 EX (448Kbps), Mandarin DTS 6.1 ES Discrete (1536Kbps)
Subtitles
White (removable): English, Traditional Chinese, Simplified Chinese
English, Chinese (Traditional), none
Features

Release Information:
Distributor: Guang Dong Video

Aspect Ratio:
Widescreen anamorphic - 2.35:1



Discographic Information:
DVD Encoding: Region 0 - NTSC
Layers: Dual - DVD-9 (one side, two layers)

Edition Details:
• Making Of Featurette ( 1:02:12 - burned in Chinese subs only )
• 20 pages booklet - in Chinese but a lot of pictures.


DVD Release Date: July 2004
Box
Chapters: 23

Release Information:
Studio: EDKO Video Ltd.

Aspect Ratio:
Widescreen anamorphic - 2.35:1

Edition Details:
• No Supplimental Features

DVD Release Date: 15th July 2005
Amaray Case

Chapters 12
Comments
This is the extended version of Zhang Yimou's HERO (also known as the Director's Cut). It has about 10 extra minutes beyond that of the more widely seen theatrical edition. We have extensively compared the theatrical versions on DVD HERE. Although the EDKO is far superior to the Guang Dong Face release it is still far behind the progressively transferred Japanese Elite Theatrical edition available HERE in terms of overall quality. The Guang Dong is quite faded and hazy. The color balance has been deeply affected and for those interested in seeing Zhang's extended version the EDKO will probably be the best release available.

This EDKO release does not feature Chinese subtitles for the opening and closing English titles. This DVD also features the same ghosting found on the EDKO release of the theatrical cut.
---



DVD Menus
(Guang Dong Face Video (Chinese Extended SE version) - Region 0 - NTSC LEFT vs. EDKO Video Ltd. (Director's Cut) - Region 3 - NTSC RIGHT)

| | |
| --- | --- |
| | |
| | |
| | |
| | |
---
Screen Captures
Subtitle Sample
(Guang Dong Face Video (Chinese Extended SE version) - Region 0 - NTSC TOP vs. EDKO Video Ltd. (Director's Cut) - Region 3 - NTSC BOTTOM)
---
(Guang Dong Face Video (Chinese Extended SE version) - Region 0 - NTSC TOP vs. EDKO Video Ltd. (Director's Cut) - Region 3 - NTSC BOTTOM)
---
(Guang Dong Face Video (Chinese Extended SE version) - Region 0 - NTSC TOP vs. EDKO Video Ltd. (Director's Cut) - Region 3 - NTSC BOTTOM)
---
(Guang Dong Face Video (Chinese Extended SE version) - Region 0 - NTSC TOP vs. EDKO Video Ltd. (Director's Cut) - Region 3 - NTSC BOTTOM)
---
(Guang Dong Face Video (Chinese Extended SE version) - Region 0 - NTSC TOP vs. EDKO Video Ltd. (Director's Cut) - Region 3 - NTSC BOTTOM)
---
(Guang Dong Face Video (Chinese Extended SE version) - Region 0 - NTSC TOP vs. EDKO Video Ltd. (Director's Cut) - Region 3 - NTSC BOTTOM)
---
(Guang Dong Face Video (Chinese Extended SE version) - Region 0 - NTSC TOP vs. EDKO Video Ltd. (Director's Cut) - Region 3 - NTSC BOTTOM)