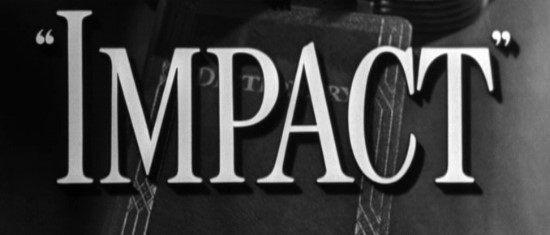 directed by Arthur Lubin
USA 1949
As far as 'modest' Film Noirs go, this is one of the best. A simple plot idea is twisted to the max for late 1940's audiences. Millionaire-industrialist, cool as a cucumber-bigshot, Walter Williams (Brian Donlevy) has an unscrupulous young wife (Helen Walker) who is out to see him dead. With the help of her nefarious lover/boyfriend, enlisted for the deed - the plan crumbles to pieces and not only does Williams survive a bash on the noggin, but the would-be culprit wrecks himself up in a fireball with the intended targets auto. Now everyone thinks Williams IS dead. After figuring what has transpired Walter has settled as an auto mechanic in a gentle quiet village leaving his mystery to a dogged, close-to-retirement detective, Lt. Tom Quincy (Charles Coburn). Walter succumbs to 'doing-the-right-thing' and returns with garage owner and boss/girlfriend Ella Raines (Marsha Peters), the sweet and sexy girl-next-door. Trouble is now HE has been charged with murder of the hidden lover, thanks to his wife's abilities to lie. He needs assistance from ex-housekeeper Su Lin (silent screen goddess Anna Mae Wong). Impact is one of those clandestine gems that you love to unravel. A true Noir masterpiece.

out of

Posters
Theatrical Release: March 20th, 1949 - USA
Reviews More Reviews DVD Reviews
---
Recommended Reading in Film Noir (CLICK COVERS or TITLES for more information)
The Third Man
by Graham Greene

The Dark Side of the Screen: Film Noir

by Foster Hirsch

Somewhere in the Night: Film Noir and the American City

by Nicholas Christopher

Shades of Noir: A Reader
by Joan Copjec
The Art of Noir: The Posters and Graphics from the Classic Era of Film Noir
by Eddie Muller
The Little Black and White Book of Film Noir: Quotations from Films of the 40's and 50's
by Peg Thompson, Saeko Usukawa
Film Noir
by Alain Silver
Film Noir Guide: 745 Films of the Classic Era, 1940-1959
by Michael F. Keaney
DVD Comparison:
Image Entertainment - Region 1 - NTSC vs. Alpha - Region 0 - NTSC
Big thanks to Gregory Meshman for the Alpha Screen Caps!
(Image Entertainment - Region 1 - NTSC - LEFT vs. Alpha - Region 0 - NTSC - RIGHT)
DVD Box Covers

Distribution

Image Entertainment

Region 1 - NTSC

Alpha
Region 0 - NTSC
Runtime
1:51:16
1:50:48
Video

1.33:1 Original Aspect Ratio
Average Bitrate: 4.98 mb/s
NTSC 720x480 29.97 f/s

1.33:1 Original Aspect Ratio
Average Bitrate: 4.33 mb/s
NTSC 720x480 29.97 f/s

NOTE: The Vertical axis represents the bits transferred per second. The Horizontal is the time in minutes.

Bitrate:

Image Entertainment

Bitrate:

Alpha

Audio
English (Dolby Digital 1.0 Mono)

English (Dolby Digital 2.0 Mono)

Subtitles
None
None
Features
Release Information:
Studio: Image Entertainment

Aspect Ratio:
Fullscreen - 1.33:1

Edition Details:
• none

DVD Release Date: March 7th, 2000
Keep Case

Chapters 16

Release Information:
Studio: Alpha

Aspect Ratio:
Fullscreen - 1.33:1

Edition Details:
• none


DVD Release Date: March 18th, 2003
Keep Case

Chapters 6
Comments

The Image Entertainment release is slightly cleaner and sharper showing some film grain where the Alpha is a bit soft with a sepia/blue haze. Overall the Image Entertainment is better, but it will be comparative depending on your pocketbook - the Alpha is very cheap. I really like the film and the Image Entertainment was the way to go for me, those with just a passing interest in Noir may prefer the Alpha edition and use the $ savings elsewhere. Ohhh, the Alpha is slightly cropped on the left edge.

Gary Tooze
---

DVD Menus
(Image Entertainment - Region 1 - NTSC - LEFT vs. Alpha - Region 0 - NTSC - RIGHT)
---
Screen Captures
(Image Entertainment - Region 1 - NTSC - TOP vs. Alpha - Region 0 - NTSC - BOTTOM)
---
(Image Entertainment - Region 1 - NTSC - TOP vs. Alpha - Region 0 - NTSC - BOTTOM)
---
(Image Entertainment - Region 1 - NTSC - TOP vs. Alpha - Region 0 - NTSC - BOTTOM)
---
(Image Entertainment - Region 1 - NTSC - TOP vs. Alpha - Region 0 - NTSC - BOTTOM)
---
(Image Entertainment - Region 1 - NTSC - TOP vs. Alpha - Region 0 - NTSC - BOTTOM)
---
(Image Entertainment - Region 1 - NTSC - TOP vs. Alpha - Region 0 - NTSC - BOTTOM)
---
(Image Entertainment - Region 1 - NTSC - TOP vs. Alpha - Region 0 - NTSC - BOTTOM)

---
Report Card: