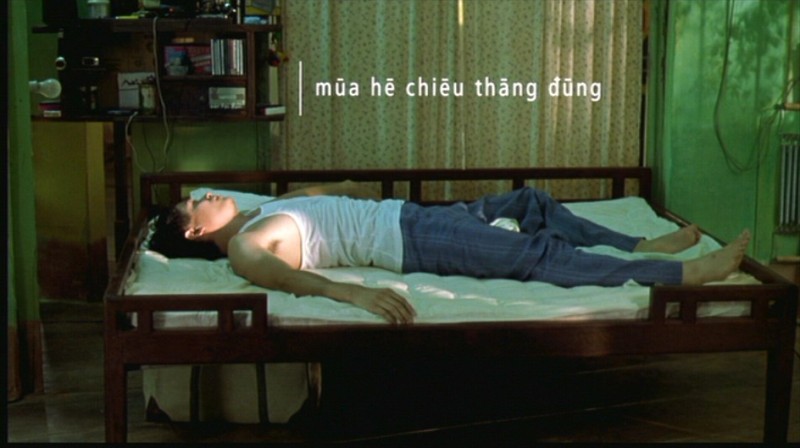 (aka "The Vertical Ray of the Sun" or "Vertical Ray of the Sun" or "At the Height of Summer" (Europe) or 'A la verticale de l'été')
Passive and artistically mysterious in its details, yet fully acceptable to Art film devotees, the story of three sisters flutters between multiple paths in present day Hanoi. An elliptical narrative starting with a traditional memorial on the anniversary of a Mothers' death and ending with a similar gathering commemorating the deceased Fathers' birthday one month later.

The purposeful confusion, on which three sisters stories are branching and expanding in paced detail, is easily muted in the viewers mind by the overwhelming visual splendor that just keeps blossoming on screen. This visual symphony of art is backed by a lilting traditional score by Ton That Tiet and the beautiful Vietnamese folk music of Trinh Cong San.
Each scene seems to overflow with beauty, whether in the surrounding environment with its crisp chirping sounds of birds, insects, rain or the unique art objects that adorn many of the households that we enter into. It is so easy to get sensual comfort from this film, that the details, which at times can be hazy, are all secondary. When they become clearer, as the film progresses, we then realize how close we have become to its characters
.
From Gary W. Tooze's Review located HERE
Posters
Theatrical Release Date: May 18th, 2000 - Cannes Film Festival
Reviews More Reviews DVD Reviews
DVD Comparison:
Columbia Tri-Star Region 1 - vs. Artificial Eye Region 2
(Columbia TriStar Region 1 LEFT vs. Artificial Eye Region 2 - RIGHT)
DVD Box Covers

Purchase Links

Distribution

Columbia Tri-Star

Region 1 - NTSC

Artificial Eye
Region 2 - PAL
Runtime
1:52:36 min
1:47:56 min (PAL 4% Speedup)
Video

Widescreen anamorphic - 1.78:1
Average Bitrate: 6.39 mb/s
NTSC 704x480 29.97 f/s

Widescreen - 1.85:1
Average Bitrate: 4.28
PAL 720x576 25.00 f/s

NOTE: The Vertical axis represents the bits transferred per second. The Horizontal is the time in minutes.

Bitrate:

Columbia Tri-Star Region 1

Bitrate:

Artificial Eye

Region 2

Audio
Vietnamese Dolby Digital 5.1 Surround
Vietnamese Dolby Digital 2.0 Surround

Vietnamese (Dolby Digital 2.0 Surround)

Subtitles
English, None
English ( non removable )
Features

Release Information:
Studio: Columbia Tri-Star Home Video


Extras:
• Theatrical Trailer (1.85:1)
• 3 Bonus Trailers featuring The Scent of Green Papaya (1.33:1), The Road Home (2.35:1), Shower (1.33:1)

• Filmographies for writer/director Tran An Hung and star Tran Nu Yen Khe

DVD Release Date: December 8th, 2001
Keep Case

Chapters 28

Release Information:
Studio: Artificial Eye

Extras:
• Making-of (25:56 min, 1.78:1/16:9) - removable English subtitles
• Theatrical Trailer (1.85:1/4:3, 01:27 min)
• Filmography for writer/director Tran Anh Hung
• 20 page static screen interview with writer/director Tran Anh Hung

DVD Release Date: March 25th, 2002
Keep Case

Chapters 19

Alternate Version

StudioCanal / Universal Pictures Vidéo
Region 2 (France)

DVD Release Date: May 10th 2001
Keep Case
Chapters: 12
DVD Encoding: PAL Region 2 (France)

BUT NO English Subtitles.

NOTE: Comparison with this version and the R1 can be found HERE
| | |
| --- | --- |
| Comments: | The R1 is much sharper, more detailed blacks. The Artificial Eye DVD looks very hazy in comparison. The R2 does have the nice "Making of Documentary", subtitled in English. The Artificial Eye disc has less chapters and burned in sub-titles. The R1's better image quality is the sole reason to stick with the R1 for this piece of classic art cinema, but true fans will want to see the documentary and might want to get both versions. |
---



DVD Menus
(Columbia TriStar Region 1 LEFT vs. Artificial Eye Region 2 - RIGHT)
| | |
| --- | --- |
| | |
| | |
| | |
| | |
---
Screen Captures
(Columbia TriStar Region 1 TOP vs. Artificial Eye Region 2 - BOTTOM)
---
(Columbia TriStar Region 1 TOP vs. Artificial Eye Region 2 - BOTTOM)
(Columbia TriStar Region 1 TOP vs. Artificial Eye Region 2 - BOTTOM)
---
(Columbia TriStar Region 1 TOP vs. Artificial Eye Region 2 - BOTTOM)
---
(Columbia TriStar Region 1 TOP vs. Artificial Eye Region 2 - BOTTOM)
(Columbia TriStar Region 1 TOP vs. Artificial Eye Region 2 - BOTTOM)
Report Card:
| | |
| --- | --- |
| Image: | Columbia R1 |
| Sound: | - |
| Extras: | Artificial Eye R2 |
| Menu: | Columbia R1 |
DVD Box Covers

Purchase Links

Distribution

Columbia Tri-Star

Region 1 - NTSC

Artificial Eye
Region 2 - PAL





---