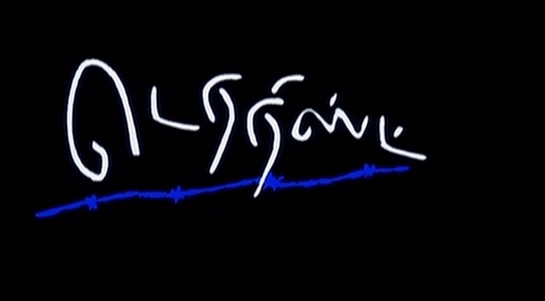 (aka 'The Terrorist")
directed by Santosh Sivan
India 1999
A very underrated film. Unusually supported by actor John Malkovich, this is the story of Malli, a 19-year old female terrorist who is proudly been chosen to perform a suicide bombing mission. We slowly learn minute details about her past and present life and come to appreciate the simple philosophical wisdom that her landlord imparts to her in the prior days before the rehearsed act of self-sacrifice. The film is stripped of all but a few bare character emotions that are quietly developed. Comparisons to Robert Bresson are appropriate. This is probably as close to his brand of subtle cinema as I have seen in a modern film. Wonderful cinematography, shot with exquisite colors and deep interfacing close-ups. I strongly recommend this!

out of

Gary W. Tooze
Poster
Theatrical Release: September 12th, 1999 - Toronto Film Festival
Reviews More Reviews DVD Reviews
DVD Comparison:
Fox/Lorber - Region 0 - NTSC vs. Tartan - Region 0 - PAL
Big thanks to Ole of DVDBasen for the PAL Screen Caps!
(Fox - Lorber - Region 0 - NTSC - LEFT vs. Tartan- Region 0- PAL - RIGHT)
DVD Box Covers

Distribution

Fox Lorber

Region 0 - NTSC

Tartan
Region 0 - PAL
Runtime
1:35:39 (no adjustment for PAL speedup)
1:36:41
Video

1.79:1 Ratio adjusted (vertically compresed)
Average Bitrate: 5.18 mb/s
NTSC 704x480 29.97 f/s

1.78:1 Original Aspect Ratio 16X9 enhanced
Average Bitrate: 4.68
PAL 720x576 25.00 f/s

NOTE: The Vertical axis represents the bits transferred per second. The Horizontal is the time in minutes.

Bitrate:

Fox

Bitrate:

MGM-SE

Audio
Tamil (Dolby Digital 2.0)

Tamil (Dolby Digital 2.0)

Subtitles
English, and none
English, and none
Features
Release Information:
Studio: Fox Lorber


Aspect Ratio: 1.79:1 (adjusted) widescreen

Edition Details:

Foreign and theatrical trailers (widescreen - non-anamorphic)
Filmographies
Production credits

DVD Release Date: December 5, 2000
Keep Case

Chapters 16


Release Information:
Studio: Tartan Video

Aspect Ratio: 1.78:1 Widescreen anamorphic


Edition Details:
Trailer WS: Non-anamorphic 1.66:1 (1:47)
2 Radio spots (1 English / 1 Indian).
Jonathan Carter Film Notes (5 pages of text).
Support from John Malkovich (2 pages of text).
Filmographies of Santosh Sivan and Ayesha Dharker.
5 stills from the movie.
Trailers for other Tartan releases.

DVD Release Date: 25 March, 2002
Keep Case

Chapters 10
Comments:

One of these editions is quite out of ratio... and Fox appears to be the culprit. Both editions are slightly cropped ; the vertical for the Fox and the horizontal for the Tartan. Both editions have had some manipulation to the image. The Tartan has a shade of contrast boosting and the Fox/Lorber has a lot of red in their image. Sharpness and overall picture quality goes to the anamorphic Tartan, but both could have used some improvement. It truly is a shame because this is such a visually beautiful film.

There are some handsome extras on the Tartan disc and bare bones on the Fox/Lorber. I would like to endorse the single-layered Tartan, but feel this film is worthy of an even better DVD presentation.. hopefully coming in the near future.

NOTE: I only noticed a very small amount of PAL to NTSC "ghosting" in the Fox Lorber, mostly when doing the screen captures but none when watching the film.
---

DVD Menus
(Fox - Lorber - Region 0 - NTSC - LEFT vs. Tartan- Region 0 - PAL - RIGHT)
---
Screen Captures
(Fox - Lorber - Region 0 - NTSC - TOP vs. Tartan- Region 0 - PAL - BOTTOM)
---
(Fox - Lorber - Region 0 - NTSC - TOP vs. Tartan- Region 0 - PAL - BOTTOM)
---
(Fox - Lorber - Region 0 - NTSC - TOP vs. Tartan- Region 0 - PAL - BOTTOM)
---
(Fox - Lorber - Region 0 - NTSC - TOP vs. Tartan- Region 0 - PAL - BOTTOM)
---
(Fox - Lorber - Region 0 - NTSC - TOP vs. Tartan- Region 0 - PAL - BOTTOM)
---
(Fox - Lorber - Region 0 - NTSC - TOP vs. Tartan- Region 0 - PAL - BOTTOM)
---
Report Card:
| | |
| --- | --- |
| Image: | Tartan |
| Sound: | - |
| Extras: | Tartan |
| Menu: | Tartan |