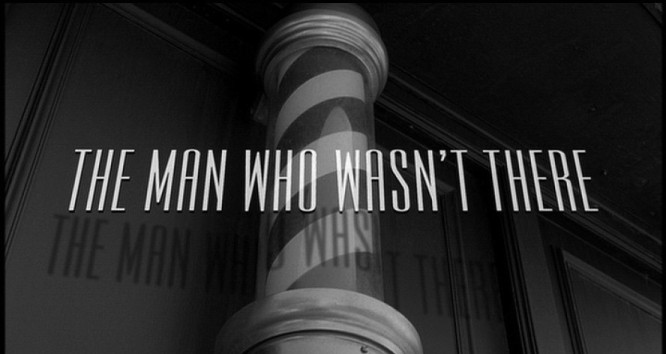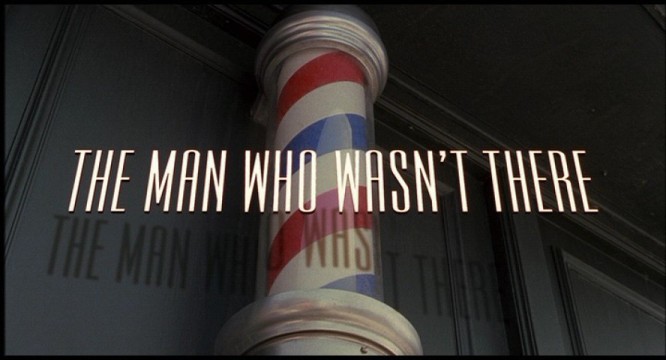 directed by Joel and Ethan Coen
(aka The Barber Project)
U.S.A. 2001
You could call it an existential film noir comedy. You could describe it as chilly as well as amusing, playful in a dark and ominous way. You could say a lot about the very satisfying "The Man Who Wasn't There," but what's for sure is that no one but the deadpan, dead-on Coen brothers could have turned it out.

Having assured, accomplished fun with a variety of genres has characterized the brothers' eclectic output since co-writers Joel and Ethan (the former directs, the latter produces) began making features with 1984's "Blood Simple." While their last effort, "O Brother, Where Art Thou?," successfully mixed Greek and movie mythology with American roots music, this one uses Roger Deakins' crystalline wide-screen black and white photography (a first for the Coens) to smartly reconstruct a claustrophobic world inspired by hard-boiled writer James M. Cain and starring Billy Bob Thornton. Cain, along with Raymond Chandler, Dashiell Hammett and others, turned tough-guy writing into an art form in the 1930s and '40s.
Excerpt From Kenneth Turan's L.A. Times Review located HERE
Posters (Click for slightly larger versions)
Reviews More Reviews DVD Reviews
DVD Comparison:
Original Black and White version vs. the Color version
Both included in the 2 DVD set offered in Region 3
Big thanks to Kevin Parent for the Screen Caps!
DVD Box Covers

Note there is at least one Region 2 disc with both the color and b/w versions of the film.

Distribution
Media Chain
Region 3 - NTSC
Runtime
1:15:00 min
Video

Wide Screen (Standard) - 1.85:1
NTSC 704x576 25.00 f/s

Audio
English (DTS), English (Dolby Digital 2.0), English (Dolby Digital 5.1), French (Dolby Digital 5.1), French (Dolby Digital 2.0)
Subtitles
French, Korean, None
Features
Release Information:
Studio: Working Title Films, The KL Line, Good Machine
Theatrical Release Date: January 1st, 2001
Released by Media Chain

Aspect Ratio(s):
Full Screen (Standard) - 1.85:1

Discographic Information:
DVD Encoding: Region 3

Bonus :
• A 3rd DVD with the color version
• filmographies
• A Documentary "The Film Noir Universe" (49 min)
• Commentary with the Cohens and Billy Bob Thorton
• The 'Making Of' (15 min)
• Interview with Roger Deakins (47 min)
• 1 scène coupée (4 min)
• Photo Gallery
• Upcoming announcements
• US trailer

Sundry

DVD Release Date: September 3rd, 2002
Keep Case

Chapters 32
Comments:

A while ago, someone asked about the second-disc of R3 releases of 'The Man Who Wasn't There'. I don't think anyone ever commented on the color edition.

Well I finally watched it. I wish it had included the commentary because I ended up watching it three times (first time, normal; second time, commentary; third time, color version). Not that I hated the movie, but three times is a bit much.

Well, if you have the R1 and are thinking about ordering the two-disc version, there are probably better things to spend your money on. They knew they were going to show it in B&W and the colors are faded; the actors are wearing grey, etc. At least one scene I'm sure actually was in B&W. Other times I thought I was watching a B&W scene but then I suddenly saw a splash of color. Even if I'm wrong and they actually were all in color, the fact that I couldn't tell tells you something about the color quality.

-

Kevin Parent
---
Screen Captures
(Black and White Region 2 - Top vs. Color Region 2 - Bottom)
---
(Black and White Region 2 - Top vs. Color Region 2 - Bottom)

---

(Black and White Region 2 - Top vs. Color Region 2 - Bottom)

---

(Black and White Region 2 - Top vs. Color Region 2 - Bottom)

---



DONATIONS Keep DVDBeaver alive and advertisement free:
Mail cheques, money orders, cash to: or CLICK PayPal logo to donate!
Thank You!