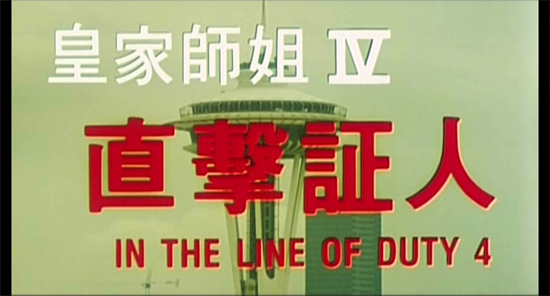 directed by Yuen Woo Ping
Hong Kong 1989
In The Line Of Duty IV sees the illustrious girls-with-guns series take a bit of a detour as Yuen Woo Ping steps into the directors chair, and brings along with him a fair old entourage of mostly male actors/fighters, meaning that leading lady Cynthia Khan's role is a little diminished, with Donnie Yen and Yuen Yat Chor (brother of Woo Ping) having at least as much screen time, lines and fights. Woo Ping's regular cast does represent many of the top fighters of the time from around the world, though, which means that Part IV is possibly the most action-packed entry in the series, with fights almost non-stop from the moment the opening credits finish.

ITLOD4 is one of the perfect examples of a Hong Kong film, in that it's the kind of film that just doesn't get made anywhere else in the world. The multinational cast, the melodrama and high cheese factor and especially the bone crunching action all have that unique "only in Hong Kong" feel, and the use of some great HK locations and motifs really does make this film sum up what made HK cinema in the 80's so great.

Surprisingly enough, ITLOD4 even features a good story, with good characters and a relatively high degree of continuity. The idea of CIA operatives selling drugs to fund operations in South America is quite entertaining, and there is an unusual but rather amusing level of anti-Americanism to be found in the film, most blatantly in the final shots. Of all the characters, Yuen Yat Chor's is probably the one with the most depth - an honest guy caught up in a crazy situation where cops and robbers both are on his tail, he's a good everyman sort that the audience can relate to. Cynthia Khan is the hero archetype, a model of virtue and courage out there to protect the innocent - a character to give the audience hope. Donnie's character is the one who goes through the most development - his black and white world-view and hot-headedness are challenged by the events that unfold, and he has to learn and grow. Needless to say, all 3 are in conflict with each other at the start and finally realize they have to work together to win in the end. Somebody will probably read a political message into this, but I think it's just a well-chosen set of old-fashioned character archetypes.

Anyway, story - pretty good, acting - pretty good, but this is really just a bonus that adds a little more emotional impact to the many action scenes. This is where the film comes into its own, and it's what makes it truly great. Yuen Woo Ping is of course one of the best action directors of all time, and here he seems to have a big budget and plenty of talent on hand to stage many memorable fights, shoot outs and stunts. Donnie Yen gets the bulk of the action, and he's on great form here. This may be his best role, both as an actor and a fighter. Cynthia Khan gets to kick a fair amount of ass too, and she's also impressive though clearly doubled quite a lot. Their main opponents are Donnie/Woo Ping regulars Michael Woods and John Salvitti but there's dozens of other bit-parts and stuntmen to provide fodder. The choreography is dynamic and varied, with the fighters using a wide range of styles and moves. It's all filmed and edited beautifully, and the result is simply some of the best action you're likely to see. They don't make them like this anymore, as they say (with good reason!).

If you were given the challenge to pick one film that best summed up what makes (made) Hong Kong's film industry so special, well... there are many films you could choose, depending on your own particular views and tastes, but if you ended up choosing In The Line Of Duty IV then I don't think anybody could really say your decision was a bad one.

Bottom line: you must see this one at some point!

Theatrical Release: 21 July, 1989 - Hong Kong
Reviews More Reviews DVD Reviews
DVD Comparison:
Universe - Region 0 - NTSC vs. Fox - Region 1 - NTSC vs. Hong Kong Legends - Region 2,4 - PAL
Big thanks to Ole Kofoed for all the Screen Caps!
(Universe - Region 0 - NTSC - LEFT vs. Fox - Region 1 - NTSC - MIDDLE vs. Hong Kong Legends - Region 2,4 - PAL - RIGHT)
DVD Box Covers

NOTE: Purchases through DVDBeaver's links to Amazon help keep us afloat and advertisement free!

Distribution

Universe

Region 0 - NTSC

Fox
Region 1 - NTSC
Hong Kong Legends
Region 2,4 - PAL
Runtime
1:30:33 (4% PAL speedup)
1:34:27
1:31:24 (4% PAL speedup)
Video

1.78:1 Aspect Ratio
Average Bitrate: 5.27 mb/s
NTSC 704x480 29.97 f/s

1.78:1 Aspect Ratio

16X9 enhanced
Average Bitrate: 8.55 mb/s
NTSC 704x480 29.97 f/s

1.78:1 Aspect Ratio

16X9 enhanced
Average Bitrate: 6.53 mb/s
PAL 720x576 25.00 f/s

NOTE: The Vertical axis represents the bits transferred per second. The Horizontal is the time in minutes.

Bitrate:

Universe

Bitrate:

Fox

Bitrate:

Hong Kong Legends

Audio
Cantonese Dolby Digital 5.1, Mandarin DD 5.1

Cantonese Dolby Digital 5.1, English Dub DD 5.1 , English Dub DTS, Cantonese DTS

Cantonese Dolby Digital 5.1, English Dub DD 5.1

Subtitles
English, Chinese, Japanese, Thai, Vietnamese, Korean, Bahasa (Indonesia + Malaysia) or none.
English or none.
English, Dutch or none.
Features
Release Information:
Studio: Universe

Aspect Ratio:
Widescreen letterboxed - 1.78:1

Edition Details:
• Film/biographies of Donnie Yen, Cynthia Khan and Yuen Woo-ping.
• Theatrical trailer (4:09).
• Trailers of In the Line of Duty III, V and Yes, Madam!

DVD Release Date: ?
Keep Case

Chapters 8


Release Information:
Studio: Fox

Aspect Ratio:
Widescreen anamorphic - 1.78:1

Edition Details:
• Theatrical trailer (4:26).
• Trailers for City Hunter, Heart of Dragon and Hong Kong 1941.


DVD Release Date: December 30, 2003
Keep Case

Chapters 20

Release Information:
Studio: Hong Kong Legends

Aspect Ratio:
Widescreen anamorphic - 1.78:1

Edition Details:
• Commentary with Stephan Hammond and Michael Wong.
• Interview with Donnie Yen (19:39).
• Donnie Yen biography (Text scroll and spoken) (22:35).
• Yuen Woo-ping biography (Spoken with filmclips) (9:55).
• Cynthia Khan biography (Text).
• Photo gallery.
• Theatrical trailer (5:16).
• Trailers and info for 5 other HKL releases.


DVD Release Date: August 20, 2001
Keep Case

Chapters 30

Comments

First we can put the old Universe away - taken from a PAL source and not properly converted to NTSC with ghosting as the result, bad colors, print damage, blurred picture and not anamorphic enhanced. The difference in runtime between the Universe and the HKL DVD is because there is a Media Asia trailer in the start of the HKL.

Both HKL and Fox are cropped a little - HKL in the top and Fox to the right, but it is quite negligible. As in other HKL releases it seems like the picture is horizontally stretched.

The Fox has a more detailed/sharper picture and the colors looks more true, while the HKL is to bright.

The HKL wins again in the extra apartment with a commentary, in-depth biographies and a interview with Donnie Yen, while the Fox only have trailers.

If you not are interested in the Extras then choose the Fox, if you want the extras then you can buy both as the Fox is very well priced.

Big thanks to Simon Booth for the movie review.

- Ole Kofoed
---
Recommended Reading in Chinese/Hong Kong/Taiwanese Cinema (CLICK COVERS or TITLES for more information)
Check out more in "The Library"
---


DVD Menus
(Universe - Region 0 - NTSC - LEFT vs. Fox - Region 1 - NTSC - MIDDLE vs. Hong Kong Legends - Region 2,4 - PAL - RIGHT)
---
Screen Captures
(Universe - Region 0 - NTSC - TOP vs. Fox - Region 1 - NTSC - MIDDLE vs. Hong Kong Legends - Region 2,4 - PAL - BOTTOM)

---
(Universe - Region 0 - NTSC - TOP vs. Fox - Region 1 - NTSC - MIDDLE vs. Hong Kong Legends - Region 2,4 - PAL - BOTTOM)
---
(Universe - Region 0 - NTSC - TOP vs. Fox - Region 1 - NTSC - MIDDLE vs. Hong Kong Legends - Region 2,4 - PAL - BOTTOM)
---
(Universe - Region 0 - NTSC - TOP vs. Fox - Region 1 - NTSC - MIDDLE vs. Hong Kong Legends - Region 2,4 - PAL - BOTTOM)
(Universe - Region 0 - NTSC - TOP vs. Fox - Region 1 - NTSC - MIDDLE vs. Hong Kong Legends - Region 2,4 - PAL - BOTTOM)
---
(Universe - Region 0 - NTSC - TOP vs. Fox - Region 1 - NTSC - MIDDLE vs. Hong Kong Legends - Region 2,4 - PAL - BOTTOM)
---
(Universe - Region 0 - NTSC - TOP vs. Fox - Region 1 - NTSC - MIDDLE vs. Hong Kong Legends - Region 2,4 - PAL - BOTTOM)

---
Report Card:
| | |
| --- | --- |
| Image: | 20th Century Fox |
| Sound: | Not compared but 20th Century Fox has DTS. |
| Extras: | Hong Kong Legends |
| Menu: | 20th Century Fox |
DVD Box Covers

NOTE: Purchases through DVDBeaver's links to Amazon help keep us afloat and advertisement free!

Distribution

Universe

Region 0 - NTSC

Fox
Region 1 - NTSC

Hong Kong Legends
Region 2,4 - PAL