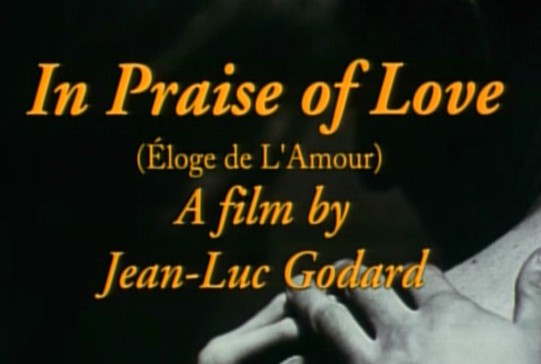 France/Switzerland 2001
"After years spent trying to bury cinema--or at least its more obvious pleasures--Jean-Luc Godard has made a new movie that exalts its glory. A film about history, memory and the distance between the two, "In Praise of Love" is an almost-love story about a French artist and a Jewish woman that also takes measure of the distances between identity and nationalism, Hollywood and the Holocaust; an almost-love story that--because nothing is ever simple with Godard--is framed against the struggle to make art in a world that largely ignores it.

At the anguished center of all these ideas is a brooding young Parisian named Edgar (Bruno Putzulu), whose resemblance to the film's director as a brooding young genius is surely less than coincidental. When the film opens, Edgar is auditioning a young woman for a project he lyrically describes as "the four moments of love--the meeting, the physical passion, the separation, then the reconciliation."
Excerpt from Manhola Dargis Los Angeles Times review found HERE
Poster
Theatrical Release Date: May 15th, 2001 - Cannes, France
Reviews More Reviews DVD Reviews
DVD Comparison:
New Yorker - Region 1 - NTSC vs. Optimum Releasing - Region 2 - PAL
Big thanks to Pavel Borodin for the Optimum Releasing Screen Caps!
(New Yorker - Region 1 - NTSC - LEFT vs. Optimum Releasing - Region 2 - PAL - RIGHT)
DVD Box Covers

Distribution

New Yorker

Region 1 - NTSC

Optimum Releasing (UK)
Region 2 - PAL
Runtime
1:38:24
1:34:12 (4% PAL speedup)
Video

1.85:1.00 Letterboxed WideScreen

16X9 enhanced
Average Bitrate: 5.8 mb/s
NTSC 720x480 29.97 f/s

1.33:1 Original Aspect Ratio
Average Bitrate: 5.27
PAL 720x576 25.00 f/s

NOTE: The Vertical axis represents the bits transferred per second. The Horizontal is the time in minutes.

Bitrate:

New Yorker

Bitrate:

Optimum Releasing

Audio
French (Dolby Digital 2.0)

French (Dolby Digital 2.0)

Subtitles
English, None
English (non-removable)
Features
Release Information:
Studio: NEW YORKER FILMS VIDEO

Aspect ratio:

1.85:1 widescreen 16X9 enhanced

Edition Details:
• Trailer 4:3 (2:48)
• Black & White, Color, Widescreen

DVD Release Date: July 22, 2003
Keep Case
Chapters: 20




Release Information:
Studio: Optimum Releasing, UK


Aspect Ratio:
Full Screen - 1.33:1

Edition Details:
•Trailer (1:23 Mins, 4:3)
Trailer for the film in French with English subtitles, image quality is okay.

Jean-Luc Godard Interview (Text)
Interviewed in April 2001 by Michele Halberstadt.

Jan-Luc Godard Biography (Text)
Four pages of text covering the career and life of Godard.

Trailers for other Optimum releases (Breathless, Aimee & Jaguar, Wages of Fear)
All of the trailers are presented in the 4:3 aspect ratios.

DVD 5 - Single-side, single layer


DVD Release Date: March 25th, 2002
Keep Case

Chapters 23

Comments:

NOTE:

I was browsing around your web site and saw the comparison for this title. I've recently been reading Black Dog Publishing's book "For Ever Godard," and if James Quandt of the Cinematheque Ontario is to be believed, then it appears neither the New Yorker nor the Optimum present the film quite correctly.

Here's the relevant portion of Quandt's essay "Here and Elsewhere: Projecting Godard", in which he talks about preparing a Godard retrospective:

"Our meticulous projectionist Kate McKay experimented with whole reels of films, showing them first in 1.33 and then in the prescribed wider screen ratio, revealing the violence done to the compositions when shown the latter way....Disturbed by some oddly cropped compositions in Eloge de l'amour, which result in seemingly unintentional beheadings and concretions, I consulted Godard by fax about the aspect ratio and he confirmed that it was indeed, as stated, 1.66 (rather old-fashioned in its own way). That he occasionally still seems to be jamming a 1.33 composition into a frame that cannot accommodate it suggests his instinctual preference for the open image." (Thanks Kirk !)

*****

The Optimum release is slightly sharper in the black and white sequences, but something looks off in the color scenes at the end. I suspect it was made like that. The big issue here is that the Optimum is in 1.37:1 aspect ratio as opposed to the New Yorker's 1.85. I have been told that it showed in the theatre as 1.37. The Optimum has some nice Extras and there are none on the Ny'er aside from a trailer. The Optimum is the way to go as the Ny'r appears to have been cropped to fit 1.85 (see above note).
---
Recommended Reading in French Cinema (CLICK COVERS or TITLES for more information)
The Films in My Life
by Francois Truffaut, Leonard Mayhew

French Cinema: A Student's Guide
by Philip Powrie, Keith Reader
Agnes Varda by Alison Smith
Godard on Godard : Critical Writings by Jean-Luc Godard
Notes on the Cinematographer by Robert Bresson
Robert Bresson (Cinematheque Ontario Monographs, No. 2)
by James Quandt
The Art of Cinema by Jean Cocteau
French New Wave
by Jean Douchet, Robert Bonnono, Cedric Anger, Robert Bononno
French Cinema: From Its Beginnings to the Present
by Remi Fournier Lanzoni
Check out more in "The Library"
---


DVD Menus
(New Yorker - Region 1 - NTSC - LEFT vs. Optimum Releasing - Region 2 - PAL - RIGHT)
---
Screen Captures
(New Yorker - Region 1 - NTSC - TOP vs. Optimum Releasing - Region 2 - PAL - BOTTOM)
---
(New Yorker - Region 1 - NTSC - TOP vs. Optimum Releasing - Region 2 - PAL - BOTTOM)
---
(New Yorker - Region 1 - NTSC - TOP vs. Optimum Releasing - Region 2 - PAL - BOTTOM)
---
(New Yorker - Region 1 - NTSC - TOP vs. Optimum Releasing - Region 2 - PAL - BOTTOM)
---
(New Yorker - Region 1 - NTSC - TOP vs. Optimum Releasing - Region 2 - PAL - BOTTOM)
---
(New Yorker - Region 1 - NTSC - TOP vs. Optimum Releasing - Region 2 - PAL - BOTTOM)
---
(New Yorker - Region 1 - NTSC - TOP vs. Optimum Releasing - Region 2 - PAL - BOTTOM)

---
Report Card:
| | |
| --- | --- |
| Image: | Optimum |
| Sound: | - |
| Extras: | Optimum |
| Menu: | Optimum |
DVD Box Covers

Distribution

New Yorker

Region 1 - NTSC

Optimum Releasing (UK)
Region 2 - PAL
Jean-Luc Godard's - In Praise of Love - Éloge de l'amour - DVD Review Jean-Luc Godard - In Praise of Love - Éloge de l'amour - DVD Review Jean-Luc Godard - In Praise of Love - Éloge de l'amour - DVD Review Jean-Luc Godard - In Praise of Love - Éloge de l'amour - DVD Review Jean-Luc Godard - In Praise of Love - Éloge de l'amour - DVD Review Jean-Luc Godard - In Praise of Love - Éloge de l'amour - DVD Review Jean-Luc Godard - In Praise of Love - Éloge de l'amour - DVD Review Jean-Luc Godard - In Praise of Love - Éloge de l'amour - DVD Review Jean-Luc Godard - In Praise of Love - Éloge de l'amour - DVD Review Jean-Luc Godard - In Praise of Love - Éloge de l'amour - DVD Review Jean-Luc Godard - In Praise of Love - Éloge de l'amour - DVD Review Jean-Luc Godard's - In Praise of Love - Éloge de l'amour - DVD Review Jean-Luc Godard - In Praise of Love - Éloge de l'amour - DVD Review Jean-Luc Godard - In Praise of Love - Éloge de l'amour - DVD Review Jean-Luc Godard - In Praise of Love - Éloge de l'amour - DVD Review Jean-Luc Godard - In Praise of Love - Éloge de l'amour - DVD Review Jean-Luc Godard - In Praise of Love - Éloge de l'amour - DVD Review Jean-Luc Godard - In Praise of Love - Éloge de l'amour - DVD Review Jean-Luc Godard - In Praise of Love - Éloge de l'amour - DVD Review Jean-Luc Godard - In Praise of Love - Éloge de l'amour - DVD Review Jean-Luc Godard - In Praise of Love - Éloge de l'amour - DVD Review Jean-Luc Godard - In Praise of Love - Éloge de l'amour - DVD Review Jean-Luc Godard's - In Praise of Love - Éloge de l'amour - DVD Review Jean-Luc Godard - In Praise of Love - Éloge de l'amour - DVD Review Jean-Luc Godard - In Praise of Love - Éloge de l'amour - DVD Review Jean-Luc Godard - In Praise of Love - Éloge de l'amour - DVD Review Jean-Luc Godard - In Praise of Love - Éloge de l'amour - DVD Review Jean-Luc Godard - In Praise of Love - Éloge de l'amour - DVD Review Jean-Luc Godard - In Praise of Love - Éloge de l'amour - DVD Review Jean-Luc Godard - In Praise of Love - Éloge de l'amour - DVD Review Jean-Luc Godard - In Praise of Love - Éloge de l'amour - DVD Review Jean-Luc Godard - In Praise of Love - Éloge de l'amour - DVD Review Jean-Luc Godard - In Praise of Love - Éloge de l'amour - DVD Review Jean-Luc Godard's - In Praise of Love - Éloge de l'amour - DVD Review Jean-Luc Godard - In Praise of Love - Éloge de l'amour - DVD Review Jean-Luc Godard - In Praise of Love - Éloge de l'amour - DVD Review Jean-Luc Godard - In Praise of Love - Éloge de l'amour - DVD Review Jean-Luc Godard - In Praise of Love - Éloge de l'amour - DVD Review Jean-Luc Godard - In Praise of Love - Éloge de l'amour - DVD Review Jean-Luc Godard - In Praise of Love - Éloge de l'amour - DVD Review Jean-Luc Godard - In Praise of Love - Éloge de l'amour - DVD Review Jean-Luc Godard - In Praise of Love - Éloge de l'amour - DVD Review Jean-Luc Godard - In Praise of Love - Éloge de l'amour - DVD Review Jean-Luc Godard - In Praise of Love - Éloge de l'amour - DVD Review Jean-Luc Godard's - In Praise of Love - Éloge de l'amour - DVD Review Jean-Luc Godard - In Praise of Love - Éloge de l'amour - DVD Review Jean-Luc Godard - In Praise of Love - Éloge de l'amour - DVD Review Jean-Luc Godard - In Praise of Love - Éloge de l'amour - DVD Review Jean-Luc Godard - In Praise of Love - Éloge de l'amour - DVD Review Jean-Luc Godard - In Praise of Love - Éloge de l'amour - DVD Review Jean-Luc Godard - In Praise of Love - Éloge de l'amour - DVD Review Jean-Luc Godard - In Praise of Love - Éloge de l'amour - DVD Review Jean-Luc Godard - In Praise of Love - Éloge de l'amour - DVD Review Jean-Luc Godard - In Praise of Love - Éloge de l'amour - DVD Review Jean-Luc Godard - In Praise of Love - Éloge de l'amour - DVD Review Jean-Luc Godard's - In Praise of Love - Éloge de l'amour - DVD Review Jean-Luc Godard - In Praise of Love - Éloge de l'amour - DVD Review Jean-Luc Godard - In Praise of Love - Éloge de l'amour - DVD Review Jean-Luc Godard - In Praise of Love - Éloge de l'amour - DVD Review Jean-Luc Godard - In Praise of Love - Éloge de l'amour - DVD Review Jean-Luc Godard - In Praise of Love - Éloge de l'amour - DVD Review Jean-Luc Godard - In Praise of Love - Éloge de l'amour - DVD Review Jean-Luc Godard - In Praise of Love - Éloge de l'amour - DVD Review Jean-Luc Godard - In Praise of Love - Éloge de l'amour - DVD Review Jean-Luc Godard - In Praise of Love - Éloge de l'amour - DVD Review Jean-Luc Godard - In Praise of Love - Éloge de l'amour - DVD Review Jean-Luc Godard's - In Praise of Love - Éloge de l'amour - DVD Review Jean-Luc Godard - In Praise of Love - Éloge de l'amour - DVD Review Jean-Luc Godard - In Praise of Love - Éloge de l'amour - DVD Review Jean-Luc Godard - In Praise of Love - Éloge de l'amour - DVD Review Jean-Luc Godard - In Praise of Love - Éloge de l'amour - DVD Review Jean-Luc Godard - In Praise of Love - Éloge de l'amour - DVD Review Jean-Luc Godard - In Praise of Love - Éloge de l'amour - DVD Review Jean-Luc Godard - In Praise of Love - Éloge de l'amour - DVD Review Jean-Luc Godard - In Praise of Love - Éloge de l'amour - DVD Review Jean-Luc Godard - In Praise of Love - Éloge de l'amour - DVD Review Jean-Luc Godard - In Praise of Love - Éloge de l'amour - DVD Review Jean-Luc Godard's - In Praise of Love - Éloge de l'amour - DVD Review Jean-Luc Godard - In Praise of Love - Éloge de l'amour - DVD Review Jean-Luc Godard - In Praise of Love - Éloge de l'amour - DVD Review Jean-Luc Godard - In Praise of Love - Éloge de l'amour - DVD Review Jean-Luc Godard - In Praise of Love - Éloge de l'amour - DVD Review Jean-Luc Godard - In Praise of Love - Éloge de l'amour - DVD Review Jean-Luc Godard - In Praise of Love - Éloge de l'amour - DVD Review Jean-Luc Godard - In Praise of Love - Éloge de l'amour - DVD Review Jean-Luc Godard - In Praise of Love - Éloge de l'amour - DVD Review Jean-Luc Godard - In Praise of Love - Éloge de l'amour - DVD Review Jean-Luc Godard - In Praise of Love - Éloge de l'amour - DVD Review Jean-Luc Godard's - In Praise of Love - Éloge de l'amour - DVD Review Jean-Luc Godard - In Praise of Love - Éloge de l'amour - DVD Review Jean-Luc Godard - In Praise of Love - Éloge de l'amour - DVD Review Jean-Luc Godard - In Praise of Love - Éloge de l'amour - DVD Review Jean-Luc Godard - In Praise of Love - Éloge de l'amour - DVD Review Jean-Luc Godard - In Praise of Love - Éloge de l'amour - DVD Review Jean-Luc Godard - In Praise of Love - Éloge de l'amour - DVD Review Jean-Luc Godard - In Praise of Love - Éloge de l'amour - DVD Review Jean-Luc Godard - In Praise of Love - Éloge de l'amour - DVD Review Jean-Luc Godard - In Praise of Love - Éloge de l'amour - DVD Review Jean-Luc Godard - In Praise of Love - Éloge de l'amour - DVD Review Jean-Luc Godard's - In Praise of Love - Éloge de l'amour - DVD Review Jean-Luc Godard - In Praise of Love - Éloge de l'amour - DVD Review Jean-Luc Godard - In Praise of Love - Éloge de l'amour - DVD Review Jean-Luc Godard - In Praise of Love - Éloge de l'amour - DVD Review Jean-Luc Godard - In Praise of Love - Éloge de l'amour - DVD Review Jean-Luc Godard - In Praise of Love - Éloge de l'amour - DVD Review Jean-Luc Godard - In Praise of Love - Éloge de l'amour - DVD Review Jean-Luc Godard - In Praise of Love - Éloge de l'amour - DVD Review Jean-Luc Godard - In Praise of Love - Éloge de l'amour - DVD Review Jean-Luc Godard - In Praise of Love - Éloge de l'amour - DVD Review Jean-Luc Godard - In Praise of Love - Éloge de l'amour - DVD Review Jean-Luc Godard's - In Praise of Love - Éloge de l'amour - DVD Review Jean-Luc Godard - In Praise of Love - Éloge de l'amour - DVD Review Jean-Luc Godard - In Praise of Love - Éloge de l'amour - DVD Review Jean-Luc Godard - In Praise of Love - Éloge de l'amour - DVD Review Jean-Luc Godard - In Praise of Love - Éloge de l'amour - DVD Review Jean-Luc Godard - In Praise of Love - Éloge de l'amour - DVD Review Jean-Luc Godard - In Praise of Love - Éloge de l'amour - DVD Review Jean-Luc Godard - In Praise of Love - Éloge de l'amour - DVD Review Jean-Luc Godard - In Praise of Love - Éloge de l'amour - DVD Review Jean-Luc Godard - In Praise of Love - Éloge de l'amour - DVD Review Jean-Luc Godard - In Praise of Love - Éloge de l'amour - DVD Review