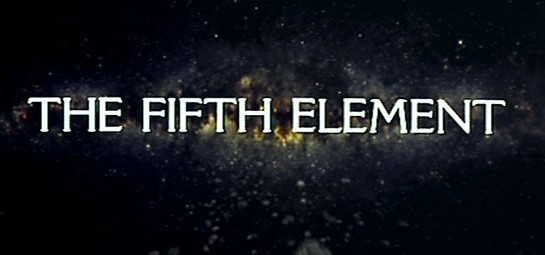 (aka "The 5th Element" or "Le Cinquième élément")
directed by Luc Besson
France/USA 1997
In the year 2257, a planet-sized vessel of supreme evil is hurtling towards the earth with relentless speed, threatening to exterminate every living organism in its path. It has been left to the ex-marine and unlikely taxi-driving hero Korben Dallas (Bruce Willis) to reunite the four stones that represent the elements - Earth, Air, Water and Fire with the mysterious Fifth Element to unleash the only power that will save the Earth. Joined on his mission by the intriguing Leeloo (Milla Jovovich) and Priest Vito Cornelius (Ian Holm), Dallas must retrieve the elements from the beautiful Diva aboard the luxury cruise ship, the Fhlotsin Palace.

Posters
Theatrical Release: May 7th 1997 - Cannes Film Festival - France
Reviews More Reviews DVD Reviews
DVD Comparison:
Columbia Tri-Star (SUPERBIT) - Region 1 - NTSC vs. Pathe (2 disc SE) - Region 2 - PAL
Big thanks to Andy Watts for all the Screen Captures!
(Columbia SUPERBIT - Region 1 - NTSC - LEFT vs. Pathe -2 disc- - Region 2 - PAL - RIGHT)
DVD Box Covers

NOTE: Purchases through DVDBeaver's links to Amazon help keep us afloat and advertisement free!

Distribution

Columbia Tri-Star Home Video

Region 1 - NTSC

20th Century Fox/ Pathe
Region 2 - PAL
Runtime
approx. 1:25:00
approx. 1:21:00 (4% PAL speedup)
Video

2.35:1 Original Aspect Ratio

Bitrate: 7.39 mb/s

16X9 enhanced
NTSC 704x480 29.97 f/s

2.35:1 Original Aspect Ratio

Bitrate: 7.79 mb/s

16X9 enhanced
PAL 720x576 25.00 f/s

Bitrate: US Region 1 SUPERBIT
Bitrate: UK Region 2 PAL
Audio
English (DTS), English (Dolby Digital 5.1)

English (DTS), English (Dolby Digital 5.1)

Subtitles
English, Spanish, French, Chinese, Portuguese, Thai and none
English (for the hearing impaired) and none
Features
Release Information:
Studio: Columbia/Tristar Studios

Aspect Ratio:
Widescreen anamorphic - 2.35:1


Edition Details:

None


DVD Release Date: October 9, 2001
Snap Case

Chapters 28


Release Information:
Studio: Fox for Pathe

Aspect Ratio:
Widescreen anamorphic - 2.35:1


Edition Details:

Special Effects crew audio commentary with Mark Stetson, Karen E. Goulekas, Bill Neil and Ron Gress
'Discovering The Fifth Element': a 'making of' documentary
'Imagining The Fifth Element': a SFX featurette
'The Art Of The Fifth Element With Jean-Claude Mezieres' featurette
'Elements Of Style With Jean-Paul Gaultier' featurette
'Launching The Fifth Element': the Cannes opening night party
'An Audience With Diva Plavalaguna' featurette
Storyboard and production notes
'The Sixth Element' essay
Trailers
TV spots

DVD Release Date: November 24th, 2003
Keep Case

Chapters 22
Comments:

The R1 Superbit has long been a benchmark for picture quality, so I was curious to see how the new UK R2 2 Disc version compares. The R1 Superbit and 2 disc R2 version are mastered from completely different prints. The R1 Superbit version starts off with the Columbia Tristar (Sony Pictures) logo, where as the R2 starts with the Gaumont logo. The R2 version has specs of dirt on the print that are not present in the R1 Superbit version, although not major it is noticeable on the outdoor shots. R2 has an overexposed look that hides the detail in the upper whites, the black level is also lower hiding detail in the blacks. The effect is similar to turning up the contrast and reducing the brightness on your TV, which results in a "punchy" picture but in reality is less detailed. The color balance is also different. R2 has a commentary from the special effects team, if you listen to it one of the special effects guys comments on how great the Superbit version looks on his system at home!!!!!!

There are also other versions out there - the R2 standard and German 2 disc DTS versions appear to be made from the same Gaumont print. There is also a French Superbit version, and an Australian Superbit version. I used to have them but I haven't got them handy to make screen shots. The French Superbit has some forced subtitles.

The R1 Superbit version has vastly superior picture quality compared with any Gaumont version, but the new R2 2 disc has plenty of interesting extras including commentary and a new documentary. It also comes in a very nicely designed cardboard case that slips over the 2 disc amaray. It's your choice - extras or picture quality, or buy both!

Bare in mind that these screen shots were taken using Power DVD, and to take screen shots it uses software decoding rather than the (superior) video card's decoding - so even though it's a fair comparison there is better picture quality to be had than from these screen shots. Bicubic filtering has been used to resize them. Some of them may not be exactly the same frame. My comments are not of the screen shots but of watching the DVDs on my main system, but the screen shots do give you an idea of how it looks.
---



DVD Menus
(Columbia SUPERBIT - Region 1 - NTSC - LEFT vs. Pathe -2 disc- - Region 2 - PAL - RIGHT)
| | |
| --- | --- |
| | |
| | |
| | |
| | |
| | |
| | |
---
Screen Captures
(Columbia SUPERBIT - Region 1 - NTSC - TOP vs. Pathe -2 disc- - Region 2 - PAL - BOTTOM)
(Columbia SUPERBIT - Region 1 - NTSC - TOP vs. Pathe -2 disc- - Region 2 - PAL - BOTTOM)
---
(Columbia SUPERBIT - Region 1 - NTSC - TOP vs. Pathe -2 disc- - Region 2 - PAL - BOTTOM)
---
(Columbia SUPERBIT - Region 1 - NTSC - TOP vs. Pathe -2 disc- - Region 2 - PAL - BOTTOM)
---
(Columbia SUPERBIT - Region 1 - NTSC - TOP vs. Pathe -2 disc- - Region 2 - PAL - BOTTOM)
---
(Columbia SUPERBIT - Region 1 - NTSC - TOP vs. Pathe -2 disc- - Region 2 - PAL - BOTTOM)
---
(Columbia SUPERBIT - Region 1 - NTSC - TOP vs. Pathe -2 disc- - Region 2 - PAL - BOTTOM)
ZOOMED IN
---

---
Report Card:
| | |
| --- | --- |
| Image: | Region 1 |
| Sound: | - |
| Extras: | Region 2 |
| Menu: | Region 2 |