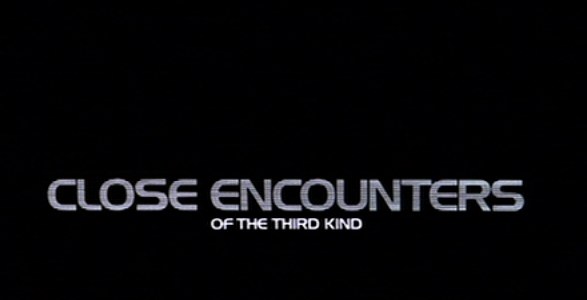 directed by Steven Spielberg
U.S. 1977
Close Encounters takes the favoured dream of every UFO enthusiast (that the US government has been operating a cover-up) and turns it into a majestic and finally unprecedented adventure story. As early references to The Ten Commandments and Chuck Jones's Warner cartoons show, the film seems less concerned with science fiction than with recapturing the wonder of a child's first experience of the cinema, and the surprising thing is that Spielberg moves into this territory so effectively. There are some awkward touches (Truffaut never ceases to be Truffaut, while some of the comedy scenes are a little overplayed), but they're small price to pay for the first film in years to give its audiences a tingle of shocked emotion that is not entirely based either on fear or on suspense.
Excerpt from Time Out Film Guide located HERE

Posters
Theatrical Release Date: November 16, 1977
Reviews More Reviews DVD Reviews
DVD Comparison:
Columbia Tri-Star - Region 1 - NTSC (2-disc set) vs. Columbia Tri-Star - Region 2/4 - PAL (2-disc set)
Big thanks to Ole of DVDBasen for the PAL Screen Caps!
(Columbia Tri-Star - Region 1 - NTSC (2-disc set) - LEFT vs. Columbia Tri-Star - Region 2/4 - PAL (2-disc set) - RIGHT)
DVD Box Covers

Distribution

Columbia Tri-Star

Region 1 - NTSC

Columbia Tri-Star
Region 2/4 - PAL
Runtime
2:17:00
2:11:39 (4 % PAL speedup)
Video

2.35:1 Original Aspect Ratio 16X9 enhanced
Average Bitrate: 6.67 mb/s
NTSC 704x480 29.97 f/s

2.35:1 Original Aspect Ratio 16X9 enhanced
Average Bitrate: 6.66
PAL 720x576 25.00 f/s

NOTE: The Vertical axis represents the bits transferred per second. The Horizontal is the time in minutes.

Bitrate:

Columbia Region 1

Bitrate:

Columbia Region 2

Audio
English (Dolby Digital 5.1), DUBS: French (Dolby Digital 2.0 Surround), French, Spanish

English (Dolby Digital 5.1, 448Kb/s)
English (DTS 5.1)
English (Dolby Digital 2.0 , 192Kb/s)

Subtitles
English, Spanish, French, Chinese, Korean, Portuguese, Thai and none
English, Dutch, Arabic, Bulgarian, Czech,
Danish, Finnish, Greek, Hebrew, Hindi, Hungarian,
Icelandic, Norwegian, Polish, Swedish, Turkish and none
Features
Release Information:
Studio: Columbia/Tristar Studios

Aspect Ratio:
Widescreen anamorphic - 2.35:1



Edition Details:

• Color, Closed-captioned, DTS Surround Sound, Widescreen, Dolby
• Production notes
• Theatrical trailer
• Feature Length Making-of Documentary
• 1977 Featurette Watching the Skies
• 11 Deleted Scenes
• Widescreen anamorphic format
• Number of discs: 2




DVD Release Date: May 29th, 2001
Keep Case

Chapters 28


Release Information:
Studio: Columbia/Tristar Studios

Aspect Ratio:
Widescreen anamorphic - 2.35:1



Edition Details:

• Main Menu Introduction
• Main Menu Audio & Animation
• Dolby Digital Trailer - City
• Menu Audio
• Featurette - The Making Of Close Encounters Of The Third Kind
• Featurette - 1977 Featurette
• Deleted Scenes
• Cast & Crew Filmographies
• Theatrical Trailers (2)
• Number of discs: 2


DVD Release Date: 2001
Keep Case

Chapters 28
| | |
| --- | --- |
| Comments: | Nothing to really choose from here. The Region 2/4 disc doesn't have Dolby Surround dubs in French and Spanish, but the image quality is as close as can be wit the Region 2/4 very slightly saturated and very slightly less sharp. Other than that these disc same the same. Buy the cheapest ! |
---



DVD Menus
(Columbia Tri-Star - Region 1 - NTSC (2-disc set) - LEFT vs. Columbia Tri-Star - Region 2/4 - PAL (2-disc set) - RIGHT)
---
Screen Captures
(Columbia Tri-Star - Region 1 - NTSC (2-disc set) - TOP vs. Columbia Tri-Star - Region 2/4 - PAL (2-disc set) - BOTTOM)
---
(Columbia Tri-Star - Region 1 - NTSC (2-disc set) - TOP vs. Columbia Tri-Star - Region 2/4 - PAL (2-disc set) - BOTTOM)
(Columbia Tri-Star - Region 1 - NTSC (2-disc set) - TOP vs. Columbia Tri-Star - Region 2/4 - PAL (2-disc set) - BOTTOM)
---
(Columbia Tri-Star - Region 1 - NTSC (2-disc set) - TOP vs. Columbia Tri-Star - Region 2/4 - PAL (2-disc set) - BOTTOM)
---
(Columbia Tri-Star - Region 1 - NTSC (2-disc set) - TOP vs. Columbia Tri-Star - Region 2/4 - PAL (2-disc set) - BOTTOM)
---
(Columbia Tri-Star - Region 1 - NTSC (2-disc set) - TOP vs. Columbia Tri-Star - Region 2/4 - PAL (2-disc set) - BOTTOM)
---
(Columbia Tri-Star - Region 1 - NTSC (2-disc set) - TOP vs. Columbia Tri-Star - Region 2/4 - PAL (2-disc set) - BOTTOM)
---

---
Report Card:
| | |
| --- | --- |
| Image: | tie |
| Sound: | tie |
| Extras: | tie |
| Menu: | tie |
DVD Box Covers

Distribution

Columbia Tri-Star

Region 1 - NTSC

Columbia Tri-Star
Region 2/4 - PAL





---