NOTE: These Blu-ray captures were taken directly from the Blu-ray disc.

The new Criterion Blu-ray of

Autumn Sonata is part of their Ingmar Bergman's Cinema 100th Anniversary 30 Blu-ray Boxset (reviewed, as a work in-progress, HERE). It appears to be from a different source than the original 2013 Blu-ray by Criterion. It starts with this: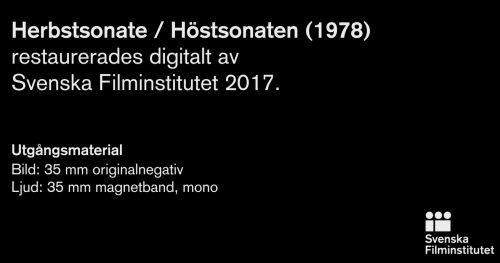 Which states it is from the original 35mm negative. It is cited as a "New 2K digital film restoration". As I commented below, I had always assumed the film to have earthy, autumnal, tones and beside this new, more technically robust, 1080P transfer the 2013 Blu-ray looks boosted. The vibrant colors of the original HD transfer are unnaturally bright and although they can look very appealing, I think this newer rendering exports a more authentic video presentation in representing the original. The old hi-def transfer looks horizontally stretched and has less detail in most scenes. "Darker is almost always more correct" was told to me by a very reliable source, years ago. I'm not trying to defend one visual preference over the other. I have no idea what the film looked like theatrically. I can state that the new, darker, occasionally green, image presentation gives a different expression to this film - and I would say it is even more impacting. Your opinion, after seeing it, may differ.
The audio and extras are the same as the original Criterion Blu-ray, but the new transfer is on a Region FREE Blu-ray disc.
NOTE: I have not been able to find out why the 2013 Blu-ray running time is almost 50 seconds longer although it does start with different logos that are displayed for a longer time before the film title appears. If we investigate further and find anything - we will post it here.
NOTE: Yes, as has been leaked, we can now confirm that this Blu-ray set is Region FREE!
***
ADDITION: Criterion - Region 'A' - Blu-ray (August 2013): Firstly, while I remember, the original Criterion non-anamorphic DVD, had the English title card where this Blu-ray has the Swedish. The DVDs had a very earthy tone which I presumed was correct - but the new 1080P shows blue-leaning with greens and reds becoming vibrant while flesh tones cool. The DVDs look horribly faded beside the Blu-ray which tightens incredibly showcasing impressive detail in the many close-ups. Texture is also evident and is even and consistent. It is such a different look that it was like viewing the film, one of my favorite (in my Top 10 for many years), for the first time. I was seeing things that I never had before in SD. This is from a new 2K digital film restoration and Autumn Sonata desperately comes to life in your home theater!
The original Swedish audio (some English) gets the lossless treatment with a monaural linear PCM track. Dialogue remains perfectly clear. Criterion include the same Dolby English DUB as found on their 2000 DVD. I've never listened to it. There are optional subtitles on the region 'A'-locked Blu-ray disc.
Criterion's extras are some of the most abundant for any package this year. The film is about 1.5 hours and the extras total almost 4.5 hours not even including the excellent audio commentary featuring Bergman expert Peter Cowie (author of Ingmar Bergman: A Critical Biography). For starters Criterion have included an introduction by director Ingmar Bergman excerpted from the summer of 2003 interview conducted by reporter Marie Nyrerod for SVT Svensk Television - it runs 6.5 minutes. We get The Making of "Autumn Sonata," a three-and-a-half-hour program examining every aspect of the production. It charts the process of bringing the film to the screen, from the extensive rehearsals with cast and crew to the actual shooting of the film. It runs almost 3.5 hours and is informal - great footage here for Bergman fans! It takes up more disc space than the feature! There is a new 20-minute interview with actor Liv Ullmann shot in 2013 by Criterion in New York - she discusses working with Bergman. Included is a 1981 conversation between actor Ingrid Bergman and critic John Russell Taylor at the National Film Theatre in London. It is interesting and runs 40-minutes. A trailer is added as well as a liner notes booklet featuring an essay by critic Farran Smith Nehme.
I couldn't wait to watch and review this as it is such a favorite film. Ullmann may give one of the great performances in all of film. It shatters me. Our highest, and strongest, recommendation for this Blu-ray!
***

ON THE DVDs: Neither are anamorphic, but the colors in the Continental seem faded and washed out. Colors in this film are a keynote to the tone. This is a very easy decision. Criterion offers an English dub as well as the Swedish original track and a commentary. Criterion all the way.
NOTE: From Luiz Felipe do Vale Tavares:
This company from Brazil, Continental, makes all their DVDs from imported ones, like Criterion, Image, Kino etc. So, all Continental's DVDs are bootlegs. They use, for example, a Criterion DVD, record all content on an analog Beta tape and send this tape for authoring. The authoring company receives the analog Beta tape and, believing it to be an authorized copy, makes the DVD. Continental can't just extract the VOB files from the original DVD because the authoring companies won't accept it, because it's a clear illegal act. But now almost everyone knows what Continental is doing and it's facing a lot of lawsuits here in Brazil. It won't last too long. Maybe it will go into bankruptcy by the end of the year.