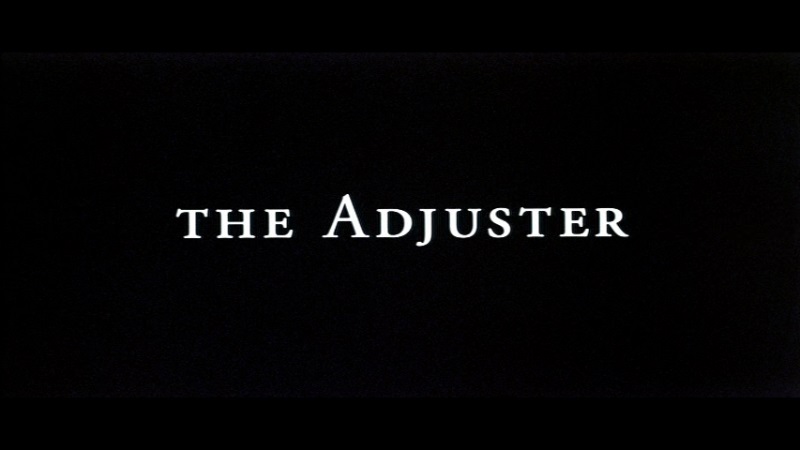 (aka "L'expert en sinistres" )
directed by Atom Egoyan
Canada 1991
Noah is not your average insurance adjuster. Specialising in house fires, Noah will do anything to ease the pain of his tragedy-stricken clients - including bedding them. But as his desire to sexually underwrite strangers swells to the point of obsession, Noah realises that his wife and son are steadily fading out of his life. And when a bizarre twist of fate turns Noah's entire world upside down, he just might find that the only person he can't save is himself.
Poster
Theatrical Release: July 1992 (USA)
Reviews More Reviews DVD Reviews
Comparison:
Alliance - Region 1 - NTSC vs. MGM - Region 1 - NTSC vs. Artificial Eye - Region 'B' - Blu-ray
Big thanks to Gregory Meshman and Eric Cotenas for the DVD Screen Caps!
(Alliance - Region 1 - NTSC - LEFT vs. MGM - Region 1 - NTSC - MIDDLE vs. Artificial Eye - Region 'B' - Blu-ray - RIGHT)
Box Covers

Distribution

Alliance

Region 1 - NTSC

MGM
Region 1 - NTSC
Artificial Eye
Region 'B' - Blu-ray
Runtime
1:41:48
1:42:00
1:41:53.148
Video

1.94:1 Original Aspect Ratio

16X9 enhanced
Average Bitrate: 6.15 mb/s
NTSC 720x480 29.97 f/s

2.32:1 Original Aspect Ratio

16X9 enhanced
Average Bitrate: 4.97 mb/s
NTSC 720x480 29.97 f/s

1080P Single-layered Blu-ray

Disc Size:

18,164,229,514 bytes

Feature:

17,780,975,616 bytes

Codec:

MPEG-4 AVC Video

Total Average Bitrate:

22.00 Mbps

NOTE: The Vertical axis represents the bits transferred per second. The Horizontal is the time in minutes.

Bitrate:

Alliance

Bitrate:

MGM

Bitrate:

Artificial Eye Blu-ray

Audio
English Dolby Digital 2.0 stereo; French Dolby Digital 2.0 stereo

English Dolby Digital 2.0 surround

Dolby Digital Audio English 224 kbps 2.0 / 48 kHz / 224 kbps / DN -4dB

Subtitles
English, none
English (CC), French, Spanish, none
None
Features
Release Information:
Studio: Alliance

Aspect Ratio:
Widescreen anamorphic - 1.94:1

Edition Details:
• Audio Commentary by director Atom Egoyan
• Short film 'En Passant' (4:3; 19:03)
• Interview with Atom Egoyan (9:48)
• Atom Egoyan Biography/Filmography
• Theatrical Trailer (4:3; 2:00)

DVD Release Date: 1 July 2001
Amaray

Chapters 21

Release Information:
Studio: MGM

Aspect Ratio:
Widescreen anamorphic - 2.32:1

Edition Details:
• Theatrical Trailer (4:3: 2:07)

DVD Release Date: 10 April 2001
Amaray

Chapters 16

Release Information:
Studio: Artificial Eye

Aspect Ratio: 2.35:1


1080P Single-layered Blu-ray

Disc Size:

18,164,229,514 bytes

Feature:

17,780,975,616 bytes

Codec:

MPEG-4 AVC Video

Total Average Bitrate:

22.00 Mbps

Edition Details:
• None

Blu-ray Release Date: July 22nd, 2013

Standard Blu-ray case

Chapters 12
Comments

NOTE: The below Blu-ray captures were ripped directly from the Blu-ray disc.


ADDITION: Artificial Eye - Region 'B' Blu-ray - July 2013':

The new 1080P is not the most remarkable appearance but I do think it notches ahead of the MGM DVD (which, in turn is well above the Alliance - see Gregory's comments below) in terms of video. It isn't dramatic and the colors shift from the more intense reddish/pink to a bluer/teal leaning look may, or may not, be more accurate but detail rises and contrast - while not at stellar levels is more layered improving the visuals. Unfortunately like Egoyan's Speaking Parts from AE Blu-ray the audio is not lossless, and there are no subtitles or supplements. It's a shame they couldn't get the Alliance commentary and Egoyan short. The MGM DVD is out-of-print and this BD, despite its weaknesses, seems the best way to see the film, digitally, in your Home theater at present.

***

ON THE DVDs: Gregory Meshman on the Alliance and MGM editions: The hacks of Alliance Atlantis have been at it again... their version is squeezed, cropped and washed-out. Judge for yourself. However, they win with extras (Egoyan Commentary, short film "En Passant", interview with Egoyan). English sound is the same, but Canadian edition also has French stereo dub. MGM disc is closed-captioned and has French and Spanish subtitles, while Alliance includes only English subtitles. I liked animated menus on Alliance better than static menus of MGM. There's no clear winner in this competition.

NOTE: Oddly, the Alliance disc features the American Orion Pictures theatrical trailer while the MGM (who obtained the film through their acquisition of the Orion library) features the Canadian Alliance trailer.

- Gary Tooze
---
Menus
(Alliance - Region 1 - NTSC - LEFT vs. MGM - Region 1 - NTSC - RIGHT)

Artificial Eye - Region 'B' - Blu-ray
---
CLICK EACH BLU-RAY CAPTURE BELOW TO SEE ALL IMAGES IN FULL 1920X1080 RESOLUTION
Screen Captures
(Alliance - Region 1 - NTSC - TOP vs. MGM - Region 1 - NTSC - MIDDLE vs. Artificial Eye - Region 'B' - Blu-ray - BOTTOM)
---
(Alliance - Region 1 - NTSC - TOP vs. MGM - Region 1 - NTSC - MIDDLE vs. Artificial Eye - Region 'B' - Blu-ray - BOTTOM)
---
(Alliance - Region 1 - NTSC - TOP vs. MGM - Region 1 - NTSC - MIDDLE vs. Artificial Eye - Region 'B' - Blu-ray - BOTTOM)
---
(Alliance - Region 1 - NTSC - TOP vs. MGM - Region 1 - NTSC - MIDDLE vs. Artificial Eye - Region 'B' - Blu-ray - BOTTOM)
---
(Alliance - Region 1 - NTSC - TOP vs. MGM - Region 1 - NTSC - MIDDLE vs. Artificial Eye - Region 'B' - Blu-ray - BOTTOM)
---
(Alliance - Region 1 - NTSC - TOP vs. MGM - Region 1 - NTSC - MIDDLE vs. Artificial Eye - Region 'B' - Blu-ray - BOTTOM)
---
(Alliance - Region 1 - NTSC - TOP vs. MGM - Region 1 - NTSC - MIDDLE vs. Artificial Eye - Region 'B' - Blu-ray - BOTTOM)
More Blu-ray Captures