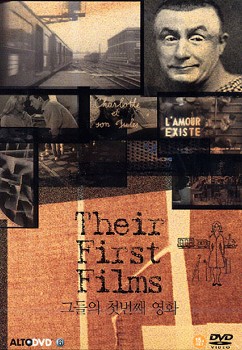 directed by Mourice Pialat, Alain Resnais, Jean-Luc Godard, Jacques Rivette,
Francois Truffaut, Patrice Leconte, Jacques Doniol-Valcroze, and Jean-Pierre Melville
France 1946 - 71'
This disc is probably considered an absolute must for cinephiles. It features the very first films of several French directors who would go on to become household names in international cinema. I was intrigued and eventually fascinated by the initial offerings of these masters. It was easy to see what differentiated them from similar colleagues but also how their styles became so coherent and identifiable. I can't image any fan of French cinema not owning this. I wish they had been able to include Eric Rohmer and maybe Demy but regardless I give it

out of

DVD Review: Alto-Media - Region 3 - NTSC
The Films
AMOUR EXISTE
(MOURICE PIALAT/1961/19 min/Black & White)
LE CHANT DU STYRENE
(ALAIN RESNAIS/Documentary/1957/14min/Color)
CHARLOTTE ET SON JULES
(JEAN-LUC GODARD/Comedy/1958/13min/Black & White)
LE COUP DU BERGER
(JACQUES RIVETTE/Comedy/1957/27min/Black & White)
HISTOIRE D'EAU
(FRANCOIS TRUFFAUT & JEAN-LUC GODARD /Comedy/1958/ 12min/Black & White)
LE LABORATOIRE DE L'ANGOISSE
(PATRICE LECONTE/Comedy/1971/11min/ Color)
LES SURMENES
(JACQUES DONIOL-VALCROZE /Comedy/1957/19min/Black & White)
24 HEURES DE LA VIE D'UN CLOWN
(JEAN-PIERRE MELVILLE /Documentary/1946/18min/Black & White)
Theatrical Releases: various
DVD Review: Alto Media - Region 3 - NTSC
DVD Box Cover

Distribution
Alto Media - Region 3 - NTSC
Runtime
Total = 2:12:16
Video
1.33:1 to 2.38 - Original Aspect Ratios
Average Bitrate: 6.75 mb/s
NTSC 720x480 29.97 f/s

NOTE: The Vertical axis represents the bits transferred per second. The Horizontal is the time in minutes.

Bitrate:

Audio
French (Dolby Digital 2.0 Dolby)
Subtitles
English, Korean, None
Features

Release Information:
Studio: Alto Media

Aspect Ratio:
Original aspect Ratio 1.33:1 to 2.38:1

Edition Details:

• 8 films

DVD Release Date: September 7th, 2004
Transparent Keep Case inside cardboard cover box
Chapters: 8 (one for each film)
Comments:

There is some damage on individual films but it is never distracting from the viewing enjoyment. Subtitles are well-done although I did notice one or two grammar flaws (very minor). I see good contrast (a shade of brightening) - okay colors (not washed out) and even some good film grain.

No Extras or commentary - which would have sealed this as 'golden'. Considering this is probably the only way you may get to see these films on DVD - AND they are all in one package - this is a pretty good deal - and decent pricing as well. I give it a strong recommendation. out of
---
Recommended Reading in French Cinema (CLICK COVERS or TITLES for more information)
The Films in My Life
by Francois Truffaut, Leonard Mayhew

French Cinema: A Student's Guide
by Philip Powrie, Keith Reader
Agnes Varda by Alison Smith
Godard on Godard : Critical Writings by Jean-Luc Godard
The Art of Cinema by Jean Cocteau
French New Wave
by Jean Douchet, Robert Bonnono, Cedric Anger, Robert Bononno
French Cinema: From Its Beginnings to the Present
by Remi Fournier Lanzoni
Truffaut: A Biography by Antoine do Baecque and Serge Toubiana
Check out more in "The Library"
---
DVD Menus
---
Subtitle Sample
Screen Captures