| | |
| --- | --- |
| Search DVDBeaver | S E A R C H D V D B e a v e r |
The Complete James Dean Collection
directed by Elia Kazan, George Stevens, Nicholas Ray
USA 1955 - 1956
East of Eden Giant Rebel Without a Cause

out of

DVD Review: Warner Home Video Boxset - Region 1,2,3,4 - NTSC
Distribution
Warner - Region 1,2,3,4 - NTSC
Audio
English (Dolby Digital original on Giant - 5.1 remix on Rebel and East of Eden), DUB: French (Dolby Digital 2.0)
Subtitles
English, Spanish, French, None
Features
Release Information:
Studio: Warner Home Video

Aspect Ratios:
Giant - 1.61:1, East of Eden - 2.54:1, Rebel Without a Cause 2.51:1

Edition Details:
• 6 disc Box set (3 films)
• James Dean's films all with commentary:
• Giant (2-disc)
• East of Eden (2-disc)
• Rebel Without a Cause (2-disc)

• See individual DVDs for more details
• Number of discs: 6

DVD Release Date: May 31st, 2005
Cardboard Box with 3 double slim Keep Cases
Comments:

Giant is the same as the original double release with a duplicate bitrate to the older 2-disc version. This is quite a disappointment as the transfer is poor, non-anamorphic, saturated and spread over two sides of one disc. Many were hoping it would be a new transfer.

These DVDs are encoded for Regions 1 - 4 NTSC. The non-anamorphic Giant sticks out as the poorest transfer - the other two are tight, 16X9 and quite strong. All have extensive extras and commentaries. I have decided to make individual comments about each DVD below. Each have a French DUB option and all have optional English, Spanish and French subtitles. Only Giant has original audio, both East of Eden and Rebel Without a Cause have 5.1 bumps.

Good job Warner, but you still owe us a decent "Giant" ! out of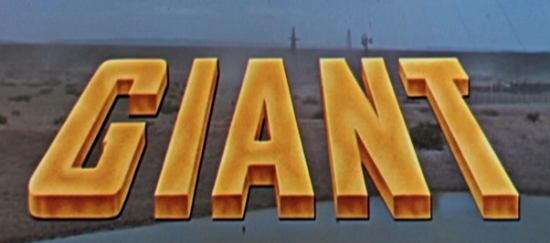 directed by
George Stevens
USA 1956
Manny Farber's white elephant category might have been created for George Stevens' 1956 Lone Star epic. It's the kind of movie Hollywood used to pride itself on making: self-consciously "epic," grandiose, a history lesson rolled into a sweeping love story. And yes, it's full of moments of cringe-worthy obviousness, as when the firstborn son of cattle rancher Jordan "Bick" Benedict (Rock Hudson) bursts into tears when his father puts him on a horse, then plays happily with a toy stethoscope. (To no surprise at all, he grows up to be a doctor, though the fact that he also grows to be Dennis Hopper is a bit of a shock.) Though its condemnation of anti-Mexican racism is laudable, the movie's Mexican characters (most played by white actors covered with a thick coat of shoe polish) are almost embarrassingly noble; by contrast, Sidney Poitier was Sweet Sweetback.

But for all his grandiosity, Stevens excelled at small, patient details, and they're what make Giant worth watching, in addition to William Mellor's stunning vistas of a windswept Texas. (Giant has been through the same controversial de-graining process used on last year's Sunset Boulevard, and it looks a treat.) The way the camera stays inside the house, with the servants, as Bick lectures his new bride (Elizabeth Taylor) on the proper way to disregard their feelings, the creak of the screen door obliterating his words, says more, more effectively, than the trumped-up series of confrontations that close the movie. If ever there was a movie to make you doubt the Method, this is it. James Dean mumbles so badly he ought to come with subtitles; across the screen from Rock Hudson's solid elegance, he looks like he comes from another planet, one you don't really want to visit. (To be fair, though, he looks awful good in jeans.) And Elizabeth Taylor reminds you how much more she was than a pretty face.

Excerpt from Sam Adams' Philadelphia City Paper Review located HERE.
Posters
Theatrical Release: October 10th, 1956 - USA
Reviews More Reviews DVD Reviews
Cover and Individual purchase link:

Runtime
1:48:24 + 1:32:54
Video

1.61:1 Aspect Ratio
Average Bitrate: 5.91 + 5.87 mb/s
NTSC 720x480 29.97 f/s

NOTE: The Vertical axis represents the bits transferred per second. The Horizontal is the time in minutes.

Bitrate:

Side 1

Bitrate:

Opposite side

Comments:

Weak image here. It is very unfortunate that they are simply repackaging the old double disc release here but saying that it is loaded with extras. Well appointed optional subtitles and original audio don't make up for the non-anamorphic transfer spread over opposite sides of one DVD. Well, perhaps one day it will be digitized properly. Otherwise this isn't too bad especially for tube viewers, it just is not up to Warner's usual high standard. The commentary by Stephen Farber, Ivan Moffat and George Stevens Jr. is above average. out of


DVD Menus
Disc 2
---
S
ubtitle Sample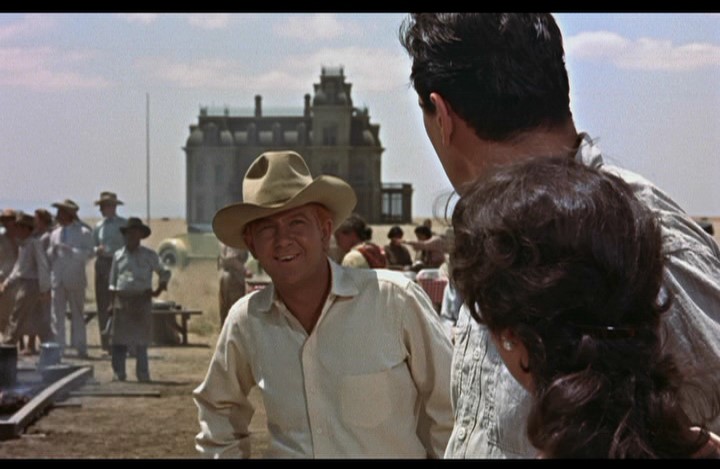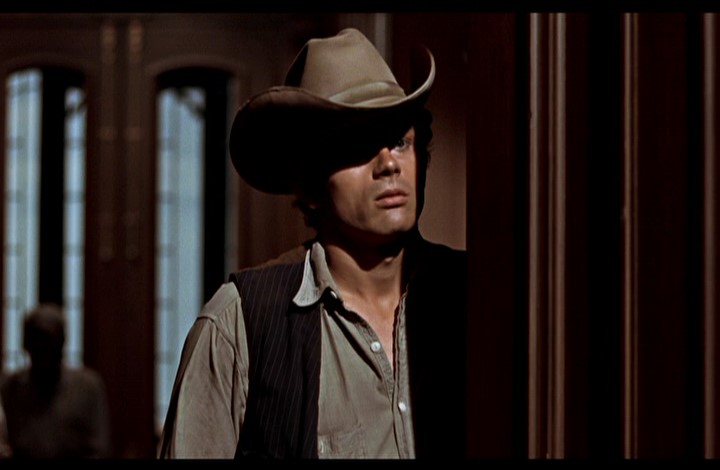 directed by Elia Kazan
USA 1955
James Dean was born whole and Hollywood ate him away, quickly, until he wrecked the rest. In experiencing the legends, Marilyn and James Dean for example, you're setting yourself up for inevitable disappointment. No one (save perhaps Warren Beatty, Brad Pitt, Anne Revere, and Lili Taylor, Garbo, not many anyways) could sustain that kind of hype, could live up to the most exploitively positive expletives available to the highest paid gunslinging wordsmith mercenaries on the planet. But Dean could, and only this once. Part Brando, part Kurt Cobain, and part recently kicked Lassie his is the pathos that will never not shine. Of course John Steinbeck wrote him, and hundreds of other actors who couldn't convert like this, a great character. Burl Ives is damn near as good but with less opportunity, Julie Harris plays a worthy female lead opposite Sir James (!), Ramond Massey deserves the good things said of his performance as the alive but dead father who wants to pass all of it on to his sons....Richard Davalos never got the credit he deserves for his brilliant portrayal of Abel to Dean's Cain....good generous, gracious, neo-saintlike...as long as he's winning. The only things that don't work are Leonard Rosenman's horrendously overwraught sappy score, and the semi-regular occasions when Elia Kazan endeavors to match it with over-directing. I can just hear him now, "Hokey dokey James, now we want to make this an emotional scene." Meanwhile everyone else on the set is admiring James' elegance as he asks a roadie how he's doin' and where the chips are.

Excerpt from Clayton Trapps Brilliant Observations on 1173 Films located HERE.
Posters
Theatrical Release:
March 9th, 1955
Reviews More Reviews DVD Reviews
Cover and Individual purchase link:

Runtime
1:57:32
Video

2.54:1 Aspect Ratio
Average Bitrate: 6.17 mb/s
NTSC 720x480 29.97 f/s

Chapters : 29

Bitrate:

NOTE: The Vertical axis represents the bits transferred per second. The Horizontal is the time in minutes.

Comments:

Nice clean 16X9 transfer shows good colors. Tight to the edge of the frame It can be a smidgeon soft at times, but I adore the 2.5:1 widescreen ratio. Nicely appointed menus and optional subtitles plus a bevy of extras that I am still wading through. What I heard of the Richard Schickel commentary is excellent and I can't wait to get back to it. No complaints at all on this package except Warner - don't forget the original audio option next time! out of


DVD Menus
D
isc 2
---
S
ubtitle Sample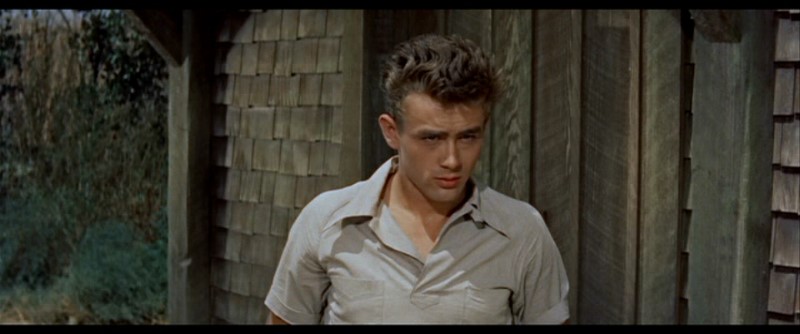 ---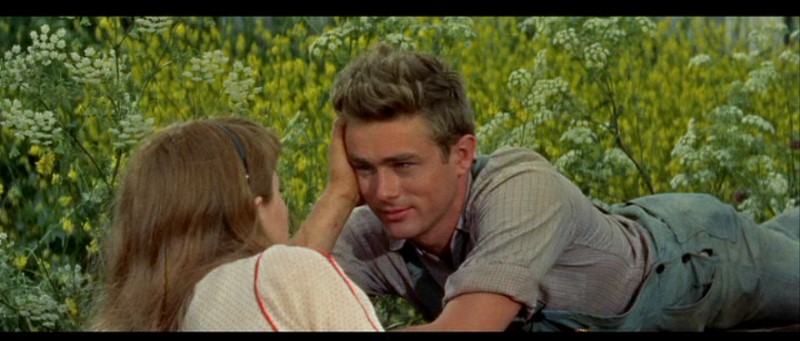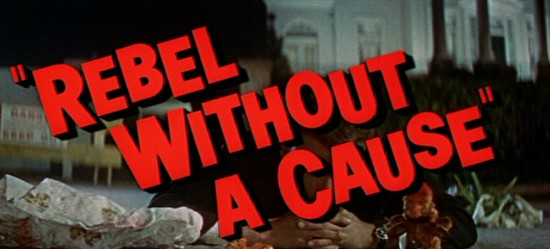 USA 1955
Rebel Without a Cause (1955) is a film that sympathetically views rebellious, American, restless, misunderstood, middle-class youth. The tale of youthful defiance, which could have been exploitative - but wasn't, provides a rich, but stylized (and partly out-dated) look at the world of the conformist mid-1950s from the perspective of the main adolescent male character.

The screenplay (by Stewart Stern from an adaptation by Irving Shulman of an original storyline synopsis by director Nicholas Ray) was based on an actual case study (in Dr. Robert Lindner's 1944 factual book titled Rebel Without a Cause) of a delinquent, imprisoned teenage psychopath in the post-war years. The film was originally titled The Blind Run.

The colorful wide-screen Cinemascope feature is most remembered for being the film that best presented the talent of young charismatic cult star James Dean, shortly before his premature death in 1955. It opened at the Astor Theatre in New York on October 29th, 1955, about a month after the death of its star (on September 30, 1955).

Excerpt from Tim Dirks Greatest Films - comprehensive analysis of classic US films located HERE.
Posters
Theatrical Release: October 27th, 1955
Reviews More Reviews DVD Reviews
Cover and Individual purchase link:

Runtime
1:50:44
Video

2.51:1 Aspect Ratio
Average Bitrate: 6.17 mb/s
NTSC 720x480 29.97 f/s

Chapters : 35

Bitrate:

NOTE: The Vertical axis represents the bits transferred per second. The Horizontal is the time in minutes.

Comments:

I never owned the original DVD but judging my the capture comparison below the new Special edition is indeed a new transfer (Thanks Mark!).

It looks very good - tight, good contrast - maybe the smallest degree soft and 'heavy' - skin tones are a bit red at times. The commentary by biographer Douglas L. Rathgeb is excellent - chock full of amazing tidbits. Good subtitles and bumped audio (an original option should have been included!) Warner are covering all the bases here. out of


DVD Menus
Disc 2
---
S
ubtitle Sample
---
Screen Captures
Original single disc version TOP - New Special edition BOTTOM