Review by Gary Tooze
Production:
Theatrical: Bond Films
Video:
BFI
Video
Disc:
Region: FREE! (as verified by the Momitsu region FREE Blu-ray player)
Runtime: 1:33:03.416
Disc Size: 24,617,543,217 bytes
Feature Size: 21,289,466,304 bytes
Video Bitrate: 25.99 Mbps
Chapters: 9
Case: Standard Blu-ray case
Release date: July 20th, 2009
Video:
Aspect ratio: 1.85:1
Resolution: 1080p
Video codec: MPEG-4 AVC Video
Audio:
LPCM Audio English 2304 kbps 2.0 / 48 kHz / 2304 kbps / 24-bit
Commentary: Dolby Digital Audio English 640 kbps 2.0 / 48 kHz / 640 kbps
Subtitles:
English, English (SDH), none
Extras:
• New full-feature audio commentary by Jack Bond and Sam Dunn.
• Beyond Image (Mark Boyle & Joan Hills, 1969, 14:25 in HD!) - a rare liquid light film co-created by leading British artist Mark Boyle, whose visual effects are used throughout Separation. With music by The Soft Machine.
• Trailer for Anti-Clock (Jane Arden/Jack Bond, 1979, 3:03 in HD!).
• Fully illustrated booklet with essays by William Fowler, Claire Monk, Maria Walsh: biographies and credits.
Bitrate:
Description: Separation, scripted and starring Jane Arden, concerns the inner life of a woman during a period of breakdown - marital, and possibly mental. Her past and (possible?) future are revealed through a fragmented but brilliantly achieved and often humorous narrative, in which dreams and desires are as real as the 'swinging' London (complete with Procol Harum music and Mark Boyle light show) of the film's setting.
The Film:
"I'm early. Much too early. I'm always too early", sighs Jane Arden (or is it her self-scripted, self-performed Everywoman/alter ego `Jane'?) near the start of 1968's Separation, the first of three feature-film collaborations with her partner Jack Bond. Coming fresh to this almost-lost, barely known film today to view it through the prism of almost forty years of feminist and post-feminist film debate, it's more than clear that these words (which, like many of Separation's significant utterances, recur later, either as repeated dialogue or as involuntary subjective recollection) connect with the film's structuring themes of female oppression and (symptomatic) masochism. Viewed through the eyes of patriarchy, a woman is always in the wrong place at the wrong time in the sense that patriarchy has no "right" place of dismissal and incomprehension that typified much of the critical response to Separation on its release, while pinpointing one possible cause.

Not all of this reception was unenthusiastic. The Observer (UK) found Separation "genuinely perceptive and distressing—it leaves one looking forward to Mr. Bond's next film with genuine excitement"; while on the New York Times, the (otherwise skeptical) Vincent Canby conceded that it was "stunningly photographed and rather stylishly splintered in time between past and present, between fantasy and reality". But within the negative reviews, two distinct themes emerge which suggest that Arden and Bond had indeed made their film "too early"—in relation to the dominant critical discourses and expectations surrounding British films at the time, and equally in relation to the full arrival of second-wave feminism in the UK.
Excerpt from Claire Monk's liner notes of the Blu-ray
Image :
NOTE: The below Blu-ray captures were ripped directly from the
Blu-ray disc.
The Blu-ray image of Separation from the original 35mm negative is quite beautiful. In precisely the correct 1.85 aspect ratio at 1080P, detail and grayscale are pristine. The image quality shows some grit and minor grain but the sharpness and contrast seem to be the highlight of the visuals. The infrequent color sequences probably are representative of the film's 40 year age with reasonable, but not brilliant, hues. BFI advertises this as a 'brand new restoration' and I have no reason to argue with that the image is clean and clear of any damage or speckles. This is only a single-layered Blu-ray with a bitrate of 26 Mbps but looks extremely impressive with a genuine film-like appearance as, hopefully, the screen captures below will attest.
CLICK EACH BLU-RAY CAPTURE TO SEE ALL IMAGES IN FULL 1920X1080 RESOLUTION
Audio :
It's a modest track without much in the way of aggression but adeptly rendered for linear PCM 2.0 at 2304 kbps
. Matthew Fisher's "Separation" and Procol Harum's "Salad days" have strong harmonics adding another layer to the presentation. The sound is crisp enough without demonstrative range or depth. There are no flaws such as pops, crackle or hiss. There are optional subtitles and my
Momitsu
has identified this as being region FREE!
Extras :
The commentary fills in some holes as to the film's construction. It has director Jack Bond with support and prodding questions by Sam Dunn. Jack agrees the digital age's accessibility has transformed the film world. His voice shows some occasional passion but it still has some dryness. Those keen on the film will be the individuals most likely to get something out of the commentary. Mark Boyle & Joan Hills made a 14-minute film in 1969 entitled Beyond Image. It's kinda like a lava lamp close-up stated as 'a rare liquid light film co-created by leading British artist Mark Boyle, whose visual effects are used throughout Separation. With music by The Soft Machine.' It's offered in HD. There is a trailer 3-minute for Anti-Clock also in HD and coming out in Blu-ray from BFI. Included is a fully illustrated booklet with essays by William Fowler, Claire Monk, Maria Walsh: biographies and credits.
| | |
| --- | --- |
| | |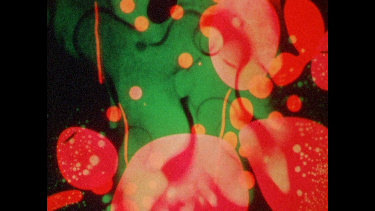 BOTTOM LINE:
It seems easily to recall a 'Marienbad' feel to much of the visuals. The film is very far from exporting a fluid narrative but I can see the, heavily artistic, appeal. I was genuinely glad I gave it a chance and look forward to the other Arden films offered up on Blu-ray. This package is another solid effort from BFI. This is for those seeking a more unique expression this can be a rewarding and personal reflection on one woman's mental decay after her failed marriage. I can easily endorse the Blu-ray but some may find the film too self-indulgent. Your call.
Gary Tooze
July 11th, 2009